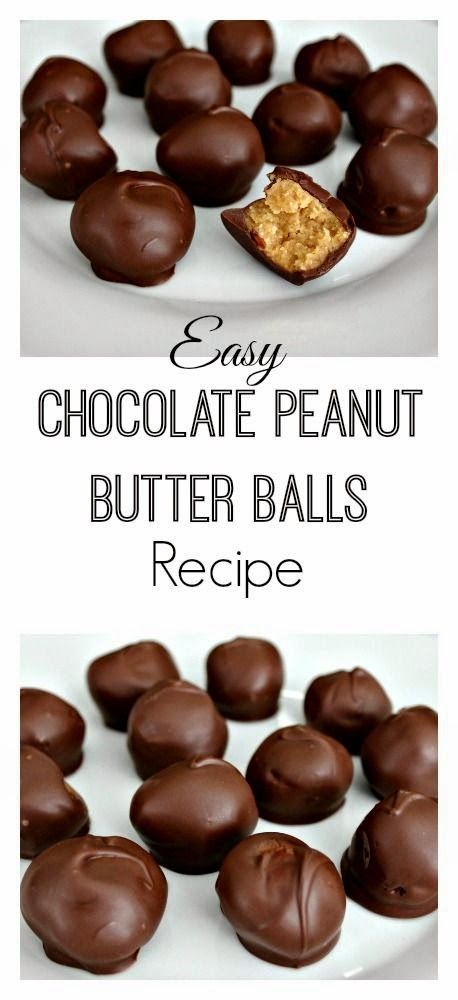 Ingredients
2 cups creamy peanut butter
3/4 cup salted butter (softened)
2 packages (1 lb each) Chocolate Candy Coating
Mix the peanut butter, salted butter and vanilla together in a large bowl.

After they are well mixed together, add in the powdered sugar, a little at a time. You may need to add a bit more or a bit less powered sugar. You have enough powered sugar when the mixture holds together well in one giant ball in your mixing bowl.

Cover and let sit in the refrigerator for 15 – 25 minutes until they firm up. (You can also cover tightly and refrigerate for up to 2 days.)

Shape the dough into 1-inch balls.Cover and refrigerate again, for about 15 – 20 minutes. Skipping this step makes the dough very hard to dip into the chocolate.

Melt the chocolate according to the package directions.

Dip the peanut butter balls one at a time into the melted chocolate. Let the excess chocolate drip off, as the chocolate will pool a little when you set it down. Place the dipped peanut butter chocolate ball onto wax paper and let it harden.

Chill until ready to serve. Also chill them a little before packaging them up for gifts.
The peanut butter ball dough can be stored, tightly sealed, in the refrigerator for up to 2 days before dipping in chocolate.

If the dough becomes too soft at any time while working with it, put it back into the refrigerator.


Original Recipes visit: Chocolate Peanut Butter Balls @ momfabulous.com