Soft blondies filled with dried cranberries and white chocolate chips and topped with a white chocolate cream cheese frosting (similar to Starbucks Cranberry Bliss Bars). These Cranberry White Chocolate Bars make a fantastic holiday dessert!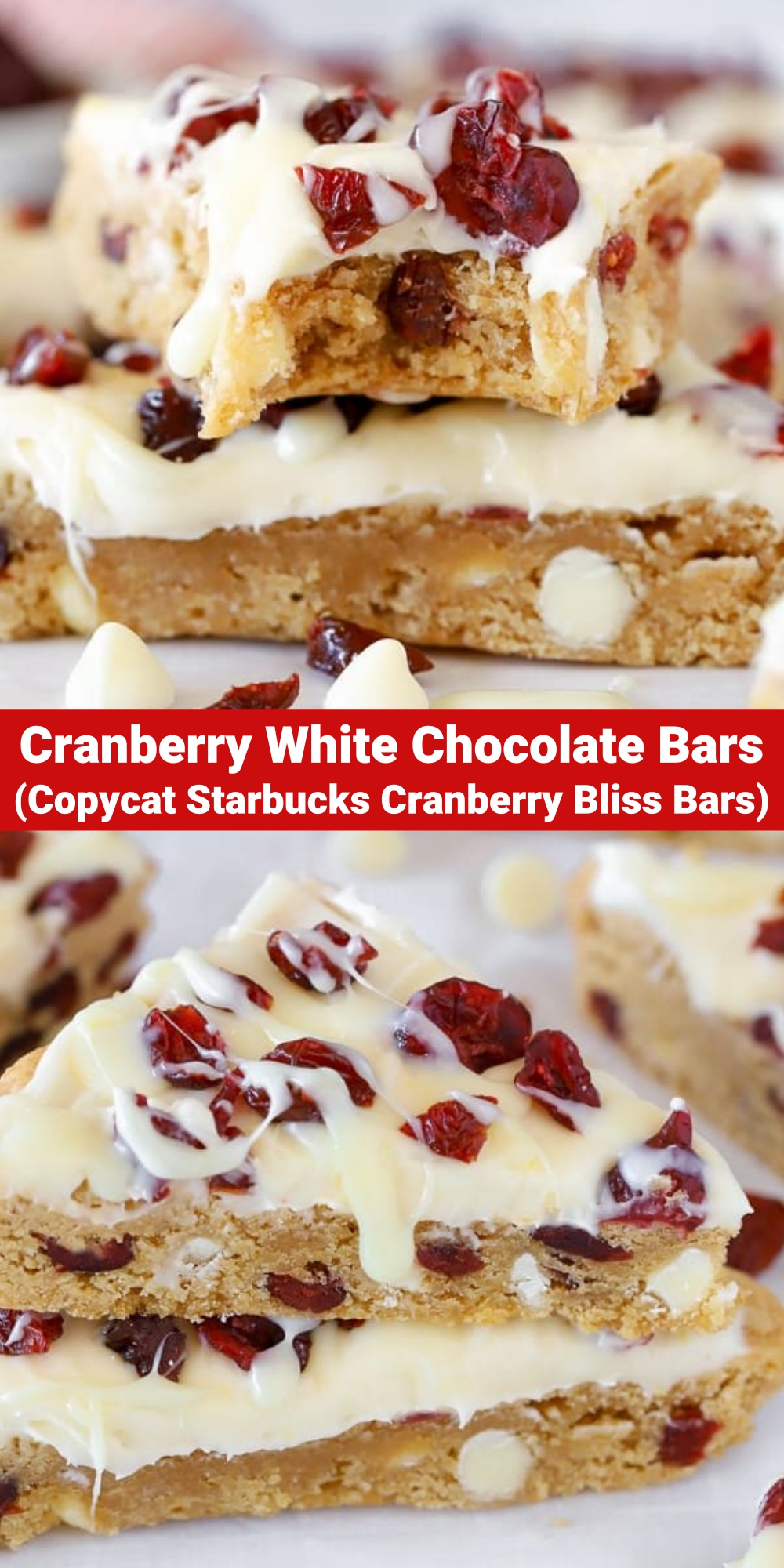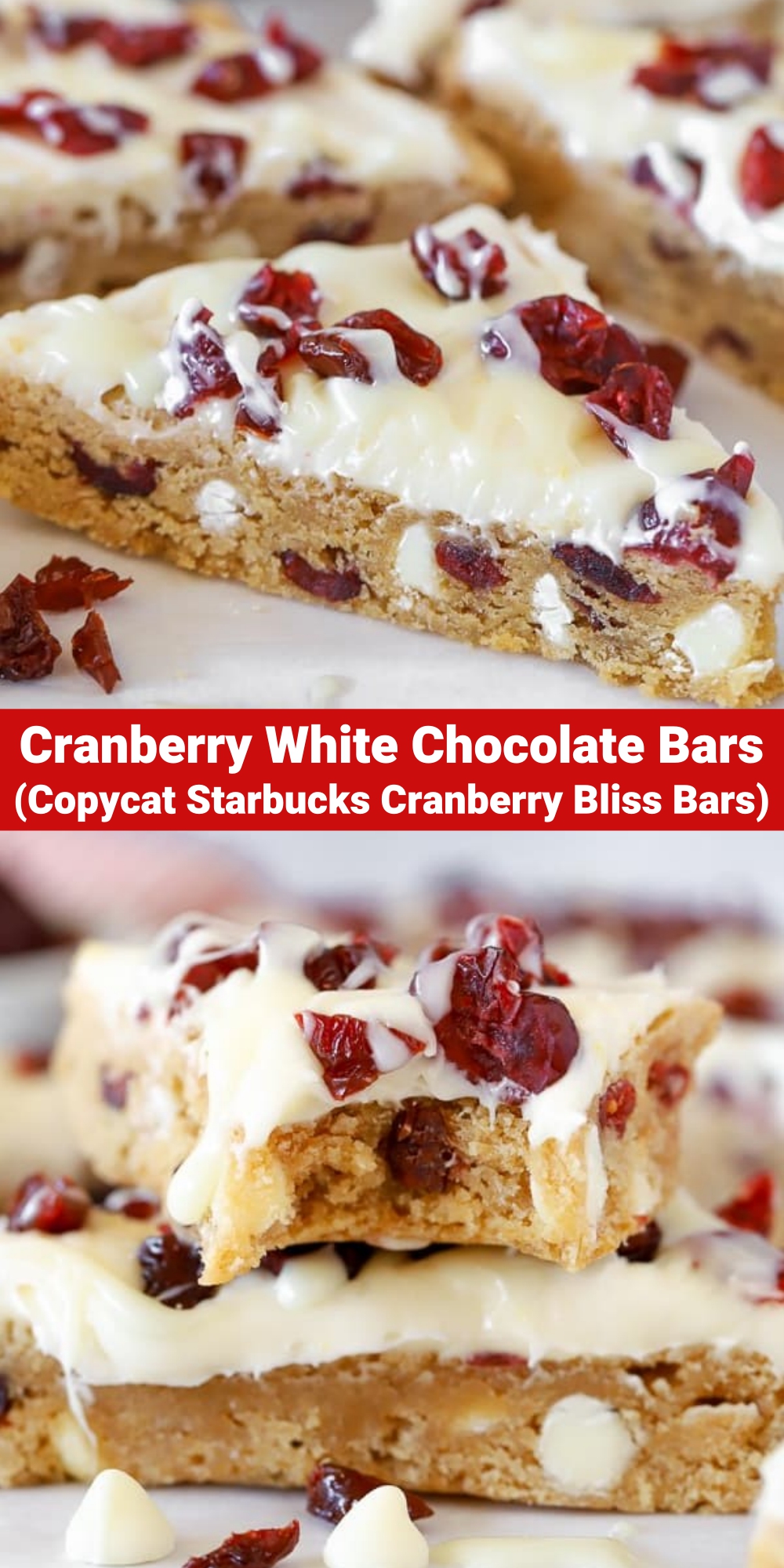 Servings 12
INGREDIENTS
BARS:
1/2 cup unsalted butter melted and cooled slightly
1 cup light brown sugar packed
1 egg
3/4 teaspoon pure vanilla extract
1 1/3 cups all purpose flour
1 teaspoon baking powder
1/4 teaspoon salt
1/2 cup dried cranberries
1/2 cup white chocolate chips
FROSTING:
6 ounces cream cheese softened
3 tablespoons unsalted butter softened
1 1/2 cups powdered sugar
pinch of salt
milk to thin (if necessary)
1/2 cup white chocolate chips melted (see note)
1/2 cup dried cranberries
INSTRUCTIONS
FOR THE BARS:
Preheat oven to 350°F. Butter or spray an 9×9 square pan or 8 x11 pan and set aside (I prefer an 8×11 for this recipe). Alternately, you can line the pan with foil and grease the foil.
In a large bowl, whisk melted butter and brown sugar. Add egg and vanilla extract, whisk until combined.
In a separate bowl, combine flour, baking powder and salt. Add flour mixture to butter mixture and stir until the ingredients are combined. Fold in 1/2 cup of dried cranberries and 1/2 cup of white chocolate chips. Spread the batter in an even layer in the prepared pan (the batter will be thick).
Scoop the batter into the prepared pan and spread into an even layer (I moisten the palm of my hand with water and gently press it in).
Bake for 18-22 minutes. The bars are done when they have puffed slightly, are very light brown, and a toothpick inserted into the center comes out clean. They will appear a little underdone but they will continue to cook as they cool. Be careful not to over bake them. Cool completely on a wire rack before frosting.
Frosting:
Using a hand mixer or stand mixer, beat the cream cheese and butter until smooth. Add the powdered sugar, vanilla, and orange zest (if using) and beat until combined, scraping the sides of the bowl as needed. Add a splash of milk, if necessary, to thin the frosting. You can also thicken the frosting by adding a bit more powdered sugar, if necessary.
Spread the bars with the frosting . Scatter the dried cranberries on top.
Drizzle melted white chocolate over the cranberries.
RECIPE NOTES
MELTING WHITE CHOCOLATE: You can melt it in the microwave or in a double boiler. If you use the microwave you have to melt it very slowly. I put it in for 10-15 seconds at a time and stir between each interval. If you over cook it, the chocolate will pass the melted stage and turn hard and lumpy and you'll have to start over. I have the best luck with good quality white chocolate. I typically use Guittard or Ghirardelli.

PAN SIZE: Do not try to squeeze this batter into an 8×8 pan. The edges of the bars will dry out before the center cooks through.

STORAGE: Store in the refrigerator for up to 2 days.

SERVING: Serve slightly chilled or at room temperature. The colder the bars are the firmer they will be. I like to keep them at room temp for an hour or two before serving.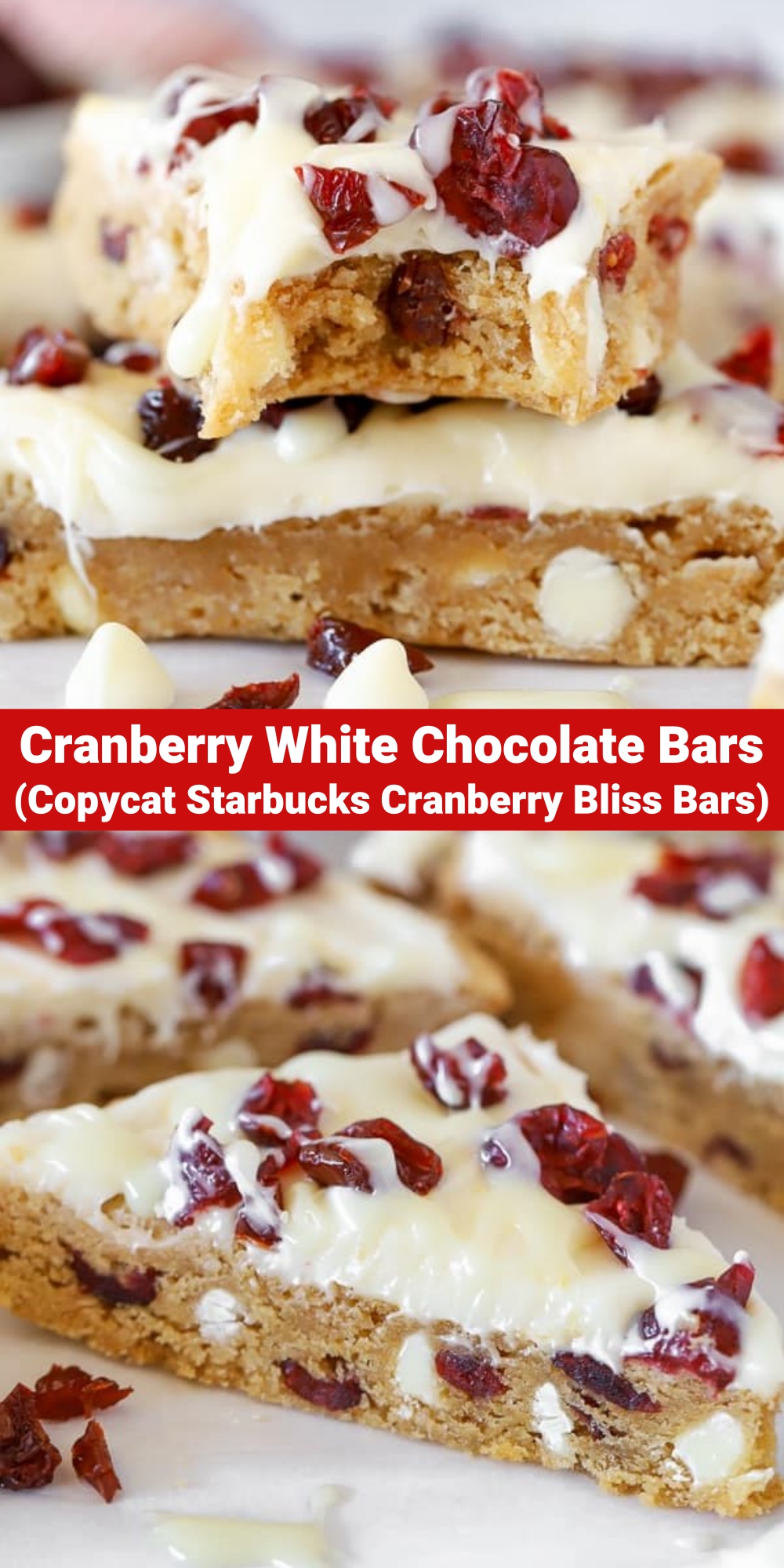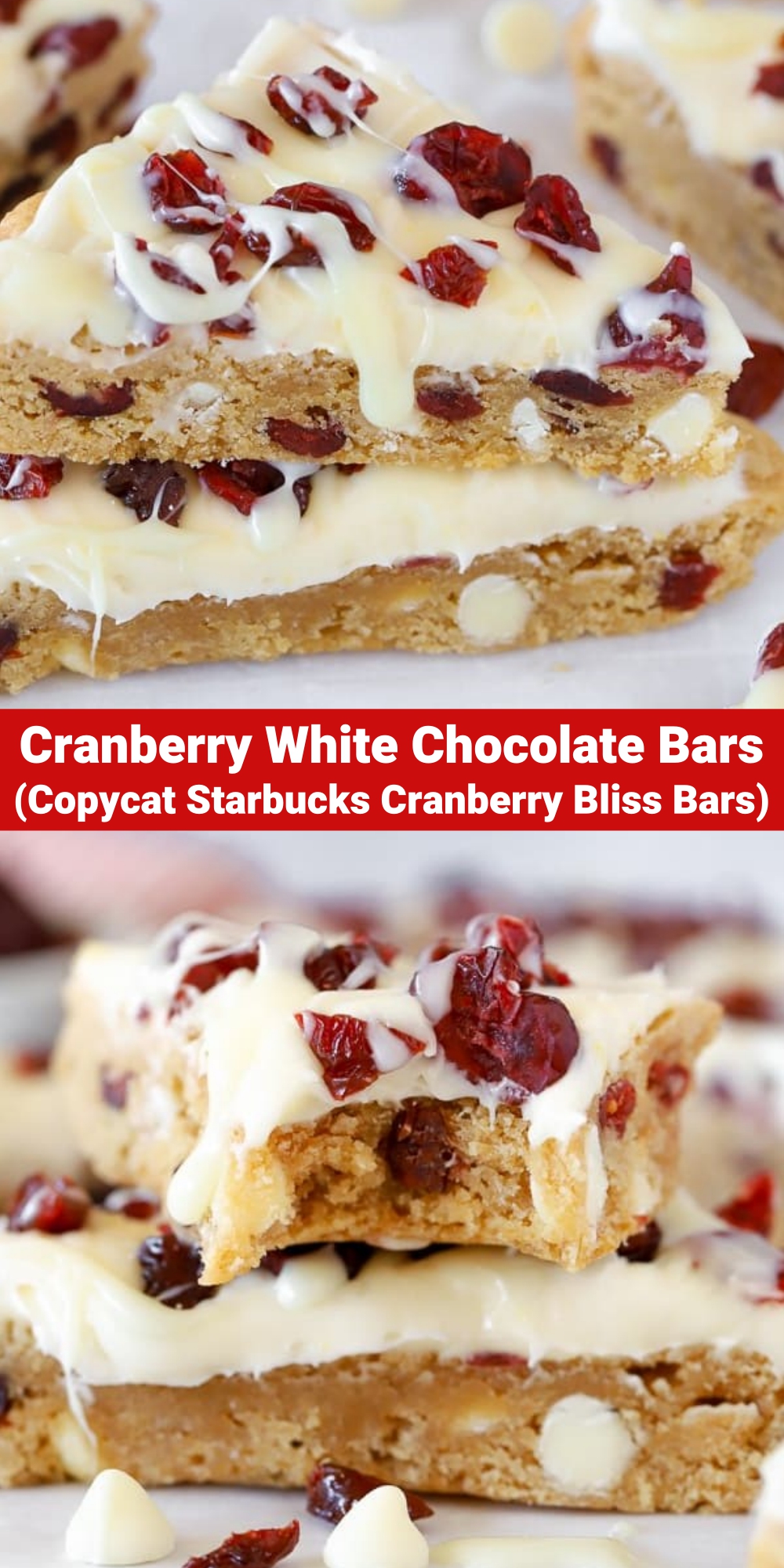 Source: celebratingsweets.com