Easy Crock Pot Chicken and Dumplings. Juicy chicken breasts cook to tender perfection in the slow cooker in a rich creamy sauce. Shortcut dumplings make this delicious comforting meal effortless.
Crock Pot Chicken and Dumplings Recipe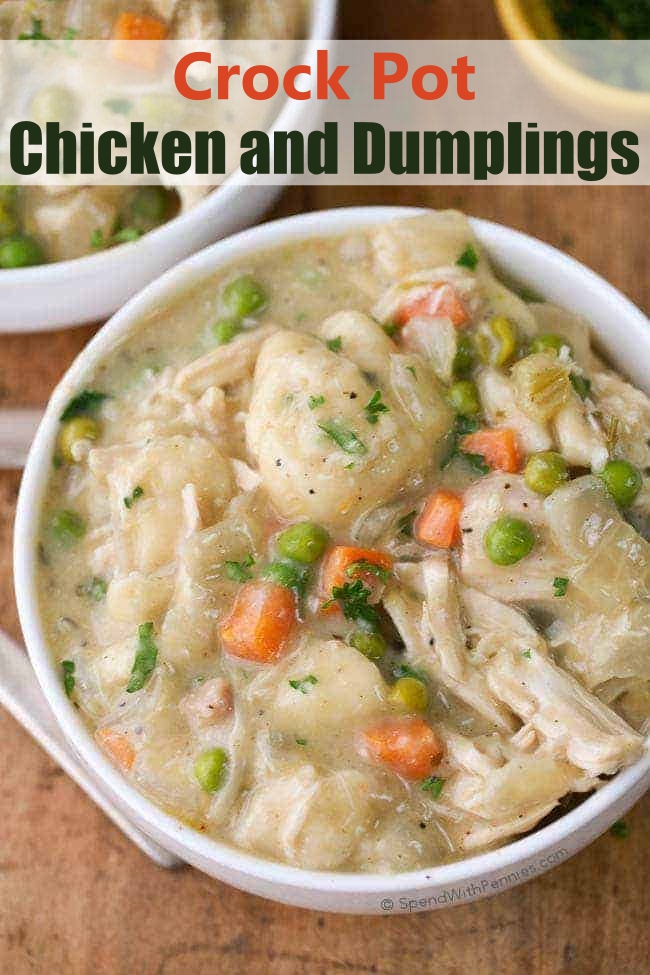 SERVINGS 4 servings
Ingredients
1 large onion, diced
1 can (10.5 oz) cream of celery soup
1 can (10.5 oz) cream of chicken soup
1 tablespoon fresh parsley
1 teaspoon poultry seasoning
black pepper to taste
4 skinless boneless chicken breasts
2 cups low sodium chicken broth
2 cups frozen vegetables or peas and carrots, defrosted
1 can (8 pieces) refrigerated biscuits (Buttermilk, Country or Homestyle)
Instructions
Add onion to 6 qt crock pot and top with chicken breasts.
In a small bowl, combine cream of celery soup, cream of chicken soup, parsley, poultry seasoning and pepper. Spread over chicken breasts. Top with chicken broth and cook on high 5 hours.
Approximately 1 hour (I allow 60 – 90 minutes) before serving (after 4 hours of cooking time), roll each biscuit thin and flat. Cut into 4 strips. Add vegetables to the slow cooker and stir. Add biscuit strips on top. Replace lid as quickly as possible.
To Serve
Remove chicken breasts and slightly shred. Add back into slow cooker and stir (this will break up the dumplings somewhat which is ok). Let cook an additional 10 minutes and serve.
Recipe Notes
Note: My biscuits were perfectly cooked after 60 minutes however some slow cookers have required extra time to cook the biscuits.
Nutritional information provided is an estimate and will vary based on cooking methods and brands of ingredients used.
Recipes by: spendwithpennies.com