Greek Tortellini Salad with tomatoes, avocados, cucumbers, feta cheese – in homemade Greek salad dressing. It's a delicious and healthy salad that uses fresh ingredients, lots of vegetables, and the dressing is made completely from scratch!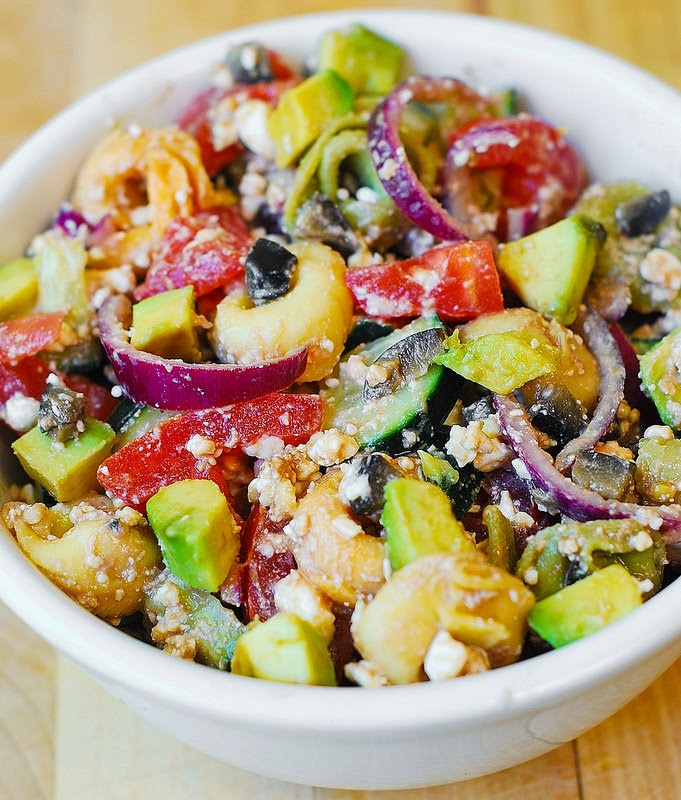 "That looks absolutely STUNNING! Yum!"
Recipe by: juliasalbum.com
Servings: 5 servings
Ingredients
Greek Salad Dressing:
1/4 cup olive oil
3 tablespoons balsamic vinegar
1/4 teaspoon ground black pepper or more, to taste
1/4 teaspoon salt or more, to taste
Salad:
2 1/2 cups tortellini , cooked and cold
2 cups tomatoes , sliced
1 cucumber , sliced
1 avocado , cubed
1 cup red bell peppers , sliced
1 cup feta cheese , crumbled
2 ounces black olives , finely chopped
1/4 red onion , thinly sliced
Instructions
Greek Salad Dressing:
In a medium bowl, whisk together all salad dressing ingredients, except salt. Add just enough salt to suit your tastes – should be about 1/4 teaspoon of salt.
Greek Tortellini Salad: