The BEST Mexican Street Corn Salad Recipe – Sweet and with just a hint of spice, this street corn salad is perfect at the dinner table, parties, potlucks, and even barbecues.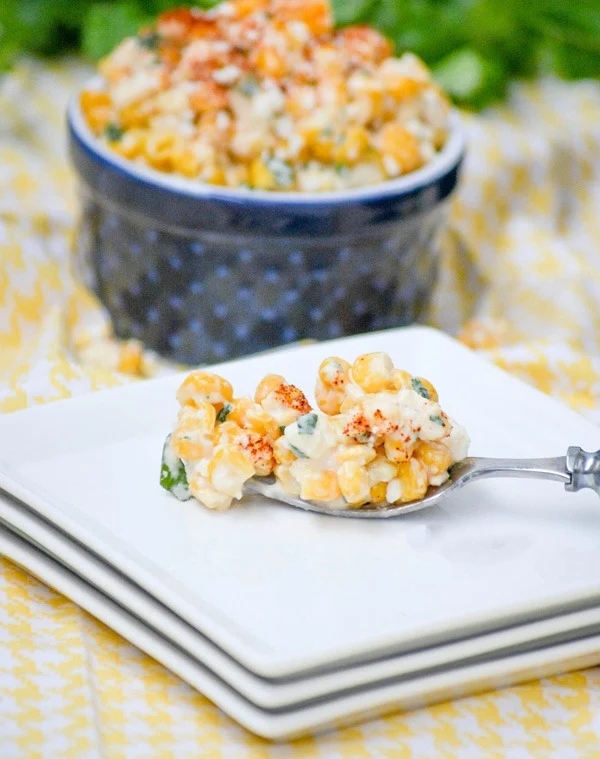 Servings: 10
Ingredients
2 14 oz bags of frozen corn
1 tbsp olive oil
¼ cup mayonnaise
8 oz cotija cheese crumbled
½ jalapeno diced, seeds removed
½ cup finely chopped cilantro
dash of cayenne pepper
3 cloves of garlic minced
juice of one lime
sea salt
Pinch of smoked paprika
Pinch of chili powder
Instructions
In a large skillet, over medium heat, add the olive oil and toast the corn– cooking the corn for 10-12 minutes, stirring occasionally. Remove the skillet from heat and set aside.
In a separate, large bowl stir the mayo, cotija cheese, jalapeno, cilantro, cayenne, and minced garlic together, until evenly combined.
Slice the lime in half and squeeze the juices from each half into the bowl. Stir until the juice is completely incorporated.
Stir in the corn until completely incorporated, evenly, into the salad mixture.
Refrigerate the salad until chilled.
When ready to serve, spoon the mixture into bowls and sprinkle with a pinch of sea salt, smoked paprika, and chili powder.
Notes
This recipe easily serves a crowd, if you're making it for a smaller gathering, you can easily halve it.
Source: 4sonrus.com