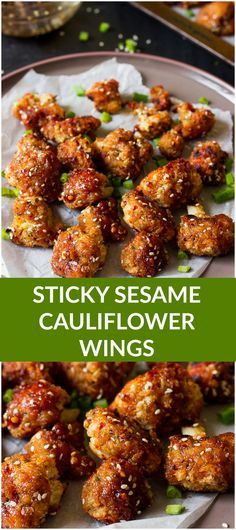 INGREDIENTS
1/2 cup all purpose gluten free flour*
1/2 cup unsweetened almond milk
1/2 teaspoon ground black pepper
1/2 teaspoon garlic powder
1/4 teaspoon crushed red pepper flakes ( 1/2 if you want it very spicy, leave out if you don't like spice)
1 cup crispy gluten free panko bread crumbs (seasoned with salt and pepper) OR toast your breadcrumbs slightly before using
4 tablespoons maple syrup
2 tablespoons liquid aminos
1/2 teaspoon sesame seeds
1/4 teaspoon ground black pepper
3/4 teaspoon ground ginger
chopped scallions & sesame seeds, for garnish
Preheat oven to 450 degrees.

Prepare a baking sheet by lining it with a silicone baking sheet or greased foil.

Remove florets from the cauliflower (aka don't use the stem).

Chop the cauliflower into smaller pieces to resemble the size of wings.

In a separate bowl, whisk all the batter ingredients together EXCEPT the bread crumbs. Place the bread crumbs in a bowl. Line it up beside the batter bowl.

Toss the cauliflower in the mixture one at a time, shaking off excess batter. Do not soak. Then, dip the cauliflower into the breadcrumbs to coat completely, then place onto the baking sheet. Repeat until all of the wings are coated.

Bake for 22 minutes. Please ensure your oven is completely preheated and hot.

While baking, prepare the ingredients for the sauce by whisking together.

Remove from oven. You can stop here, and serve the wings sauceless with sauce on the side (it is not a very thick sauce). The wings will be crispy this way. Alternatively, coat the wings in the sauce. With a pastry brush, brush the sauce onto the wings. Bake for another 5 minutes for the sauce to soak into the wings.

Remove from oven and serve immediately. Enjoy!
Either way tastes great, sauce or sauceless, it's your choice!

Don't use olive oil to grease the baking sheet since it will burn the bottom of your wings.

The batter will only adhere to the cauliflower wings dry. So, if for any reason you wet your cauliflower, it has to be 100% dry for the batter to stick.

You can use regular or whole wheat flour if not gluten free. Some Gluten Free flours are thicker than others, so if your batter seems way too thick, add in a few tablespoons of milk to thin it out a little if necessary. I use Bob's Red Mill All Purpose GF (NOT Baking) Flour.

If you want to substitute soy sauce, PLEASE taste the sauce before it goes on the wings first. Some soy sauces can make this too salty. I recommend a reduced sodium soy sauce.

HOW TO STORE CAULIFLOWER WINGS : You can store these Cauliflower Wings in airtight tupperware container in your fridge for up to 4 days, and reheat them in an oven until warmed. They taste best fresh. I wouldn't recommend freezing these as the batter may get soggy.


Original Recipes visit: Sticky Spicy Sesame Cauliflower Wings (GF + V) @ jessicainthekitchen.com