Delicious Strawberries and Cream Cake – A delicious, homemade-from-scratch best ever strawberry cake with a thick cream cheese frosting and garnished with sugared strawberries. The perfect cake for Mother's Day!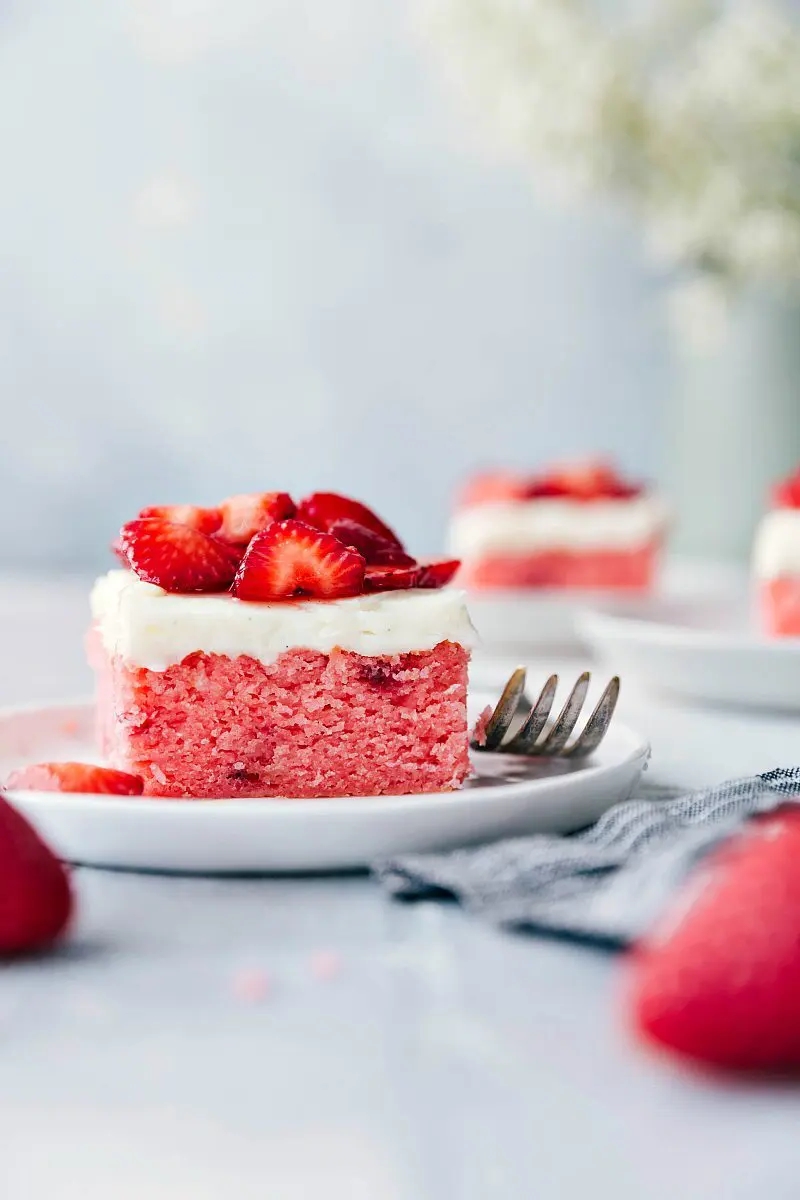 Servings: 9×13 cake
INGREDIENTS
Strawberry Cake
1

 

cup (227g)

 

unsalted butter,

 

at room temperature

2

 

cups (385g)

 

white granulated sugar

2

 

large

 

eggs

2

 

teaspoons

 

freshly squeezed lemon juice

2

 

cups + 3 tablespoons (275g)

 

white flour

5

 

tablespoons (43g)

 

cornstarch

3

 

tablespoons (37g)

 

strawberry jell-o mix,

 

dry (not prepared)

1/2

 

teaspoon

 

baking soda

1/2

 

teaspoon

 

salt

1

 

cup (235g)

 

buttermilk

 

(or milk mixed with lemon juice–check notes)

Optional: 3-4 drops red food coloring

2/3

 

cup (105g)

 

finely diced fresh strawberries
Frosting
1/2

 

cup (113g)

 

unsalted butter

 

softened

1

 

package (8 oz.; 226g)

 

full-fat cream cheese

 

at room temperature, don't use low fat

2

 

teaspoons

 

pure vanilla extract (OR 1 teaspoon vanilla bean paste)

3 to 4

 

cups

 

powdered sugar (depending on desired consistency; I usually use 3 cups)

1/4

 

teaspoon

 

fine sea salt
Topping
1 and 1/2

 

cups (220g)

 

sliced strawberries

1 and 1/2

 

tablespoons (20g)

 

white granulated sugar
INSTRUCTIONS
Cake:
Preheat the oven to 350 degrees F. Grease and flour a 9 x 13 pan and set aside.

Beat the room temperature butter with hand mixers until light and creamy. Slowly add in the sugar until the mixture is light and fluffy.

In another bowl, lightly beat the eggs and then add to the butter mixture and mix. Add in the freshly squeezed lemon juice. Beat in the buttermilk. If desired, add in the red food coloring here too and mix that in.

In a separate bowl, sift together the flour and cornstarch and then add in the jell-o mix, baking soda, and salt. It is important to separate bowls so the cake isn't over-beaten which will result in a dense cake.

Add the dry ingredients to the wet and beat at low speed until just combined.

Remove the stems from the strawberries and finely chop. Add in the finely chopped strawberries to the cake.

Pour the batter evenly in the prepared 9 x 13 pan.

Bake for 30-40 minutes or until a toothpick comes out clean when inserted into the center.

Cool the cake for at least one hour and then chill in the fridge for another hour.
Frosting:
Beat the softened butter and room temperature cream cheese until completely creamy. Beat in the vanilla and salt. Slowly beat in the powdered sugar until smooth and your desired consistency.

Spread the frosting evenly over the cake.
Sugared Strawberry topping (optional)
Stir together the sliced strawberries and sugar in a medium bowl. Let them stand at room temperature for about 20-30 minutes. Add them to the cake ONLY when serving and not beforehand.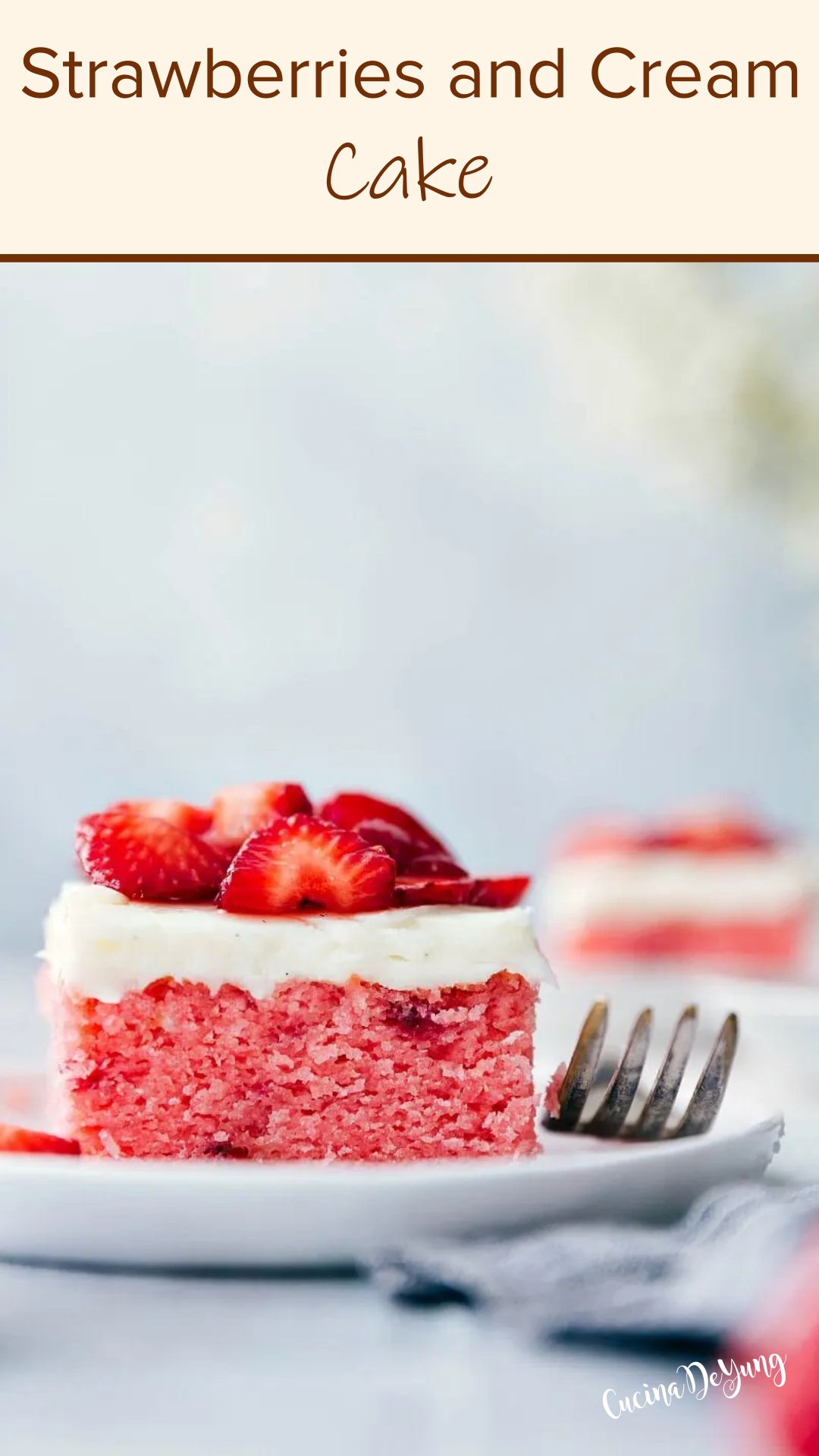 Source: chelseasmessyapron.com