Stuffed Cabbage Rolls – Even if you're not a fan of cabbage, these AMAZING stuffed cabbage rolls just might make you one! It's turned many cabbage loathers into cabbage lovers!
Print
Stuffed Cabbage Rolls
Stuffed Cabbage Rolls – Even if you're not a fan of cabbage, these AMAZING stuffed cabbage rolls just might make you one! It's turned many cabbage loathers into cabbage lovers!
Prep Time:

30 mins

Cook Time:

2 hours

Total Time:

2 hours 30 mins

Yield:

6

to

8

servings

1

x
Cabbage Rolls
1

large head green cabbage, about

2

to

2¼

pounds

2

pounds ground beef

2

eggs (not necessary, you can leave them out, but they bind and make the meat fluffier)

1

medium onion, grated or minced

2

garlic cloves, minced

2 teaspoons

salt

1 teaspoon

black pepper

½ cup

uncooked white rice (I like using long-grain) *
Tomato Sauce **
2 tablespoons

butter or vegetable oil (I use

1 tablespoon

of each)

2

cloves garlic, finely chopped

1

medium onion, chopped (medium dice)

2

15-ounce cans tomato sauce or

one

32-ounce can whole tomatoes, pulsed in a food processor with juice until pureed.
juice of

one

lemon or 2 tablespoons (or more to taste) apple cider vinegar

2 tablespoons

to ¾ cup light brown sugar (Depending on amount of sweetness you prefer. Start with

1

to

2

tablespoons and taste the sauce, adding if you like it sweeter. If you prefer it completely savory, add only 1 tablespoon brown sugar and the juice from half a lemon)
Salt and pepper to taste

½ cup

golden raisins (optional)
Chopped parsley, for garnish
Instructions
Fill a large pot with water and bring it to a rolling boil. When the water comes to a boil, fill a large bowl with ice water. Cut out as much of the core as you can from the bottom of the cabbage, then drop the whole, cored head into the boiling water for 3 to 4 minutes. Once the leaves separate and are pliable, immediately remove and drop the blanched leaves that separated (keep the pot of water boiling) in the ice water. Once cooled down, remove and pat the leaves dry. Repeat with any leaves still attached to the head and not pliable, until you've gotten all the leaves off the head, and they are all soft and pliable.
Alternatively, If you've got time on your hands, you can freeze the wrapped head of cabbage for two days then defrost. Cut out as much of the core as you can, then wrap tightly and freeze. When defrosted, the leaves will peel off easily and be soft enough to roll.
Here's some other ideas from readers, although I have yet to try them so I cannot confirm that they work. 1. Place the cabbage in the microwave for 6 minutes. The core will slip right out and the leaves will be perfect for rolling. 2. Cut out the core, fill the hole with water, then tie it up tightly in a microwave safe plastic bag. Microwave it for 6 minutes, then remove it from the microwave and let it steam in the bag for about a half hour.
Set aside about 16 of the largest leaves (these will be your cabbage rolls. If you can only get 14 leaves, it's fine) and slice off any thick parts of the vein on each of them, or just cut out the thick vein since that part will be covered once the cabbage leaf is rolled. Chop some of the remaining cabbage leaves to make 1 cup of chopped cabbage, and reserve.
Make the sauce (recipe below). Set aside to let cool. IMPORTANT: Taste the sauce as you add the brown sugar, anywhere from 2 tablespoons to ¾ cup as stated in the ingredient list above, starting with only 2 tablespoons so you sweeten it to YOUR preference. Some like it very sweet and sour, and some do not.
In a large bowl, mix the ground beef with the eggs, grated onion, chopped garlic, salt, pepper, and rice. (If you use cooked rice, you can test the seasoning of the meat mixture to your liking by frying up or microwaving a piece of it and tasting, if desired). Divide the meat mixture into sixteen equal pieces, or 14 equal pieces, about 2 to 3 oz each, depending on whether you have 16 or 14 cabbage leaves. Using slightly moistened hands (or not, since it rarely sticks to my hands), form the pieces into thick cylinders. Place a cylinder of filling near the bottom of a cabbage leaf (if the vein in the leaf is really thick, shave it down with a knife before placing the beef on it, being careful not to cut a big hole through the leaf itself OR, cut the thick vein out completely in a narrow V. When you roll the cabbage, that V will be covered sufficiently, as mentioned above).
Roll the meat filled cabbage leaf up, folding both sides over the filling, (like you see in the above photos) and finish rolling to enclose the filling, like a burrito. Continue, filling and rolling all the cabbage leaves. Line the bottom of a 13 x 9 roasting pan or glass dish with a layer of sauce. Place cabbage rolls, seam side down, on top of sauce.
Top cabbage rolls with remaining sauce then cover the whole pan with tin foil. Bake for 2 hours in a preheated 350 F oven.
Sauce Directions
Over medium heat, melt the butter and/or oil in a heavy, non-reactive saucepan. Sauté the second onion until soft and golden. Add the garlic and saute for 2 more minutes, then add the reserved 1 cup chopped cabbage and sauté for about 30 seconds to 1 minute more.
Add the tomato sauce, lemon juice, brown sugar, salt and pepper to taste, and stir to combine. Increase the heat until it comes to a boil, then lower it and simmer for 5 minutes. Add raisins now, if using. Set aside to cool while making the cabbage rolls.
Notes
* You can cook the rice before adding it to the meat mixture, if desired (just follow the rice manufacturer's directions for cooking ½ cup of rice, which should give you about 1½ cups cooked rice), but my grandmother used uncooked rice, and I've never ended up with even one uncooked grain when my cabbage rolls are done. The rice always cooks to perfection. Either way, it's up to you!
** Sauce can be made 2 days ahead; just cover and chill. Also, if you like a lot of sauce, just double or add another half of the original recipe.
Keywords: dinner recipes, main dishes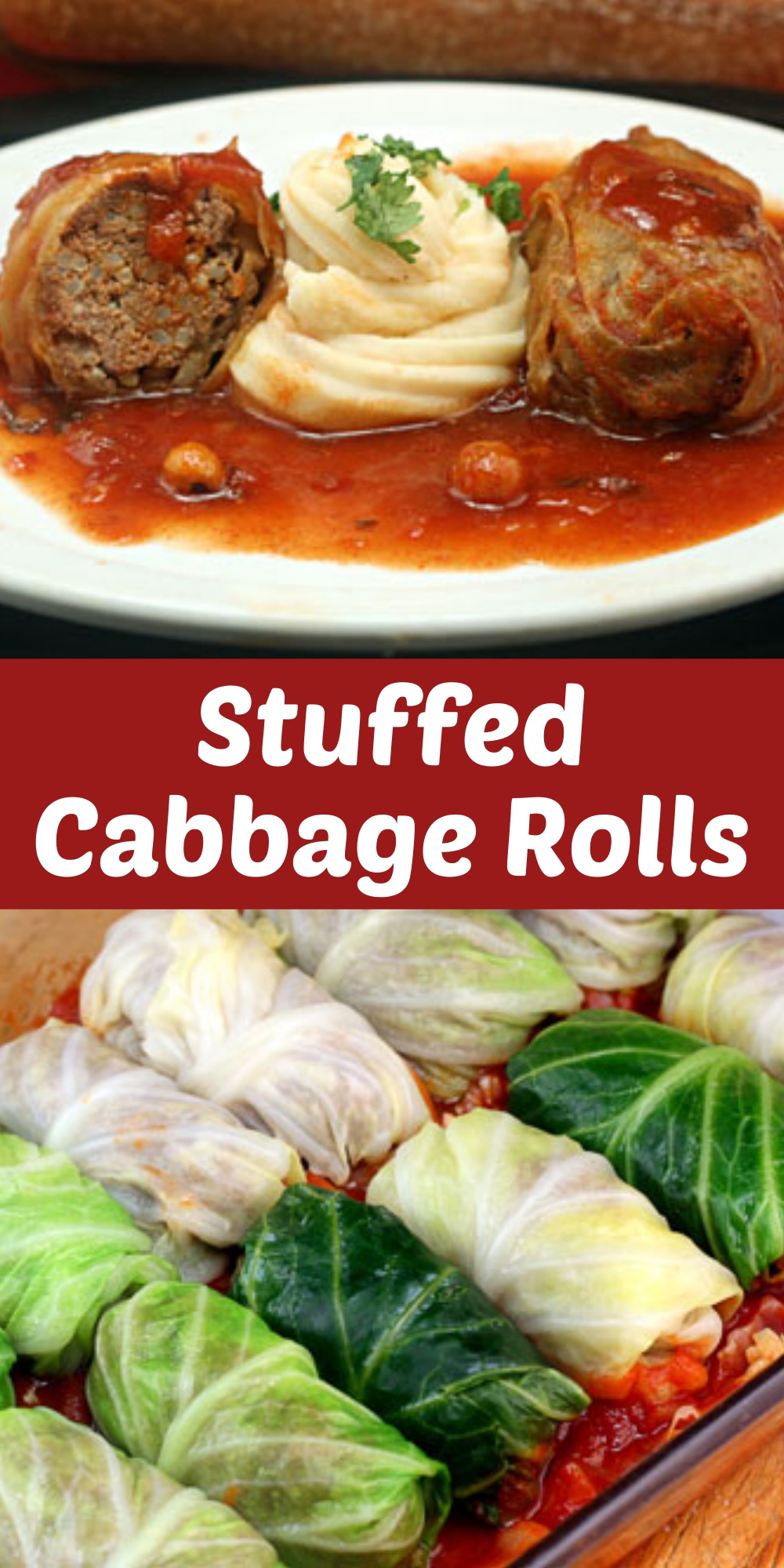 Recipe by: parsleysagesweet.com