The BEST Cheesy Thumbprint Cookies (Savory Cookies) – A savory twist on your classic jam-filled sweet thumbprint cookie – Savory Cheese Thumbprint Cookies with Bourbon Tomato Jam are truly the PERFECT party appetizer. These Savory Cookies are insanely flavorful, easy to make and vegetarian!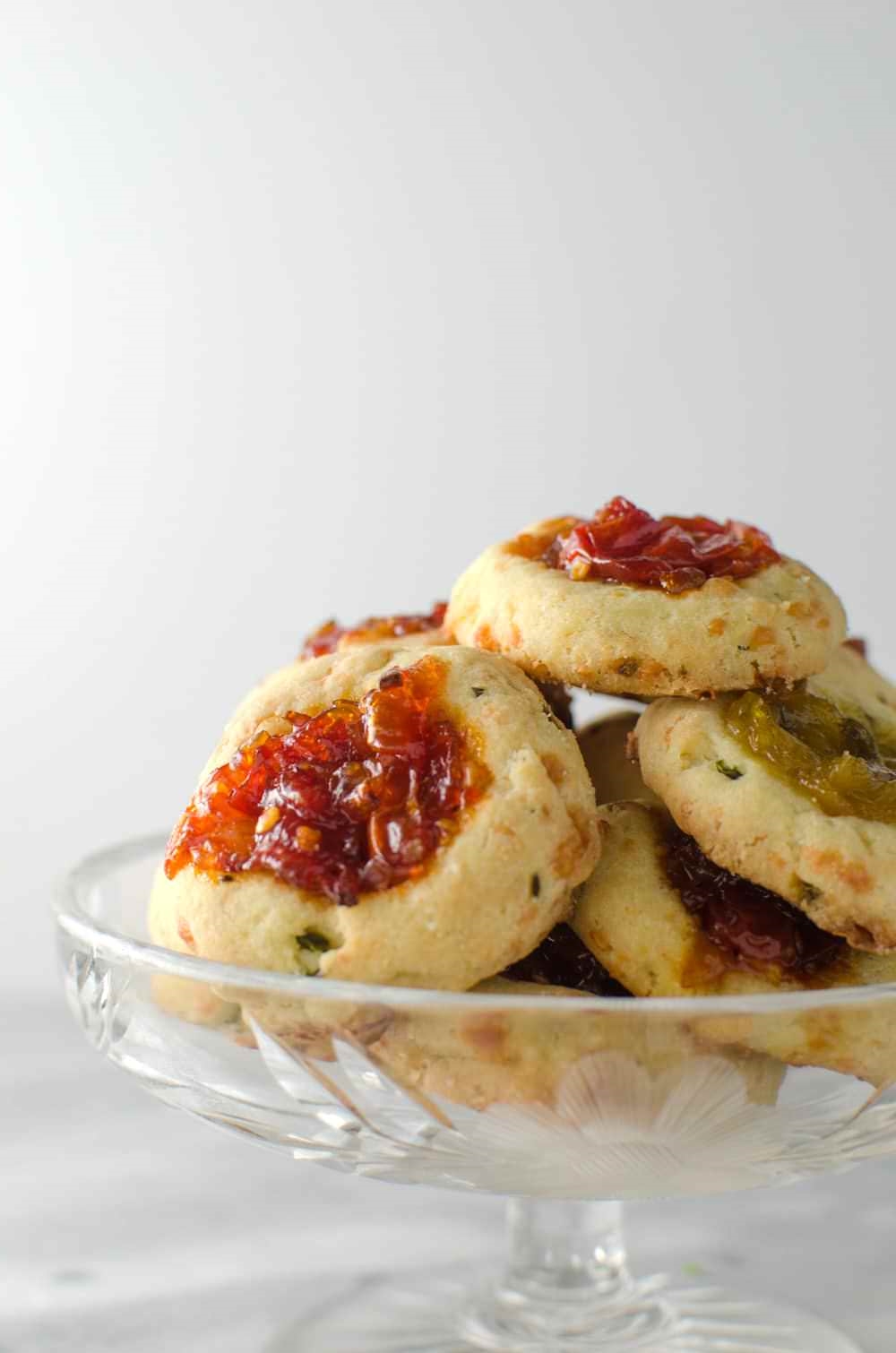 Servings: 30 cookies
INGREDIENTS
SAVORY CHEESY THUMBPRINT COOKIES
8

 

oz

 

/ 225g unsalted butter

 

softened

3.5

 

oz

 

/ 100g white cheddar cheese

 

grated

3.5

 

oz

 

/ 100g monterey jack cheese

 

grated

1

 

deseeded jalapeno

 

finely chopped

1

 

large rosemary sprig

 

leaves only, finely chopped

½

 

tsp

 

kosher salt

0.9

 

oz

 

/ 25g white sugar

1

 

small egg

6.7

 

oz

 

/ 190g AP flour

5.3

 

oz

 

/ 150g semolina
BOURBON AND TOMATO JAM
1

 

lb

 

cherry tomatoes

 

halved

5.3

 

oz

 

/ 150g sugar

5

 

tbsp

 

apple cider vinegar

Up to 1 tbsp chilli flakes/crushed red pepper

 

optional – but recommended

1

 

large clove of garlic minced

 

about 1 tsp minced garlic

2

 

oz

 

diced white/yellow sweet onion

A pinch of cumin

½

 

tsp

 

kosher salt

3

 

tbsp

 

bourbon
INSTRUCTIONS
SAVORY CHEESY THUMBPRINT COOKIES
Chop the grated cheese roughly and mix it with the rosemary and jalapeno. Alternatively, you can grate the cheese using your food processor, and add the deseeded jalapeno and rosemary leaves, and process finely. Set aside.

In a large bowl, place the softened the butter, sugar and salt and cream it together using a whisk/spatula or wooden spoon. Add the cheese-herb mix and mix it through using a spatula or wooden spoon.

Add the egg and mix it in until well incorporated in the dough.

In a separate bowl, mix the flour and semolina together. Add this in two batches to the butter-cheese mix and mix it to form a dough. You may need to use your hands (well-floured) to bring the dough together. Cover and chill in the fridge for about 30 minutes until the oven has preheated.

Preheat oven to 350°F / 180°C. Line two cookie trays with parchment paper.

Make 1 ½ inch round dough balls and place them on the cookie tray with about 2 inches of space between each (I placed 14 cookies on each tray).

Create a deep well/imprint in each dough ball using a moistened thumb/finger.

Fill each well generously with bourbon tomato jam (recipe below).

Bake in preheated oven for 20-25 minutes. Switch the position of the two trays in your oven half way through baking (please see note). The cookies should be golden on the bottom and light-golden on top.

Remove from the oven and let them cool slightly. Serve.

If you're storing the cookies, DO NOT STACK (the jam will stick to the bottom of the cookies).
BOURBON TOMATO JAM
Mix all the ingredients except for the bourbon in a saucepan. Bring the mix to a boil on medium-heat, while stirring to dissolve the sugar. Once the mix has come to a boil, increase the heat to keep it at a boil.

Let the mixture boil while stirring and gently crushing the tomatoes with a spoon as they soften. After about 5 minutes of cooking time, add the bourbon and mix through.

The mixture should keep cooking until the liquid has become syrupy and thick. The time depends on the heat of your stove, and how much liquid is present in the tomatoes. The end product will resemble preserves with tomato pieces in it.

These can be stored in mason jars until needed (makes enough for 1 ½ batches of these cookies).
NOTES
My oven isn't great at handling two baking levels, so I had to bake these in two batches. Know how your oven works, and bake the two trays together or separately.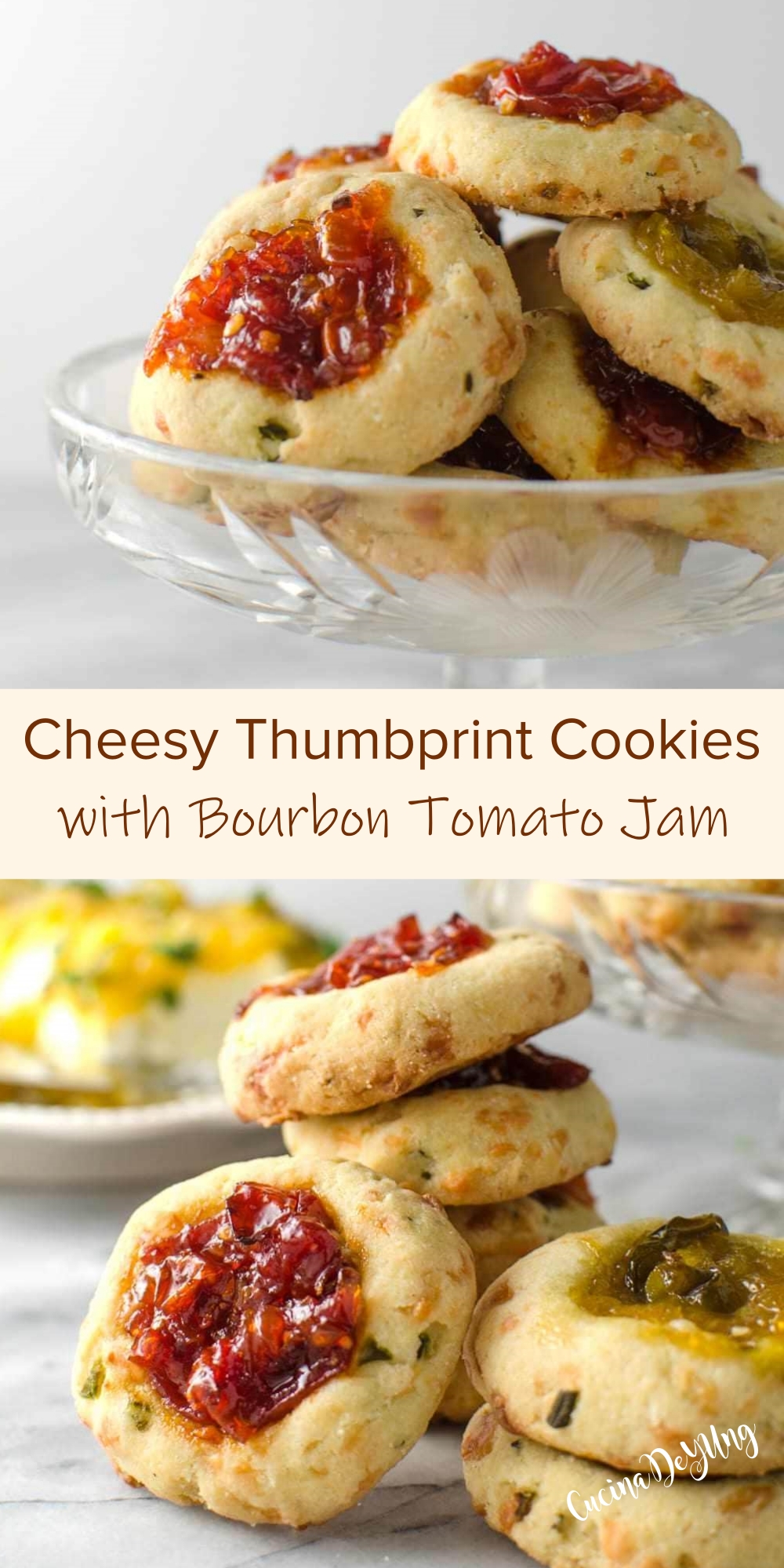 Source: theflavorbender.com