Chicken Enchilada Bake – It's easy, yummy, and delicious!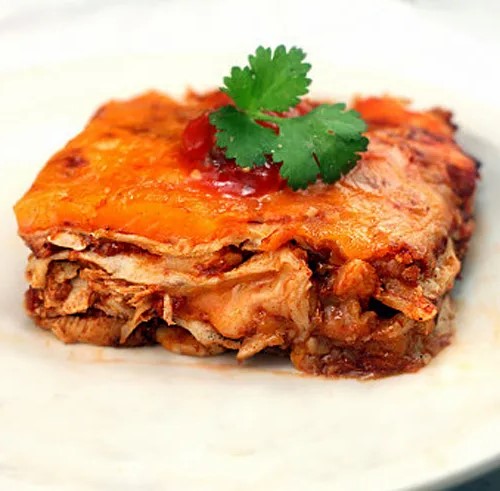 Servings: 6
Ingredients
Red Mole Sauce and/or Green Chile Sauce – OR Mexican sauce(s) of your choice
2 boneless chicken breasts (you can also use bone-in chicken breasts or thighs)
3 tablespoons olive oil or other neutral vegetable oil (use more as needed)
Kosher salt and pepper
12 flour tortillas
6 ounces Monterey or Pepper Jack Cheese, grated
6 ounces Cheddar Cheese, grated
Chopped cilantro for garnish – optional
DIRECTIONS:
Heat a grill or grill pan to medium high or build a medium-hot charcoal Coat the chicken with olive oil and season well with salt and pepper. Preheat oven to 450 degrees.
Grill the chicken until just cooked through, 4-5 minutes a side for boneless chicken breasts.
Cool and then slice into thin strips or shred.
In a small skillet, heat 3 tablespoons oil over medium-high heat until very hot. Dip the edge of a tortilla into the oil to check – it should sizzle immediately.
Using tongs, put a tortilla into the pan and cook until soft and lightly brown on each side, about 15-20 seconds per side (at the most).
Drain on paper towels.
Add oil as needed and continue until all 12 tortillas are done.
In a baking dish large enough to hold four separate stacks of tortillas, ladle a thin layer of sauce.
Lay four tortillas in the dish and ladle another ½ cup (4 ounces/112 grams) of sauce over the tortillas.
Divide half the chicken among the first layer of tortillas, top with another ½ cup of sauce and 1/3 of the grated cheeses.
Stack another four tortillas, top with the rest of the chicken, more sauce and another third of the cheese.
Finish with the third tortilla, topped with the remaining sauce and cheese.
Bake until the sauce has thickened and the cheese melted, about 20 minutes. Let rest for 5-10 minutes.
To serve, cut into squares like you would a lasagna and transfer each cut enchilada stack to a plate. Spoon any leftover sauce over the stacks and sprinkle with cilantro, if you wish. The stacks may also be cooked in individual gratinee dishes.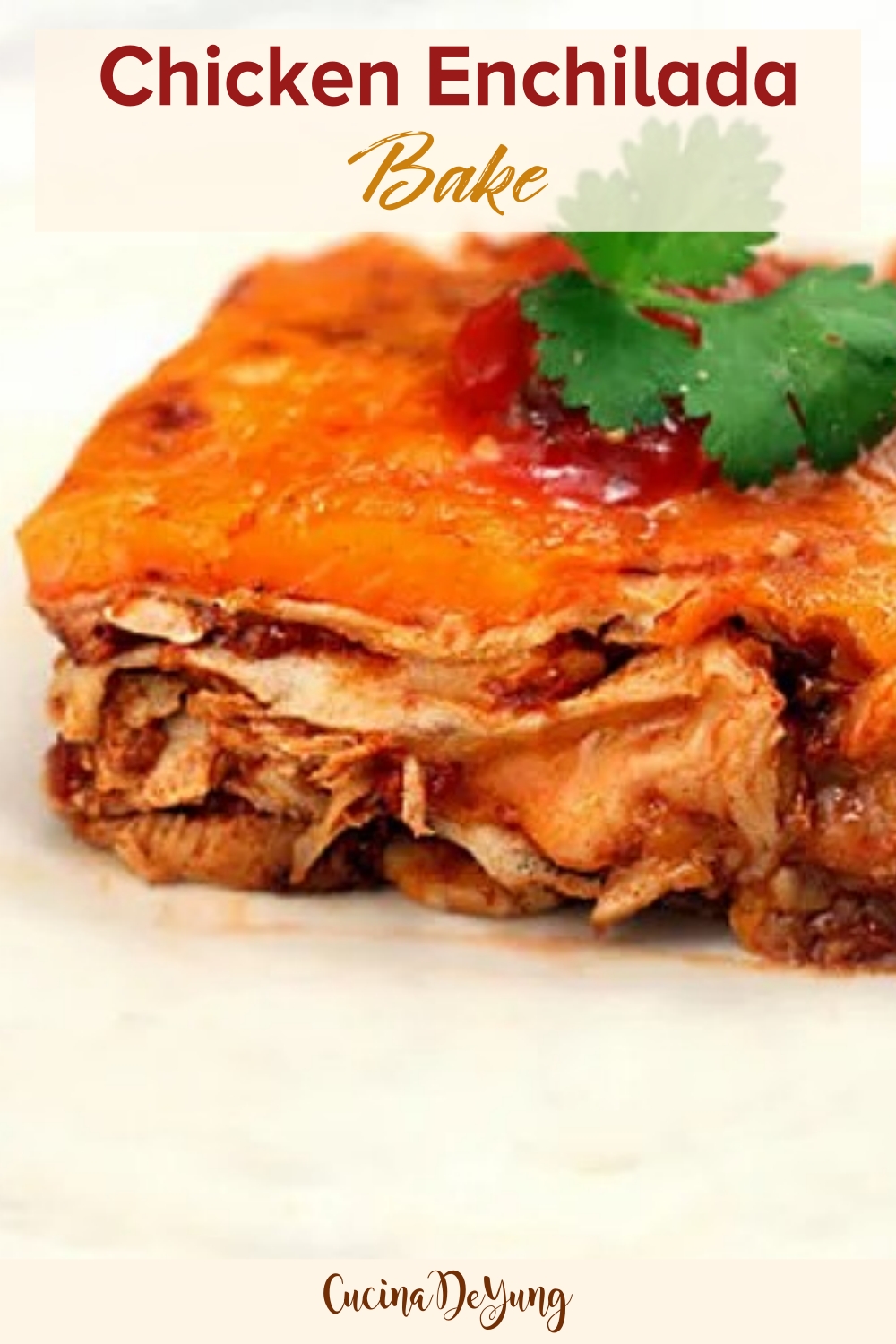 Source: parsleysagesweet.com