Chicken Pot Pie Soup Recipe – This Homemade Chicken Pot Pie Soup without canned soup is scratch-made from ingredients in your pantry. It is hearty, rich and soul-warming – not to mention easy to make. Depending on your kitchen ability, this soup can be ready anywhere from 30-minutes to an hour. Don't skip the secret ingredient! It's what sets this soup apart; the flavor is absolutely amazing!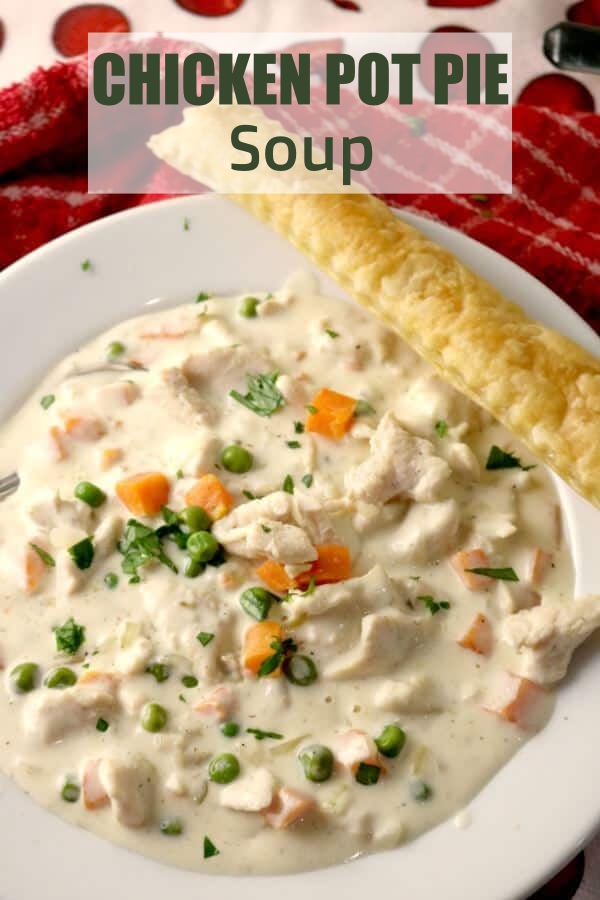 INGREDIENTS:
For the Pastry Sticks:
2 sheets frozen puff pastry, thawed per package instructions
1 egg, beaten
For the Soup:
4 chicken breast halves, or 2 cups leftover cooked chicken
ground pepper and salt – to taste
2 tablespoons cooking oil
⅓ cup butter
¼ cup all-purpose flour
1 quart (4 cups) heavy cream
4 teaspoons chicken base – or per the pkg instructions*
1 cup water (for dissolving the chicken base)
1 tablespoon minced garlic
½ small yellow onion, minced
1 cup frozen green peas, cooked
1 cup chopped cooked carrots
Pinch (about ¼ tsp) fresh grated nutmeg, optional
Note: *Not all chicken bases and bouillons are created equally. Be sure when you select one that you look at the amount of sodium in each teaspoon of granules. Some brands have double or even triple the amount of sodium than others. No matter which brand you choose, use the amount suggested on the label. For Orrington Farms (the brand I use) it is 1 teaspoon per cup of liquid. Following the recipe exactly as written but using a different brand or style of bouillon or chicken base can result in an overly salty and otherwise inedible dish.
INSTRUCTIONS
Preheat oven to 400 degrees F. Season chicken with salt and pepper. Heat oil in a large Dutch oven over medium-high heat. Add chicken and saute until cooked through. Remove chicken from the pan and set aside.
Then into the same large Dutch oven, melt butter and saute the onions until they soften; about 3 minutes.
Add the garlic and saute for another minute. Then sprinkle the flour over the onions and garlic, stir until consistency of peanut butter, but do not brown like a roux — you want it to remain a light golden color.
Add the chicken base, chicken stock (or water), and heavy cream. Stir until combined.
Add the chicken and any collected juice back into the soup. Add peas, carrots. continue to cook on low until heated through. Stir in the nutmeg.
Prepare puff pastry by cutting the dough into 1-inch wide strips.
Bake puff pastry in the oven on a baking sheet lightly sprayed with cooking oil or a silicone baking mat for 15 minutes or until golden brown and puffy.
Notes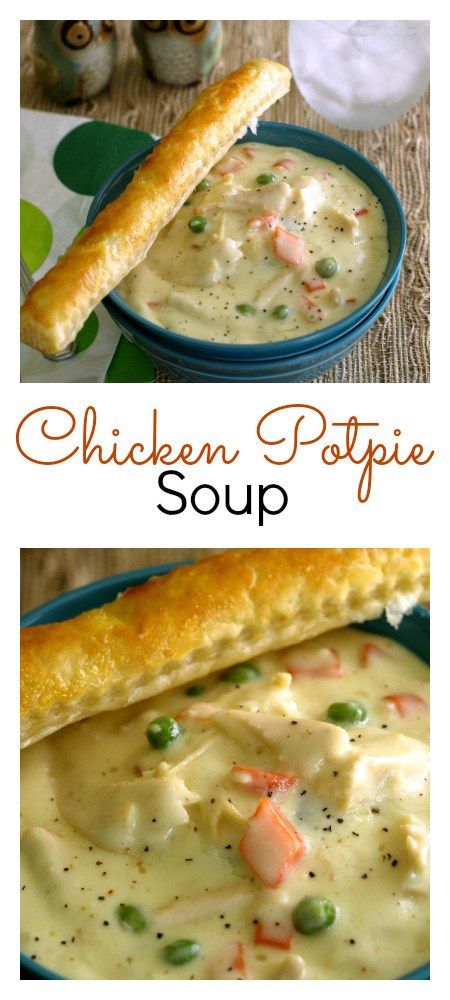 Recipes by: kitchendreaming.com