The BEST Chipotle Burrito Bowl Recipe – This homemade Chipotle bowl with chicken tastes like a Chipotle burrito bowl but is better for you and better tasting! An easy, healthy meal.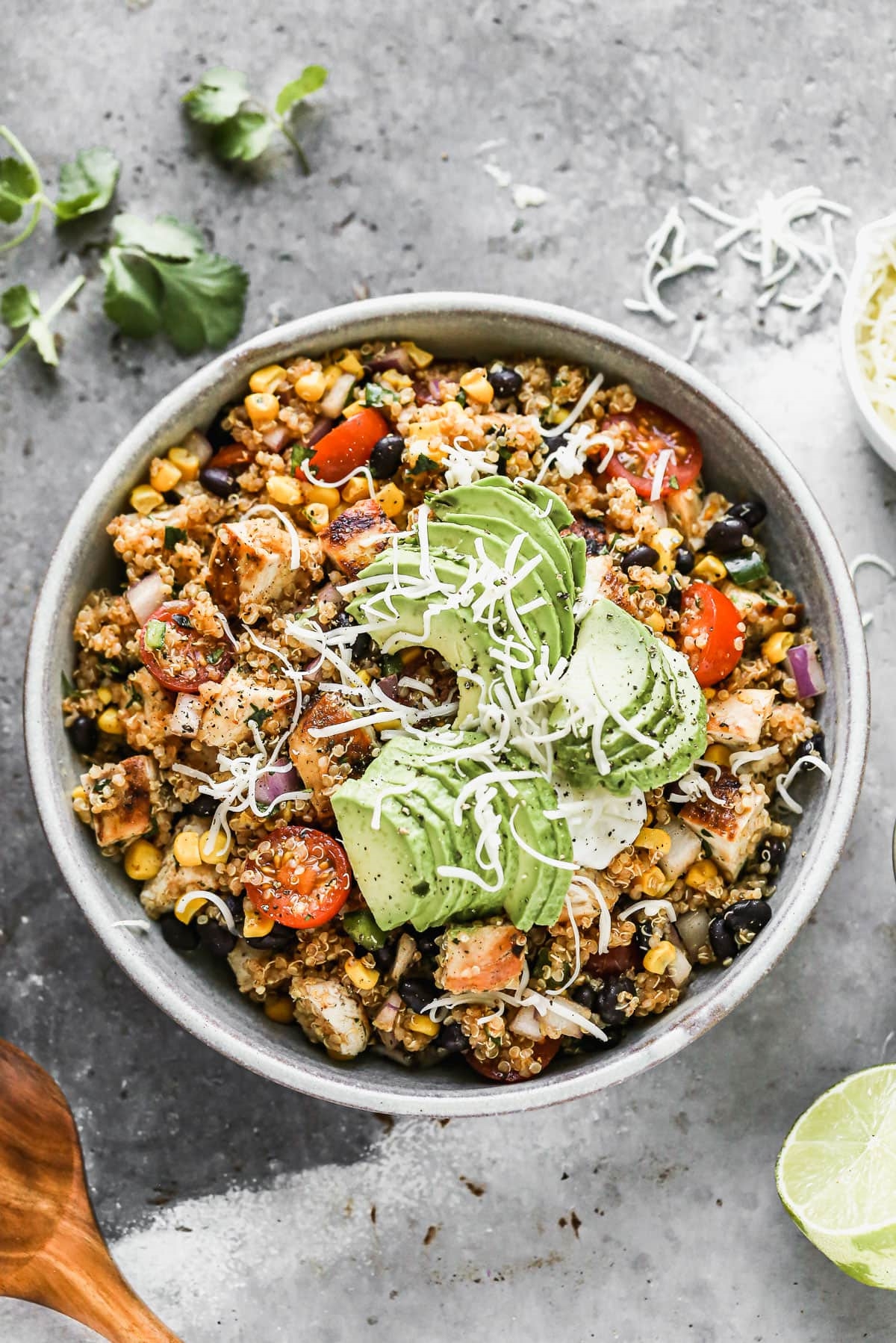 Ingredients 
2

 

boneless skinless chicken breasts

 

about 1 pound

1

 

tablespoon

 

extra virgin olive oil

1/4

 

teaspoon

 

kosher salt

1/4

 

teaspoon

 

black pepper

1

 

lime

 

zest and juice

1

 

small red onion

 

diced

1

 

cup

 

quinoa

1/2

 

cup

 

chopped fresh cilantro

 

plus additional for serving

1

 

can

 

black beans

 

(14 ounces) rinsed and drained

1

 

can

 

corn

 

(14 ounces) drained, or 1 1/2 cups fresh or frozen corn (thawed if frozen)

2

 

cups

 

halved cherry tomatoes

 

about 1 pint

1

 

jalapeño

 

seeded and diced
1/4 cup extra-virgin olive oil

1/4 cup freshly squeezed lime juice, plus additional for serving

1 teaspoon ground chili powder

1 teaspoon ground cumin

1/2 teaspoon kosher salt

1/4 teaspoon cayenne pepper (use less or omit if sensitive to spice)

1/4 teaspoon black pepper
Diced avocado or guacamole

Shredded cheese

Sour cream or Greek yogurt

Salsa



Directions
Place the chicken breasts on a cutting board with some space between and cover with a large piece of plastic wrap. With a mallet, lightly pound the meat to an even thickness so. Place in a shallow dish.

Top the chicken with the olive oil, salt, pepper, lime zest, and lime juice. Rub and turn to coat. Let rest at least 15 minutes while you prep the other ingredients or refrigerate for up to 8 hours (let stand at room temperature at least 10 minutes prior to cooking). Preheat an outdoor grill or indoor grill pan to medium high (about 425 to 450 degrees F).

Place the red onion in a small bowl and cover with water (this takes off some of the red onion's bite while preserving its flavor. You can skip if you like raw red onion just as it is). Set aside.

Prepare the quinoa according to package directions. Once cooked, fluff with a fork, then transfer to a large mixing bowl.

To make the dressing, in a small bowl or measuring cup, whisk together the olive oil, lime juice, chili powder, cumin, salt, cayenne, and black pepper.

Drizzle over the warm quinoa, then add cilantro, and toss to combine.

Lightly oil the grill. Grill the chicken until completely cooked through and the temperature on an instant read thermometer reads 160 to 165 degrees, about 8 to 12 minutes total, flipping once or twice throughout. The amount of time you need will vary based on the size and thickness of each breast. Remove to a plate, cover, and let rest 5 minutes.

Cut into bite-sized pieces and add to the bowl with the quinoa.

Drain the red onion, then add to the bowl with the quinoa.

Gently stir in the black beans, corn, tomato, and jalapeno. Serve warm with a sprinkle of fresh cilantro and any desired toppings.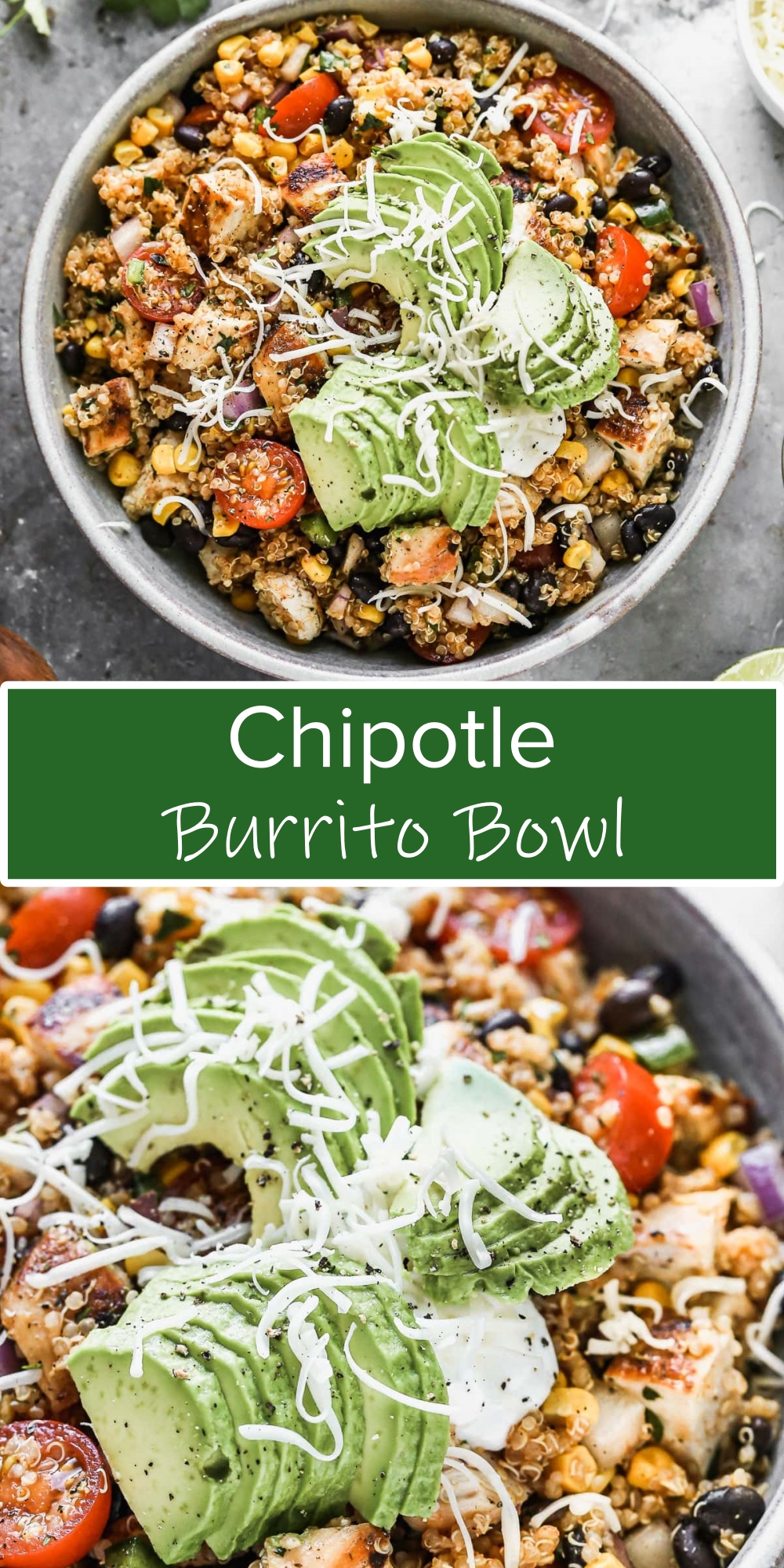 Source: wellplated.com