Delicious Monkey Bread with Salted Caramel Sauce – This Monkey Bread will have your entire family begging for more. Made completely from scratch, but don't worry, it's super easy to prepare!
Servings: 12
Ingredients
For the Dough
1 package (2 1/4 teaspoons) active dry yeast
1/4 cup warm water
1 1/4 cups warm 2% milk
1/3 cup unsalted butter, melted
1/4 cup sugar
2 large eggs
1 teaspoon salt
5 cups all-purpose flour, divided
For the Cinnamon-Sugar Coating
1/2 cup (1 stick) unsalted butter, melted
1 1/2 cups sugar
2 tablespoons ground cinnamon
For the Salted Caramel Sauce
1/2 cup (1 stick) unsalted butter
1 cup brown sugar
1 teaspoon sea salt
1/4 cup heavy cream
Instructions
In the bowl of your stand mixer, combine yeast and water. Give it a gentle stir and let stand for 10 minutes. Attach the dough hook and slowly mix in warm milk, butter, sugar and eggs (one at-a-time). When combined, add salt and 3 1/2 cups flour. Continue to mix until dough forms (it will be slightly sticky), about 2 minutes.
Turn off mixer and place dough on a floured surface. Continue kneading the dough with your hands and incorporate remaining 1 1/2 cups of flour, about 5-7 minutes. Dough should not stick to your hands. Lightly oil a bowl (I used nonstick spray) and place dough inside. Cover with plastic wrap and refrigerate for 8 hours or overnight.
Thoroughly oil a bundt pan and set aside. Prepare the cinnamon-sugar coating. Melt stick of butter in a shallow bowl. In another shallow bowl, combine 1 1/2 cups of sugar and ground cinnamon. Set aside.
Remove dough from fridge and form into 40-45 dough balls, about 1 1/2 – 2 inches in diameter each (I ended up with 42). Roll each dough ball in the melted butter and then in the cinnamon-sugar until evenly coated. Place into bundt pan. Cover pan with a clean kitchen towel and let rise at room temperature for 1 hour.
Meanwhile, prepare Salted Caramel Sauce. In a small saucepan, melt butter. Add brown sugar, sea salt and heavy cream. Bring to a boil and then turn heat down to medium-low. Continue cooking for 3-4 minutes, until sugar is completely dissolved. Salted Caramel Sauce can be made in advance. Simply microwave sauce for 30 seconds to get it back to its original consistency and use as directed.
Preheat oven to 350 degrees F. Pour half of the Salted Caramel Sauce evenly over the Monkey Bread and place in the oven. Bake for 35-38 minutes or until top is caramelized and golden brown. Remove bundt pan from oven and let rest for 5 minutes. Invert pan onto a serving platter and drizzle remaining caramel sauce over the top. Serve and enjoy!
Notes
Monkey Bread is best when enjoyed on the same day. Alternatively, you can store it in an airtight container for up to 3 days.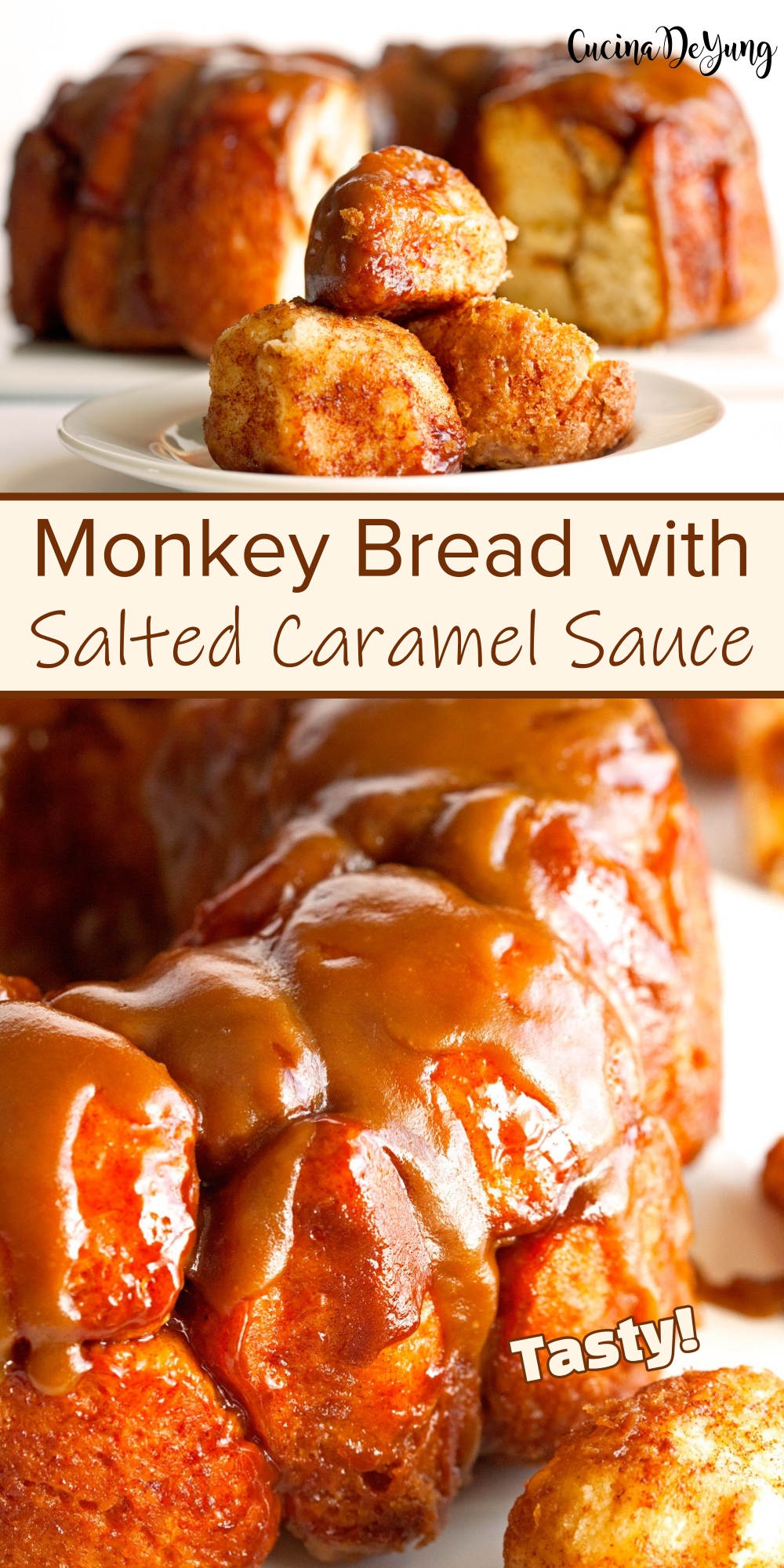 Source: deliciouslyyum.com