Greek Burgers with Spinach, Feta, and Sun-dried Tomatoes – These flavor-packed Greek burgers are made using ground beef mixed with fresh spinach, feta cheese, and sun-dried tomatoes. After grilling or pan-searing the burgers, they're drizzled with tzatziki sauce and served with fresh toppings on a toasted bun.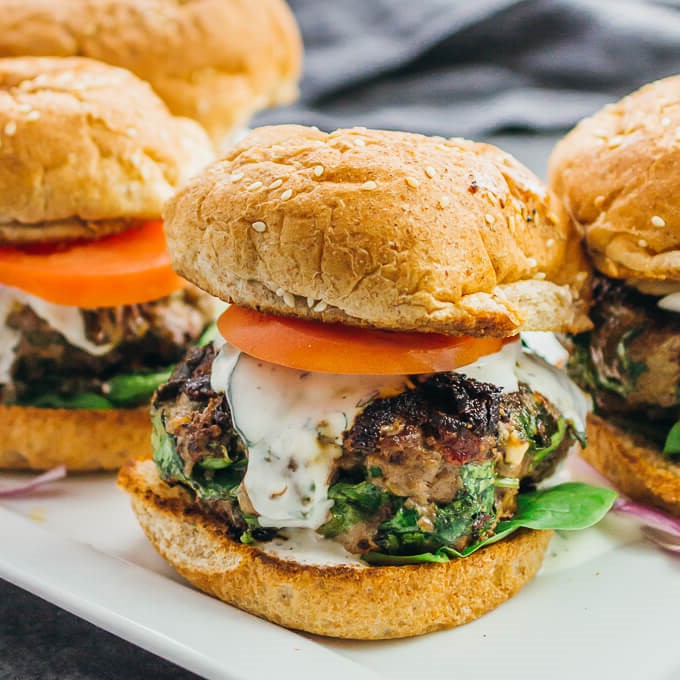 Servings: 4
Ingredients
Burger Patties:
1 pound ground beef (Note 1)
5 ounces fresh baby spinach leaves, chopped
2 ounces crumbled feta cheese
1/3 cup chopped sun-dried tomatoes (Note 2)
1 large egg
1/2 teaspoon table salt
Buns & Toppings (Note 3):
sandwich buns (Note 4)
fresh baby spinach leaves
sliced tomato
sliced shallot
tzatziki sauce (Note 5)
Instructions
Make Burger Patties: Combine and mix together all burger patty ingredients in large bowl. Form into 4 patties, and refrigerate for at least 1 hour to harden.

Toast Buns: Heat pan over medium heat, or use grill. Working in batches, drizzle inside faces of buns with cooking oil and place face down on pan. Cook until toasted, a few minutes. Transfer to serving plate.

Cook Burger Patties: Increase to medium-high heat (or keep at medium heat to lessen amount of smoke; it will just take longer to cook). Drizzle cooking oil over pan. Working in batches, cook patties until charred on both sides and internal temperature reaches 160 F, flipping occasionally. Add more oil if pan gets dry.

Serve: Assemble burgers by distributing patties and toppings among buns. Serve hot.
NOTES & TIPS
(1) Ground Beef. If you don't have beef, ground turkey is a good substitute.
(2) Sun-Dried Tomatoes. I use dry-packaged sun-dried tomatoes, typically found in the produce area of U.S. supermarkets, in plastic packaging. Oil-packaged ones are fine as long as you blot off any excess oil.
(3) Nutrition. The nutrition estimate assumes 85% lean ground beef and only includes the burger patties. Buns, toppings, and cooking oil are not included.
(4) Sandwich Buns. Use sandwich buns or pita pockets. For a low carb alternative, use lettuce wraps or low carb buns (e.g., Natural Ovens Bakery buns sold at Costco).
(5) Tzatziki Sauce. This is a creamy yogurt sauce with garlic and grated cucumbers, available in most U.S. grocery stores. You can also make a homemade version. If you don't like tzatziki sauce, substitute with some kind of spread (like hummus or mashed avocado) so that the burgers don't taste too dry.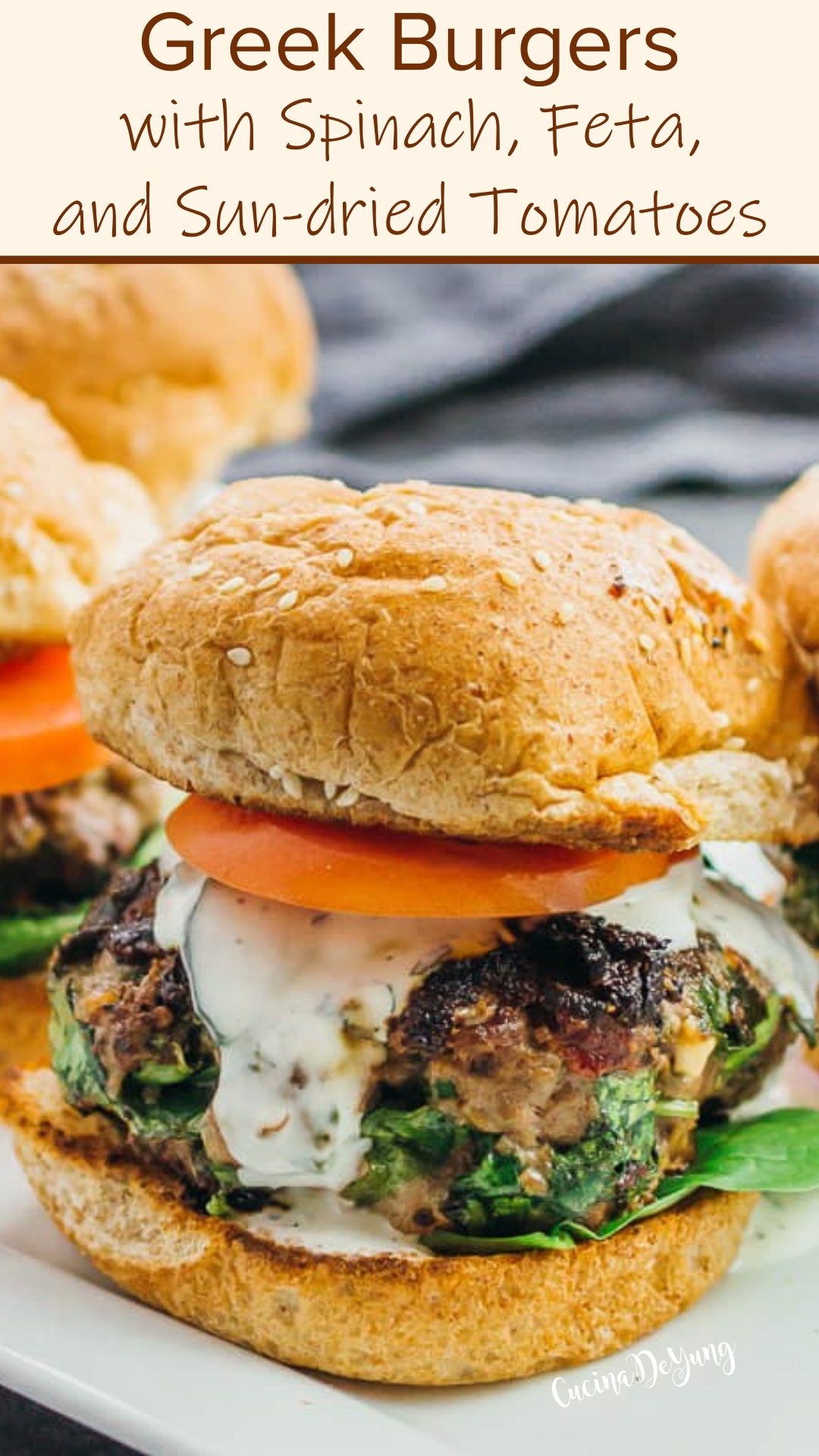 Source: savorytooth.com