The BEST Grilled Taco Chicken Bowls with a Corn Avocado Salsa – This grilled chicken with avocado salsa is loaded with fresh flavor and amazing textures!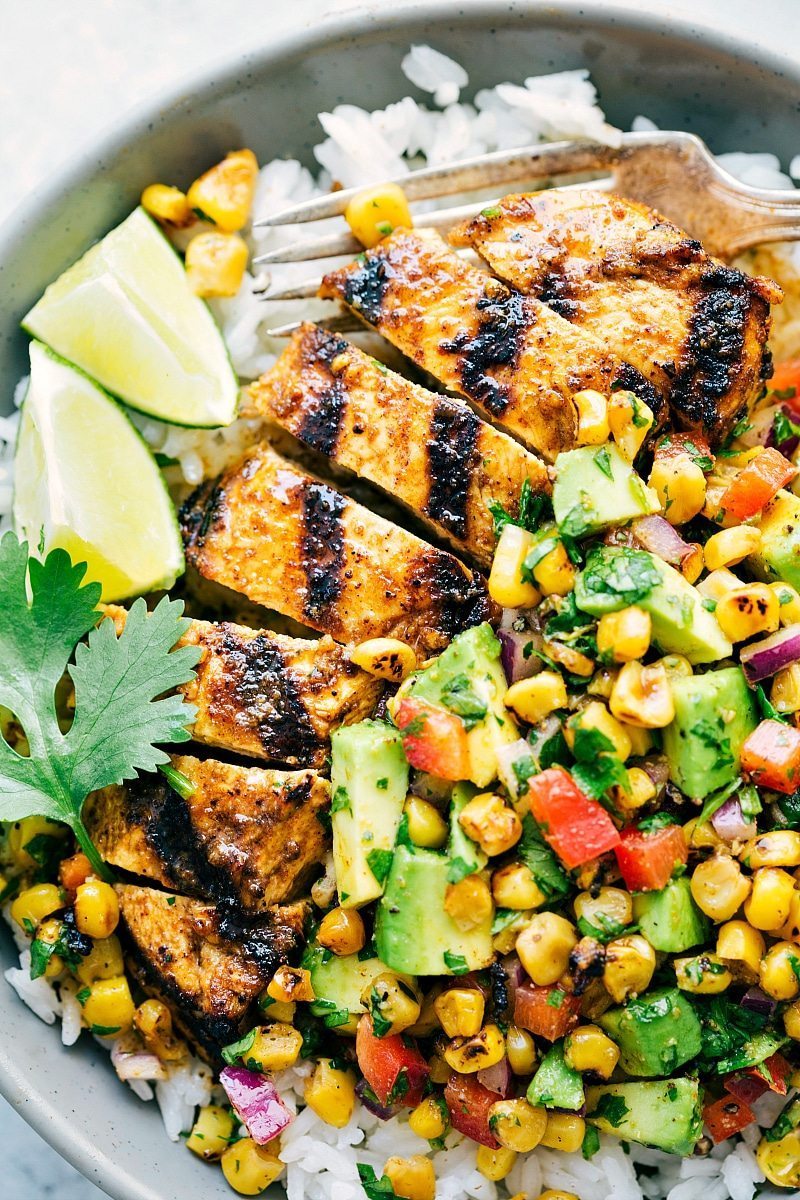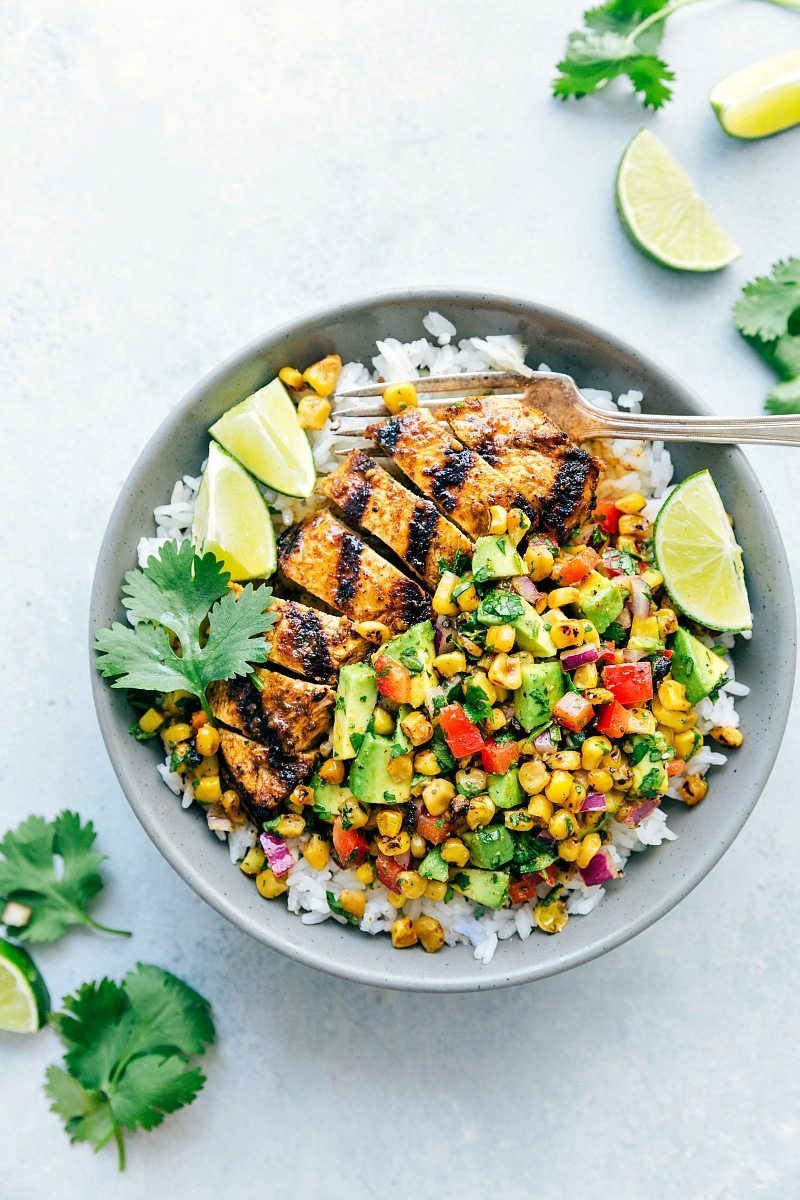 Servings: 4
INGREDIENTS
Grilled Chicken
1 & 1/2

 

pounds

 

boneless skinless chicken breasts

1/4

 

cup + 2 tablespoons

 

olive oil,

 

separated

4

 

large juicy

 

limes (1/2 cup lime juice + lime zest),

 

separated

2

 

teaspoons

 

minced garlic

3

 

teaspoons

 

ground cumin,

 

separated

1/2

 

teaspoon

 

paprika

1 1/4

 

teaspoon

 

chili powder

Salt and pepper
Grilled Corn and Avocado Salsa
4

 

ears

 

sweet corn

Olive oil, salt and pepper

2

 

large

 

ripe avocados,

 

diced

1

 

small

 

red onion (or half of a large one),

 

diced

1

 

small

 

red bell pepper,

 

diced

1/3

 

cup

 

fresh cilantro,

 

finely chopped

1

 

tablespoon

 

minced garlic

1/4

 

teaspoon

 

crushed red pepper flakes,

 

optional

Optional: serve over rice or quinoa (I like to add lime juice and cilantro to the rice!)
INSTRUCTIONS
PREP: Trim the chicken breasts of fat and pound them to an even thickness to ensure even grilling. You can also slice them evenly in half widthwise for a quicker grill. Place the prepared chicken in a large ziplock bag and set aside.

MARINADE: In a small bowl whisk together 1/4 cup olive oil, 1 teaspoon lime zest, 1/4 cup freshly squeezed lime juice, minced garlic, 2 teaspoons cumin, 1/2 teaspoon paprika, 1 and 1/4 teaspoon chili powder, and salt + pepper (I use about a teaspoon of each). Once the mixture is well combined, remove about 2-3 tablespoons of the mixture and reserve for later.

COAT CHICKEN: Add the rest of the marinade in the bag with the chicken. Seal the bag and then knead with your hands to ensure all of the chicken is well coated. Place in the fridge and marinate for at least 45 minutes and preferably 2-3 hours. Don't marinate longer than 5 hours.

GRILL: Preheat a grill to medium-high heat (about 450 degrees F.) Generously oil the grill (I drench a rolled-up paper towel in vegetable oil and, holding it with tongs, rub it over the grill grates. Don't skip this step.) Husk the corn and rub olive oil over the corn. Sprinkle the corn lightly with salt and pepper. Place the corn on one half of the grill.

GRILL CONT.: Remove chicken from marinade and season lightly with salt. Grill the chicken (on the other half of the grill) turning once halfway through grilling, about 4-6 minutes per side (until the thickest part of the chicken registers 165 degrees F.). Baste the chicken with the reserved marinade as you grill and after flipping. Transfer the chicken to a plate and cover with foil. Allow the chicken to rest for a few minutes so the juices can re-distribute. As you baste the chicken, flip the corn too. Remove the corn when grilled to your liking (about 15-20 minutes, flipping around every 3 minutes)

SALSA: Meanwhile prepare the salsa! Dice the veggies — the avocados, red onion, red pepper and cilantro. Toss together in a large bowl. Add in remaining 2 tablespoons olive oil, remaining 1/4 cup lime juice, remaining 1 teaspoon cumin, minced garlic, and crushed red pepper flakes. Gently toss together. Slice the corn off the ears and add to the salsa. Add salt and pepper to taste. Toss again and serve over chicken.
RECIPE NOTES
Use a food thermometer: the best way to avoid dry, flavorless chicken is to test the temperature! Once the chicken hits 160 degrees F, pull it off. (Carryover heat will bring it up the last 5 degrees).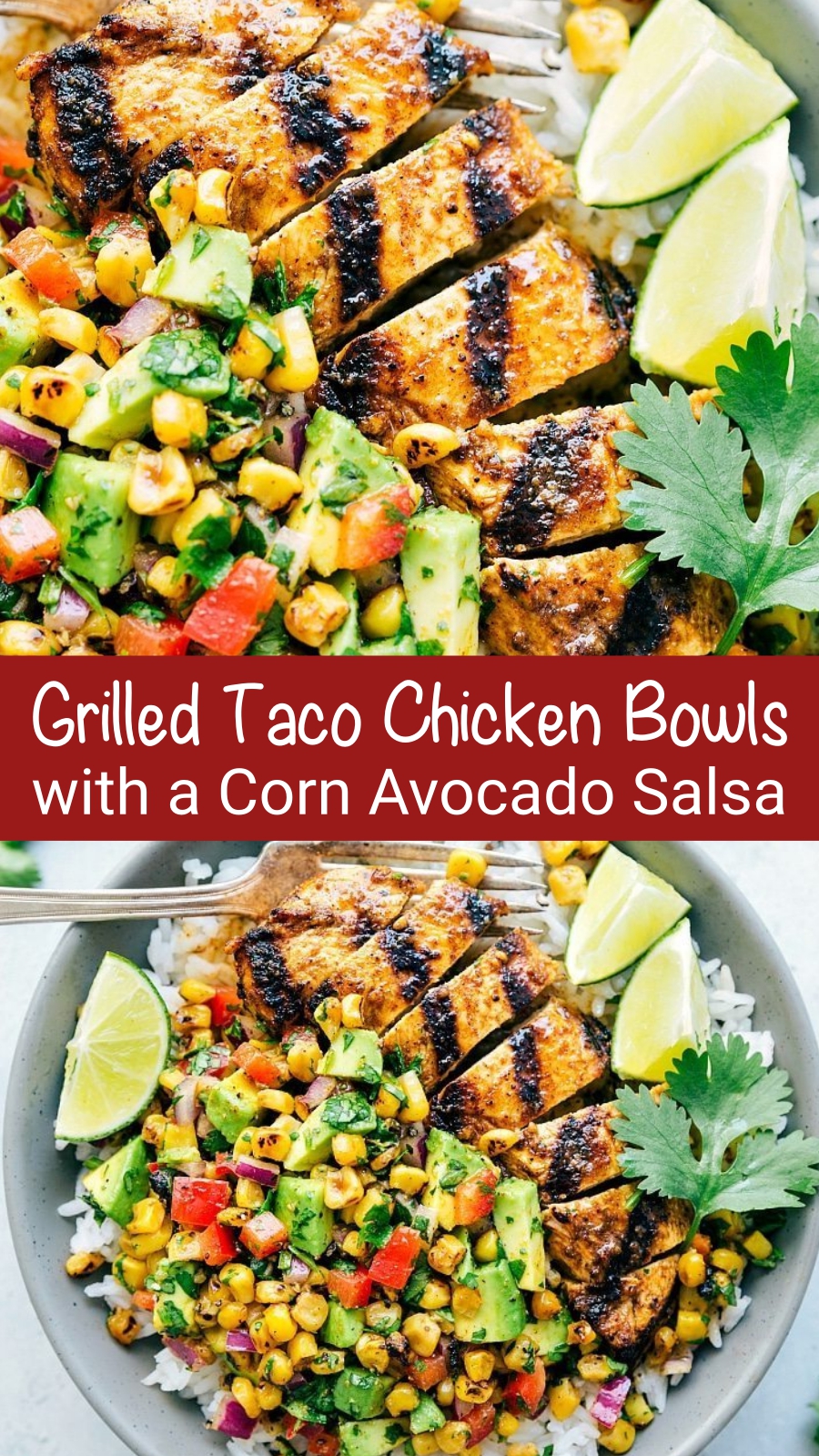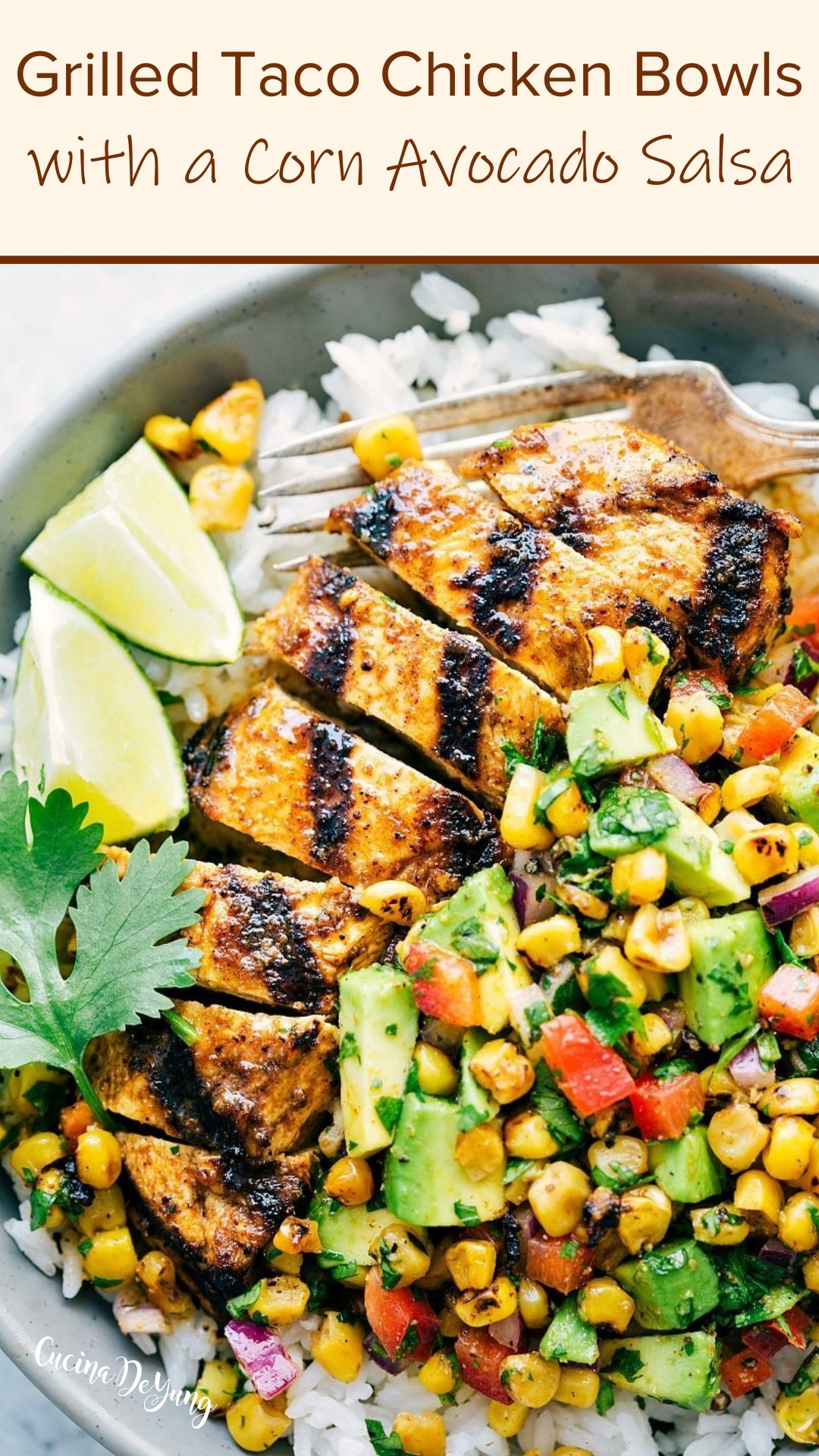 Recipe by: chelseasmessyapron.com