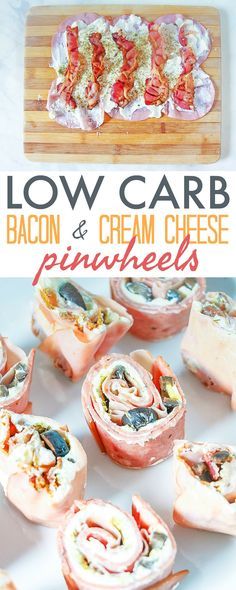 8 slices of ham or salami lunchmeat, thick sliced (or double up thinly sliced lunchmeat)
5-8 slices bacon (cooked)
1 8-oz package cream cheese, softened
3 teaspoons homemade ranch seasoning *see note
½ cup black olives, chopped
Homemade Ranch Seasoning:
2 Tablespoons dried parsley
1 Tablespoon dried chives
2 teaspoons dehydrated garlic
2 teaspoons dehydrated onion
1 teaspoon ground black pepper
1/2 teaspoon cayenne pepper
Place the salami or ham down on a cutting board in overlapping rows 4×2.

Spread ½ package of cream cheese over the salami. If your cream cheese is too hard to spread with a knife, you can try placing it between two sheets of wax paper and rolling it flat with a rolling pin and then placing it onto the salami or ham.

Sprinkle 1½ teaspoons of the ranch seasoning on the cream cheese and sprinkle with ¼ cup black olives. (alternatively, you can blend seasonings into cream cheese before spreading).

Visit LOW CARB PINWHEELS WITH BACON AND CREAM CHEESE @ 730sagestreet.com for full instructions.