The Best New York Crumb Cake Recipe – This is mega buttery and moist New York-style crumb cake with EXTRA brown sugar cinnamon crumb topping. Yes, the crumb topping is just as thick as the cake layer! The topping is soft, not crunchy, and the cake is perfectly sweet. If you're looking for a classic go-to crumb cake recipe, this one's mine. You'll fall in love too.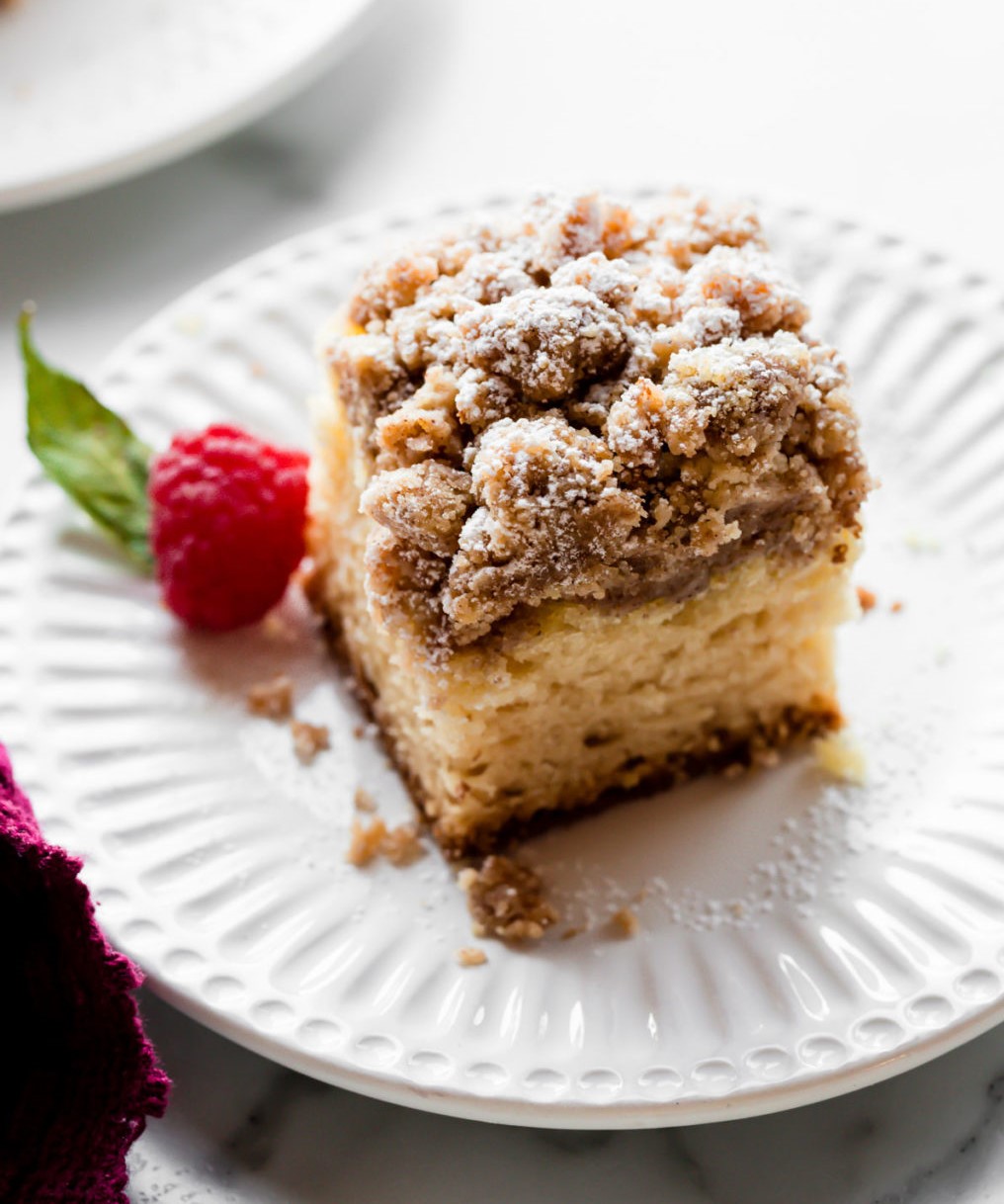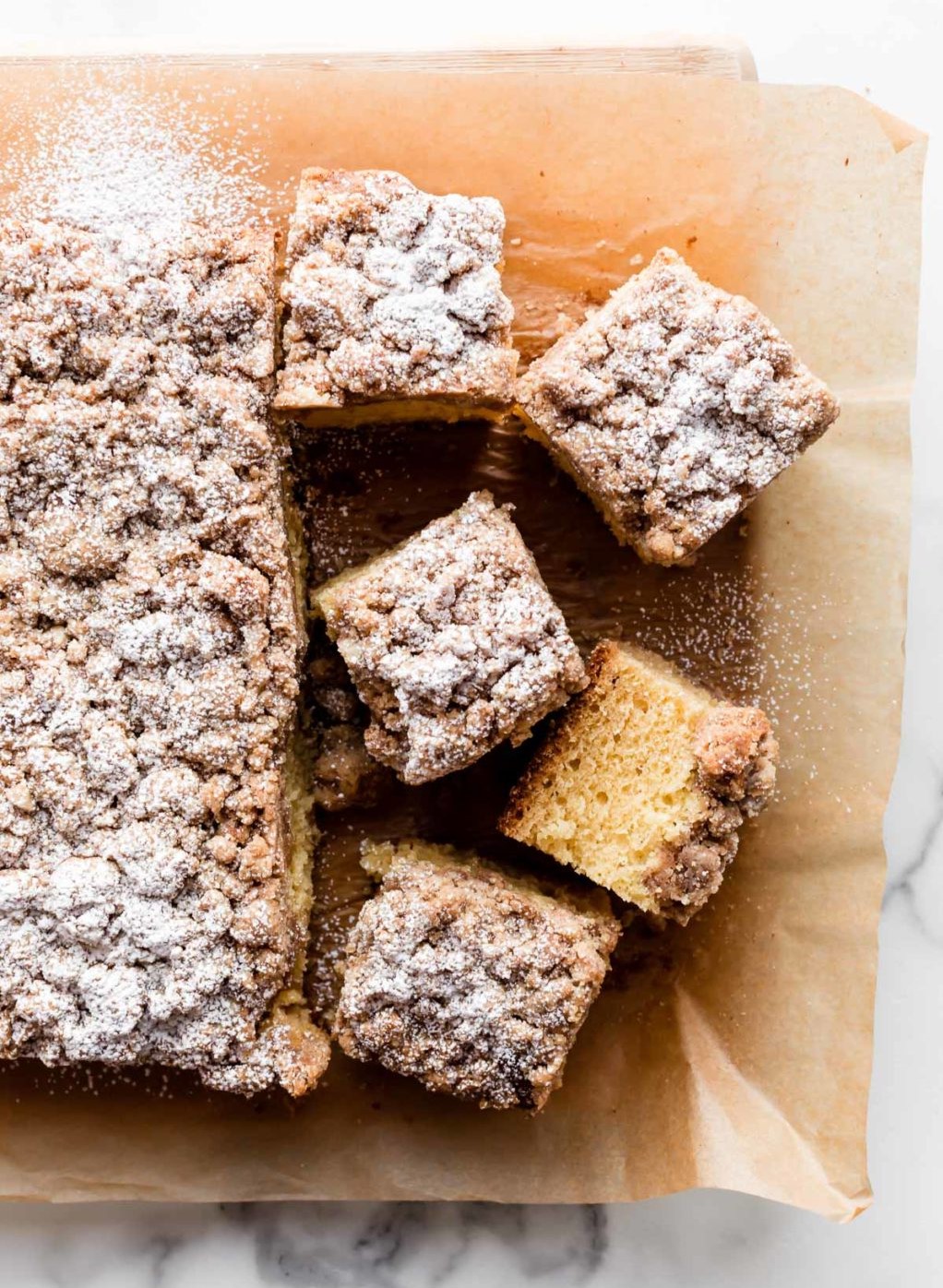 Print
The Best New York Crumb Cake Recipe
This is my favorite recipe for classic New York-style crumb cake. The cake is buttery and moist and you'll definitely enjoy the thick crumb topping!
Crumb Topping
1 cup (200g) packed light or dark brown sugar
1/2 cup (100g) granulated sugar
1 Tablespoon ground cinnamon
1/2 teaspoon salt
1 cup (2 sticks; 230g) unsalted butter, melted
2 and 1/2 cups (310g) all purpose flour, spoon & leveled
Cake
2 and 1/2 cups (310g) all purpose flour, spoon & leveled
1 teaspoon baking soda
1/2 teaspoon baking powder
1/2 teaspoon salt
3/4 cup (1.5 sticks; 170g) unsalted butter, softened to room temperature
1 cup (200g) granulated sugar
3 large eggs, at room temperature
1 cup (240g) full-fat sour cream, at room temperature*
2 teaspoons pure vanilla extract
optional: confectioners' sugar for topping
Instructions
Preheat the oven to 350°F (177°C) and grease a 9×13 inch baking pan or line with parchment paper. You can use a glass, ceramic, or metal baking pan. The bake time is similar for each, but use a toothpick to test for doneness. Metal baking pans cook cakes faster. Set pan aside.
Make the crumb topping: Mix the brown sugar, granulated sugar, cinnamon, and salt together in a medium bowl. Stir in the melted butter, then gently mix the flour using a fork. Keep the mixture as large crumbles, do not over-mix. If over-mixed, this will turn into a thick paste. Set aside.
Make the cake: Whisk the flour, baking soda, baking powder, and salt together. Set aside.
Using a handheld or stand mixer fitted with a paddle attachment, beat the butter and granulated sugar together on high speed until smooth and creamy, about 2 minutes. Scrape down the sides and up the bottom of the bowl with a rubber spatula as needed. Add the eggs, sour cream, and the vanilla. Beat on medium-high speed until combined. The mixture may look curdled; that's ok.
Scrape down the sides and up the bottom of the bowl as needed. With the mixer on low speed, mix in the dry ingredients until smooth. Do not over-mix. The batter will be thick, creamy, and sticky.
Spread the batter evenly into prepared baking pan. Top with crumb topping. Using a rubber spatula or the back of a large spoon, press the crumb topping tightly down into the cake so it sticks.
Bake for 45-55 minutes. Baking times vary, so keep an eye on yours and begin checking at 45 minutes. The cake is done when a toothpick inserted in the center comes out clean. If you find the top or edges of the cake is/are browning too quickly in the oven, loosely cover it with aluminum foil.
Remove the cake from the oven and set on a wire rack. Allow to slightly cool for at least 30-45 minutes before cutting. If desired, dust with confectioners' sugar before slicing and serving. Use a sifter/fine mesh sieve.
Notes
Make Ahead Instructions: Prepare cake through step 7. Cover the cake tightly and refrigerate for up to 2 days or freeze up to 3 months. Bring to room temperature, add icing if desired, and serve.
Sour Cream: Sour cream is a key ingredient in this cake. I don't suggest subbing the sour cream with a liquid– plain full-fat yogurt would work though. I don't recommend removing fat from this cake by using a lower fat yogurt or sour cream alternative.
Room Temperature: All refrigerated items should be at room temperature so the batter mixes together easily and evenly.
Crumb Cake Muffins: Interested in making this cake into muffins? Standard size muffins (12 count muffin pan) or jumbo size muffins (6 count muffin pan) are best– I don't recommend mini muffins because the crumbs are too large. Grease muffin cups or line muffin pan(s) with liners. Fill with batter to the near top of the muffin cup. Press crumbs tightly on top of the batter to help prevent them from falling off as the muffins rise. Bake at 425°F for 5 minutes, then, keeping the muffins in the oven, reduce the oven temperature to 350°F (177°C) and continue to bake for 15-17 for regular size muffins (20-22 minutes total) or another 22-23 minutes for jumbo size muffins (27-28 minutes total). Yields at least 2 dozen standard muffins and 10 jumbo muffins.
Keywords: Cake Recipes, Dessert Recipes, New York Cake Crumb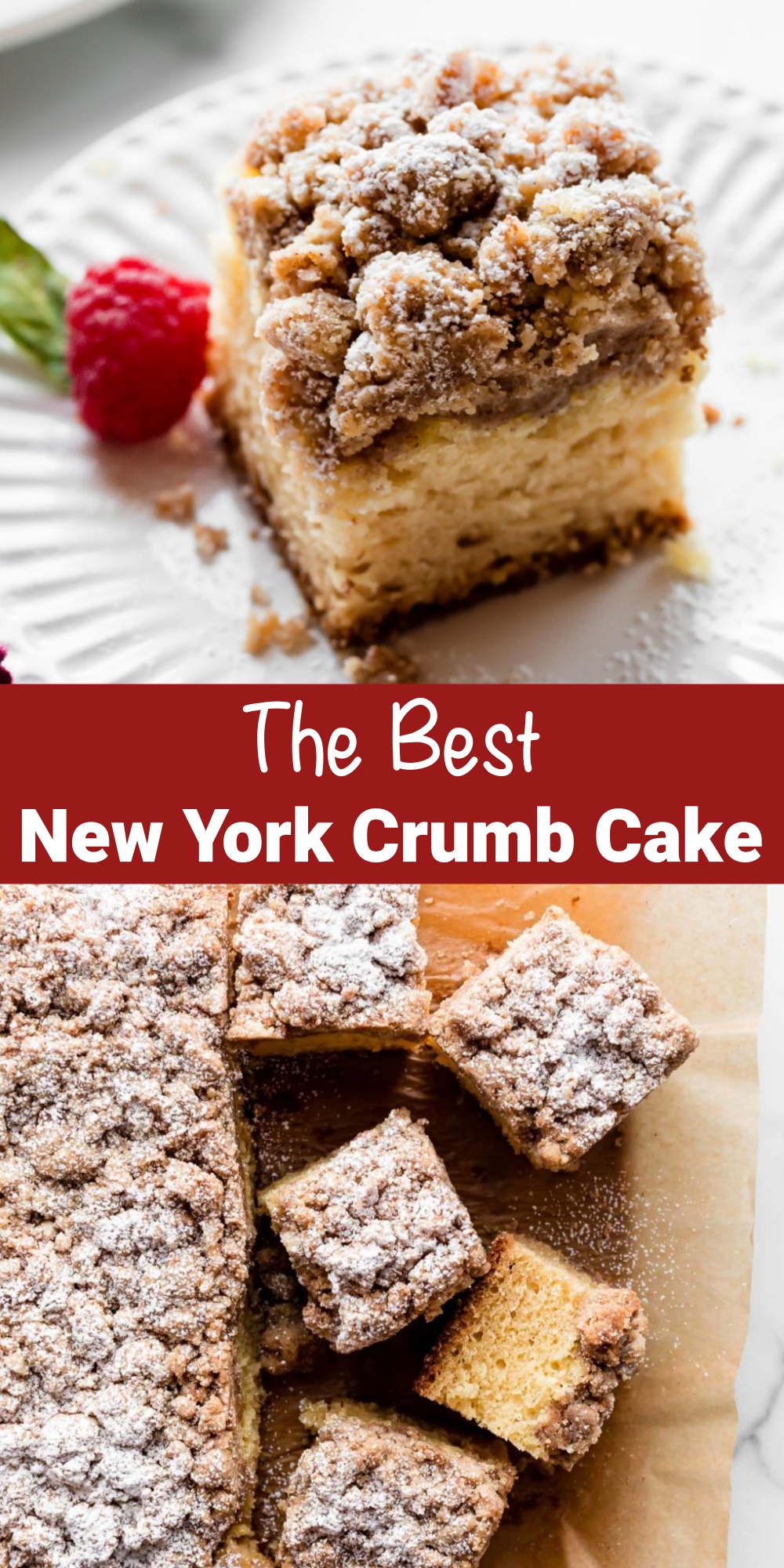 Recipe by: sallysbakingaddiction.com