Delicious Bacon Potato Salad – This no mayo Potato Salad with Bacon is ready in just 30 minutes! It's a vinegar potato salad the whole family will love.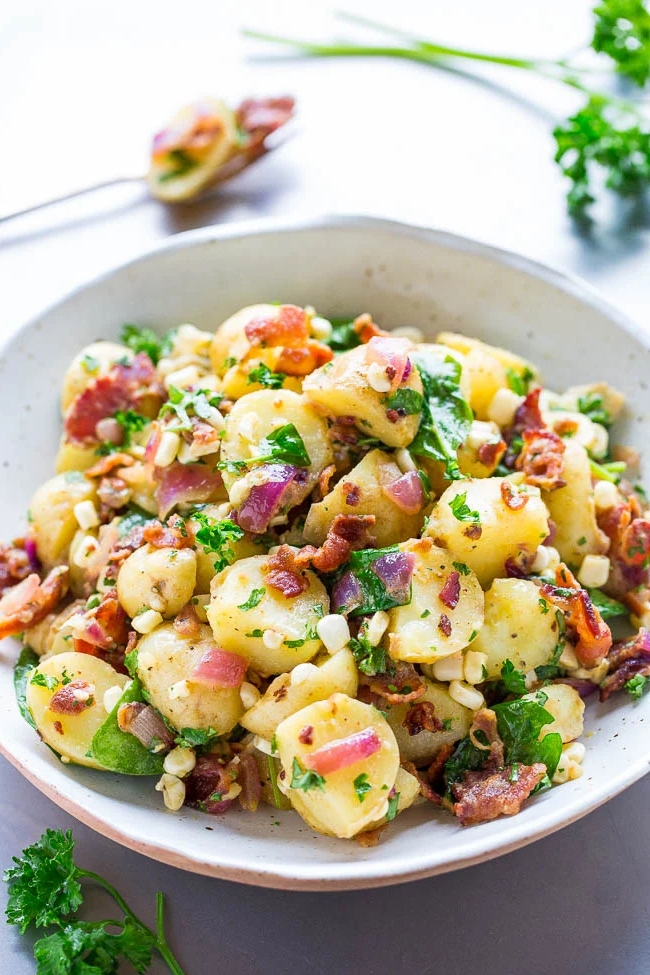 Yield: 10 cups
INGREDIENTS
Bacon Potato Salad
 2 pounds baby gold potatoes
 2 teaspoons salt, for the boiling water
 1 pound bacon
 one small/medium red onion, diced small
 2 cloves garlic, peeled and finely minced or pressed
 1 medium/large ear fresh sweet corn with kernels cut off (3/4 cup frozen corn may be substituted)
 1 to 2 cups fresh baby spinach, loosely measured
 1/2 cup fresh parsley (regular or Italian flat-leaf), finely chopped
Dressing
 3 tablespoons olive oil
 3 tablespoons red wine vinegar
 3 tablespoons dijon mustard
 1 teaspoon granulated sugar, or to taste
 1/4 teaspoon salt, or to taste
 1/4 teaspoon pepper, or to taste
INSTRUCTIONS
To a large pot, add the potatoes, cover with water, add 2 teaspoons salt, bring to a boil over medium-high heat, and allow potatoes to simmer for about 15 minutes, or until done and fork-tender. Drain and rinse potatoes under cold water to stop the cooking process; set aside. While potatoes cook, make the bacon.
To a large skillet, add the bacon and cook over medium heat until done and as crisp as desired, about 10 minutes, flip intermittently. Transfer bacon to a paper towel-lined plate and when it's cool enough, crumble it; set aside.
To the skillet with the bacon fat, add the onion and cook for about 5 to 7 minutes or until tender, stir intermittently.
In the last minute of cooking, add the garlic, stir, and cook for about 1 minute, or until fragrant. Take skillet off the heat and set aside.
To a very large bowl, add the olive oil, red wine vinegar, mustard, sugar, 1/4 teaspoon salt, pepper, and whisk to combine; set aside.
Halve or quarter the potatoes depending on their size and add to the large bowl. Add the crumbled bacon, red onion and garlic (use a slotted spoon to remove because there will be excess bacon fat in the skillet; discard oil in a small container – don't pour it down the drain), corn, spinach, parsley, and toss well to combine.
Taste potato salad and make any necessary adjustments, i.e. more salt, pepper, sugar, dash of extra mustard or vinegar, etc.
Serve immediately if desired or cover and refrigerate until chilled. Potato salad will keep airtight in the fridge for up to 4 days.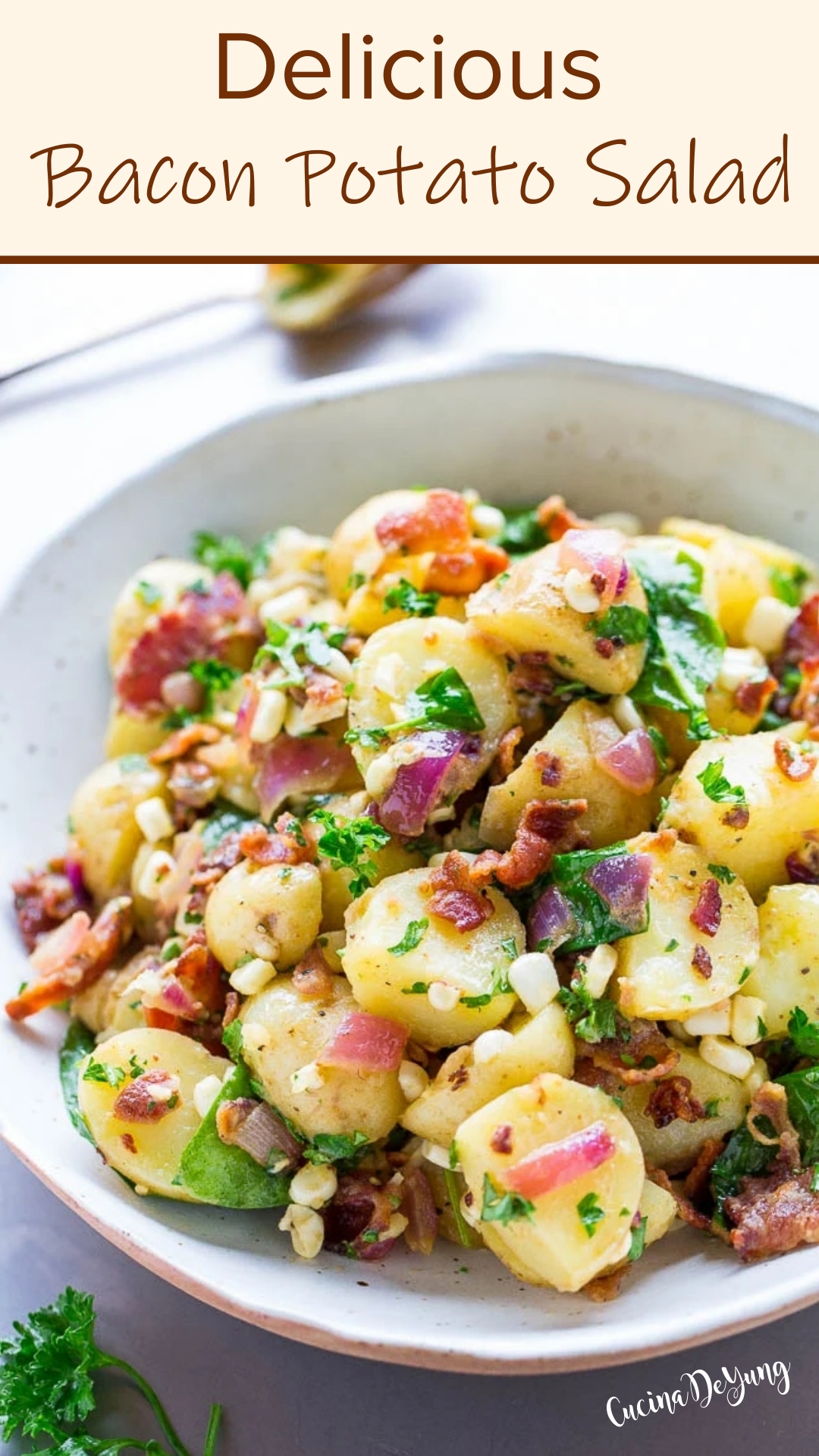 Source: averiecooks.com