Easy BBQ Brisket Grilled Cheese with Bacon Jam – Winter is here but that doesn't mean having to say goodbye to your grill. Keep your taste buds flowing with this fantastic recipe. Brisket Grilled Cheese! Grilled cheese is a Winter favorite, warm, and cheesy, and very easy to make…  But with a few tweaks, you can seriously raise the bar. Just add a bit of brisket and bacon jam, and grill it on the BBQ.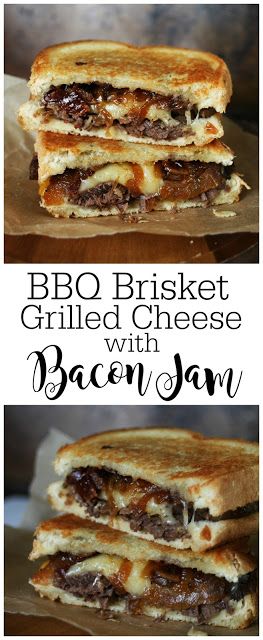 INGREDIENTS
For The Brisket:
5-6 pounds brisket at room temperature
2 ounces liquid smoke
1 ounce Worcester Sauce
1 cup prepared Barbecue sauce (your choice)
1 cup cola
1 whole onion sliced
3 cloves garlic smashed
For The Bacon Jam:
1 1/2 lbs. bacon
2 sweet yellow onions, sliced into thin ribbons
1/2 cup balsamic vinegar
1/2 cup brown sugar
2 teaspoon kosher alt
1 teaspoon black pepper
For The Grilled Cheese:
8 slices Texas Toast or Italian Bread
butter
2 cups cheddar jack cheese
4-5 slices leftover brisket, shredded
DIRECTIONS
For The Brisket
Place meat in a foil lined baking pan that is enough to fully enclose the meat. Pour Liquid Smoke, Worcester Sauce, BBQ sauce, and cola over the meat. Lift up the meat so it's underneath. Sprinkle the onions and garlic on top and around the brisket.
Crimp the foil tightly over the meat.
Bake at 275 degrees for 5 hours.
Cool and slice into thin pieces.
For The Bacon Jam:
Roughly chop the bacon and cook it in a heavy pot until nice and crispy. Transfer to a bowl using a slotted spoon.
Saute the onion and garlic cloves in the bacon fat for 5 minutes, until soft and starting to turn golden.
Return the bacon to the pan, add the brown sugar, vinegar, salt and pepper and cook over medium heat for half an hour, or until deep golden and thickened to the consistency of jam. (Store any extra in the fridge)
For The Grilled Cheese:
Spread about 1/2 tablespoon of butter on one side of each piece of bread. To make the sandwich, place a piece of bread buttered-side down. Spread 1 tablespoon of the bacon jam on the bread that is butter side down.
Cover the unbuttered side with shredded Cheddar cheese, then a layer of brisket, followed by a layer of shredded Monterey Jack cheese.
Place another piece of bread unbuttered side down on top. Repeat for remaining sandwiches.
Heat a pan, preferably cast iron, over medium heat. Cook 1 or 2 sandwiches at a time, until golden brown on both sides and cheese is melted.
Source: middlenecknews.com