BBQ Chicken Bowls with Sweet Potatoes, Coleslaw, and Pickles Recipe
These BBQ chicken bowls are loaded with so much goodness: shredded BBQ chicken, seasoned cubed sweet potatoes roasted until crisp, a simple coleslaw, and quick homemade dill pickles. They're healthy and filling and surprisingly quick and easy. Whole30 and paleo, too.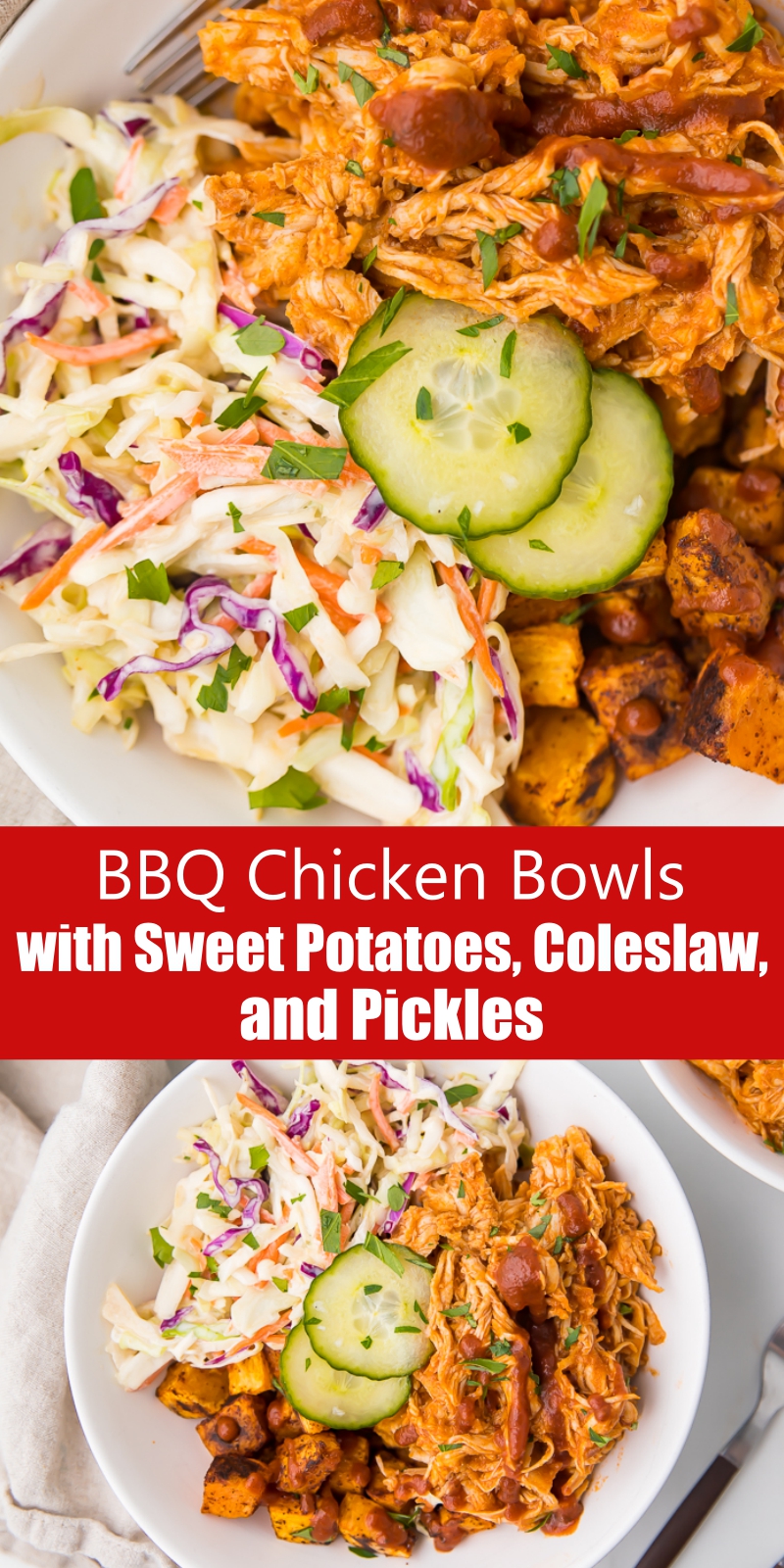 A healthy and filling bowl of BBQ chicken, sweet potatoes, coleslaw, and homemade dill pickles. Surprisingly simple and quick to make but packed full of flavor. Whole30 and paleo.
Recipe by: 40aprons.com
Servings: 4 people
Ingredients
BBQ Chicken
2 boneless skinless chicken breasts about 1 1/4 pounds
3/4 cup Whole30 BBQ sauce
2 tablespoons Italian dressing See Note
salt to taste
or about 2 1/2 cups shredded BBQ chicken or pork
Sweet Potatoes
2 sweet potatoes peeled and cubed
2 teaspoons chili powder
dash of cinnamon
1 tablespoon avocado or refined coconut oil
Quick Dill Pickles:
Sprig fresh dill
1 clove garlic minced
1/4 English cucumber sliced thin
Pinch yellow mustard seeds
1/4 cup water
1/4 cup white or white wine vinegar
1/2 tablespoon salt
OR 1/4 cup sliced cold dill pickles See Note
Coleslaw:
1/2 cup + 2 tablespoons mayonnaise
1 1/2 tablespoon white apple cider, or white wine vinegar
3 tablespoons coconut aminos
1/4 tsp kosher salt
1 14- oz bag shredded coleslaw mix See Note
Garnish:
Fresh chopped parsley
Dry BBQ seasoning
Instructions
Preheat oven to 425º F.
Make sweet potatoes: On a baking sheet, toss all ingredients and roast for 20 m. After 20 minutes, stir well, then return to oven. Bake another 10-15 minutes or until browning on edges but not too crunchy or crisp.
Make BBQ chicken: Next, combine all ingredients in an Instant Pot. Seal and cook at High Pressure for 10 minutes. Quick release when time is up then shred chicken breasts with two forks or use a hand mixer on low speed. Turn on Sauté mode and heat for 5 minutes until chicken is coated in sauce. If you do not have an Instant Pot, see Note for regular shredded chicken or slow cooker directions. READ MORE