Slab pie is so much easier to serve! This one has a scratch crust and a crumble topping and is full of blueberry pie filling!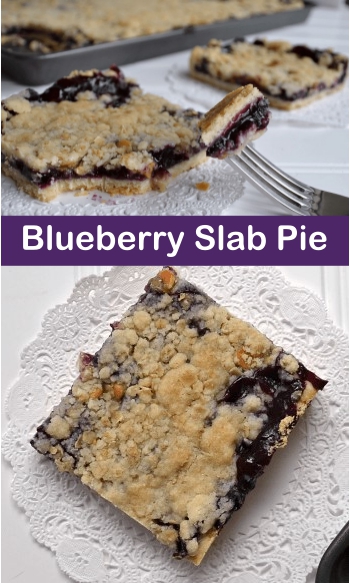 "These Look Absolutely Yummy!!"
Yield: 10 servings
INGREDIENTS
FOR THE CRUST:
2 1/2 cups flour
1/2 teaspoon salt
1 cup butter diced and cold
2-3 tablespoons ice water
1 tablespoon vinegar
FOR THE FILLING & TOPPING:
1 can 21 oz Blueberry Pie Filling
1 cup white chocolate chips
1/2 cup 1 stick butter, softened
1 cup flour
1/2 cup oats
1/2 cup sugar
INSTRUCTIONS
Make your crust: Pulse flour and salt in a food processor for a second.
Add butter and pulse until butter has been worked through the flour.
Add vinegar and pulse. Add water, 1 tablespoon at a time, until the dough comes together (I used 2 tablespoons water). Wrap dough in plastic wrap and chill for 30 minutes or as long as overnight.
Preheat oven to 350 degrees. Spray a jelly roll pan (mine is 10×15) with cooking spray.
When ready to make pie, unwrap chilled dough. Roll into a large rectangle. Press into the bottoms and up the sides of your pan.
Spread blueberry pie filling evenly over the crust. Sprinkle with white chocolate chips.
Using a hand mixer, mix remaining topping ingredients (butter, flour, oats, and sugar) in a large bowl. You may need to use your hands to break up the large bits of butter. Sprinkle over the top of the blueberry filling and press to compact.
Bake for 30-40 minutes until topping begins to brown. (The blueberry might bubble over a little so you may want to place something on the rack underneath your pan.) Cool before cutting.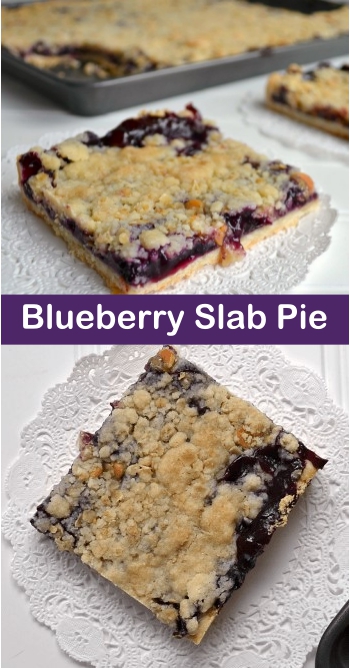 Source: crazyforcrust.com