The BEST Buttermilk Biscuits – Learn how to make the BEST Buttermilk Biscuits from scratch! They're so light and flaky, and plenty fluffy. Perfect for topping with sausage gravy, butter, honey or jam!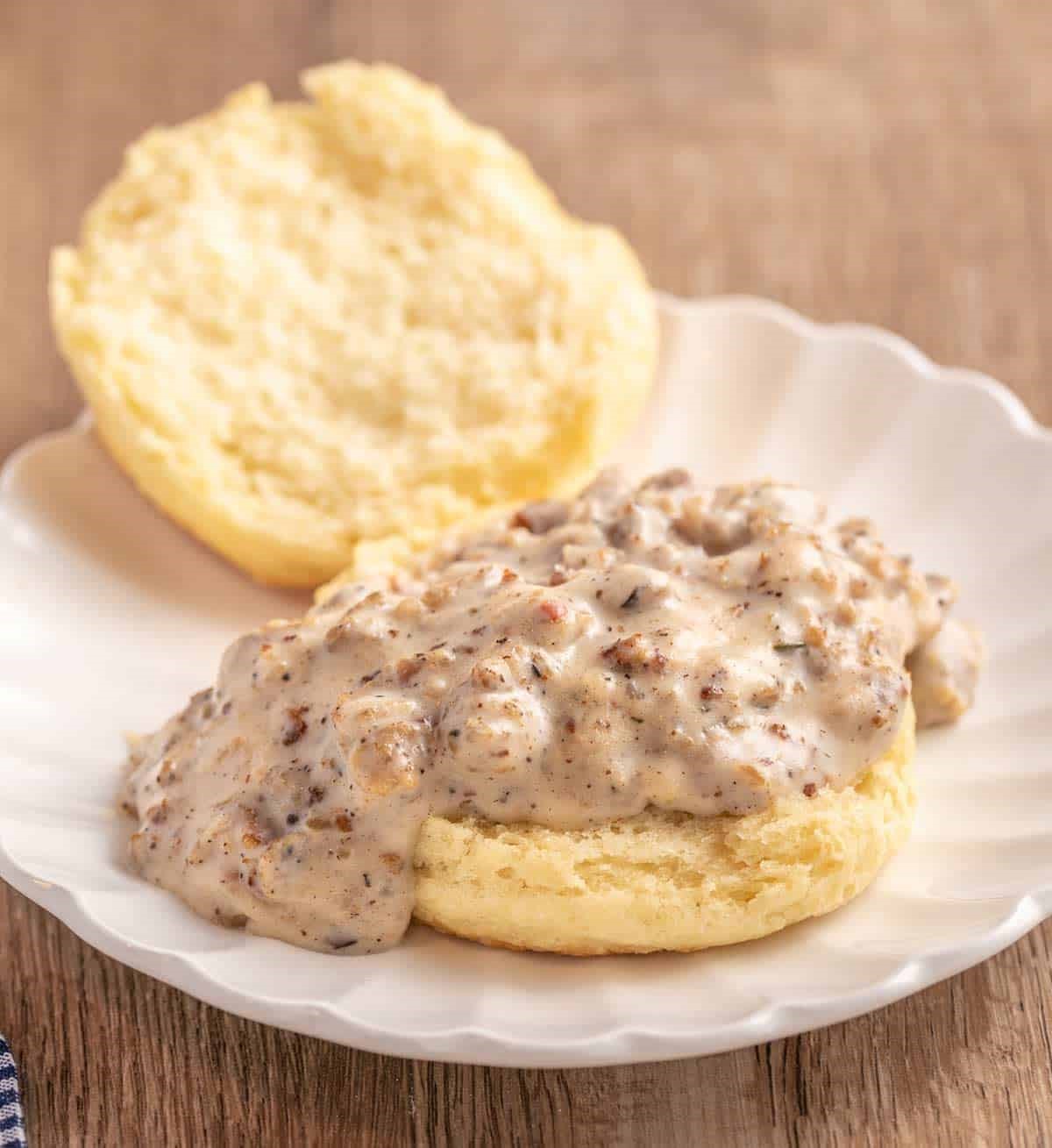 Servings: 8 biscuits
Ingredients
6

 

Tbsp

 

unsalted butter

2

 

cups

 

all purpose flour

1

 

Tbsp

 

sugar

1/4

 

tsp

 

baking soda

1

 

Tbsp

 

baking powder

1

 

tsp

 

salt

1

 

cup

 

buttermilk
Instructions
Cut butter into small cubes. Place the butter on a plate and place in the freezer while you mix the dry ingredients. The butter should be very cold.

Preheat oven to 450°F and line a baking sheet with parchment paper or nonstick foil. Set aside.

In a food processor (or large bowl), add flour, sugar, baking soda, baking powder and salt. Pulse a time or two to combine (or whisk if you're using a bowl).

Add the butter to the food processor and pulse to combine, until it looks like coarse crumbs (you could also use a pastry cutter or 2 forks in a large bowl).

Add the butter and flour mixture to a large bowl and make a well in the middle. Add the cold buttermilk. Stir until dough is mixed and combined, it will be slightly sticky/tacky.  If it's still really sticky, add a bit more flour!

Turn out the dough onto a floured surface (I use my counter) and pat into a rectangle about 8-9 inches long.

Gently fold the right side towards the middle, then fold the left side in towards the middle as well. It should look like a trifold paper.

Rotate the dough a quarter turn (it should be horizontal), then pat down into a 8-9 inch long rectangle again. Repeat the folding technique from the step above, at least 1 more time, and up to 2 more times. So 2 or 3 times total. The more folding you do, the more layers you'll have.

Pat dough down into a rectangle again, about 1 inch thick.

With a 2.5 inch round biscuit cutter, push down to cut the dough and pull straight up (remember not to twist!). Leftover scraps can be combined and cut again – but no more than 2 or 3 more times.

Place the biscuits on prepared baking sheet, almost touching each other, and bake at 450°F for 12-15 minutes until browned and cooked through.

After the biscuits are baked, brush tops with melted butter.
Notes
These biscuits are amazing served with Sausage Gravy!
As things like humidity, the way flour is measured, etc can affect the way recipes like these buttermilk biscuits turn out… use the flour/buttermilk measurements as an approximation.  If you notice your dough is really sticky, add a bit more flour and work it in.  If you notice your dough is not wet enough, add a tiny splash more buttermilk.
Make sure the butter and buttermilk are very cold.  It's essential to having these biscuits turn out well.
Don't skip the folding of the dough – it creates those flaky layers.
Try to work through the dough folding and cutting fairly quickly, as the colder the dough is, the higher the biscuits will rise.
During really hot months, or if your kitchen is fairly warm, once the biscuits are cut and on the baking sheet, you can refrigerate for 10-15 minutes before baking.
Source: thechunkychef.com