Cherry Cheesecake Dessert – This Cherry Cheesecake Dessert combines all the flavors of cherry cheesecake with the creaminess of lush! The perfect dessert for the holidays and all year round!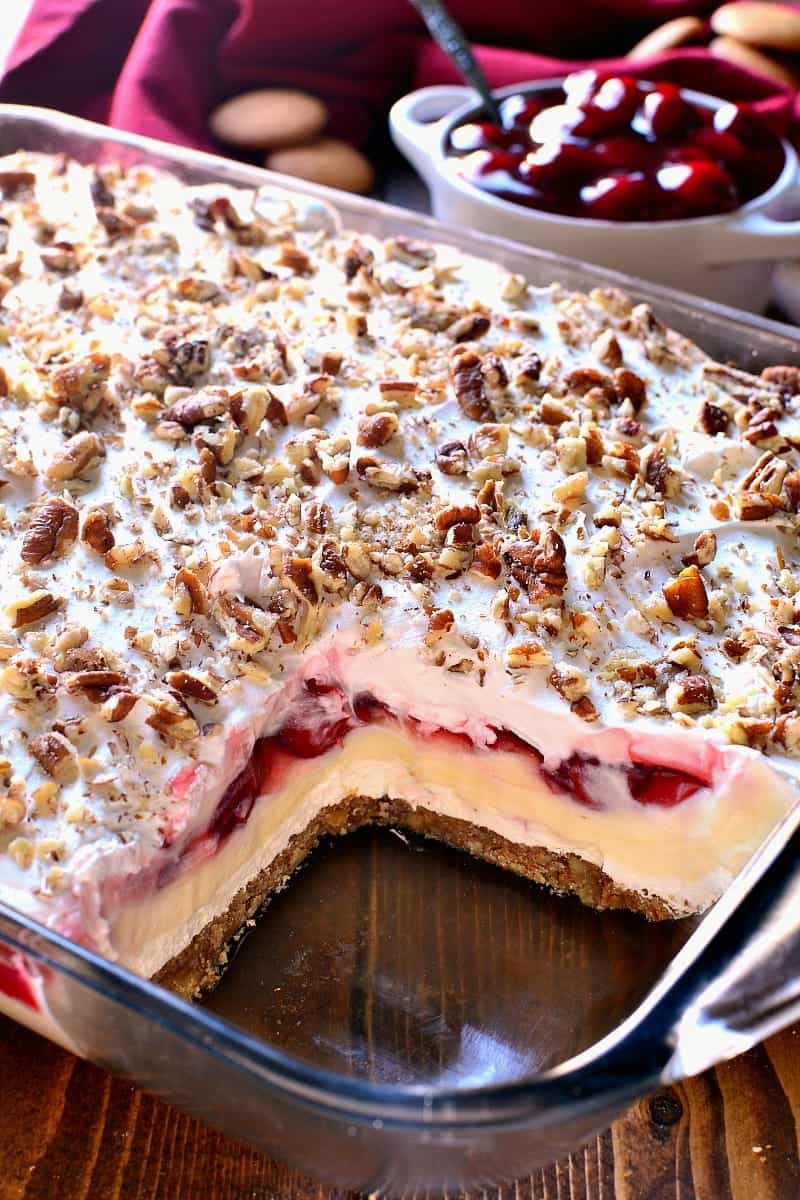 Yield: 20
Ingredients
1 c. vanilla wafer crumbs
1 c. finely chopped pecans
1 stick butter (1/2 cup), melted
8 oz. cream cheese, softened
1 c. powdered sugar
16 oz. whipped topping, divided
2 small boxes cheesecake flavored pudding
3 c. milk
1 can Cherry Pie Filling (I used Lucky Leaf Cherry Pie Filling)
1/2 c. chopped pecans
Instructions
In a medium mixing bowl, combine vanilla wafer crumbs, finely chopped pecans, and melted butter.
Press into a 9×13 inch baking pan; bake at 350° for 15 minutes. Remove from oven and cool.
In a separate mixing bowl, combine cream cheese, powdered sugar, and 1 1/2 c. whipped topping.
Mix until smooth; spread evenly over cooled crust.
Combine cheesecake pudding mix, milk, and 1 c. whipped topping and mix until smooth.
Spread evenly over cream cheese layer in pan.
Top with 1 can Lucky Leaf Cherry Pie Filling, remaining whipped topping, and 1/2 c. chopped pecans.
Refrigerate at least 4 hours or overnight.
Source: lemontreedwelling.com