Cranberry Mimosa Cupcakes Recipe – These Cranberry Mimosa Cupcakes are made with a moist cupcake filled with orange and champagne flavor, then topped with cranberry frosting that's flavored with a bit more champagne! These cupcakes are a classic Cranberry Mimosa Cocktail in cupcake form – perfect for the holidays!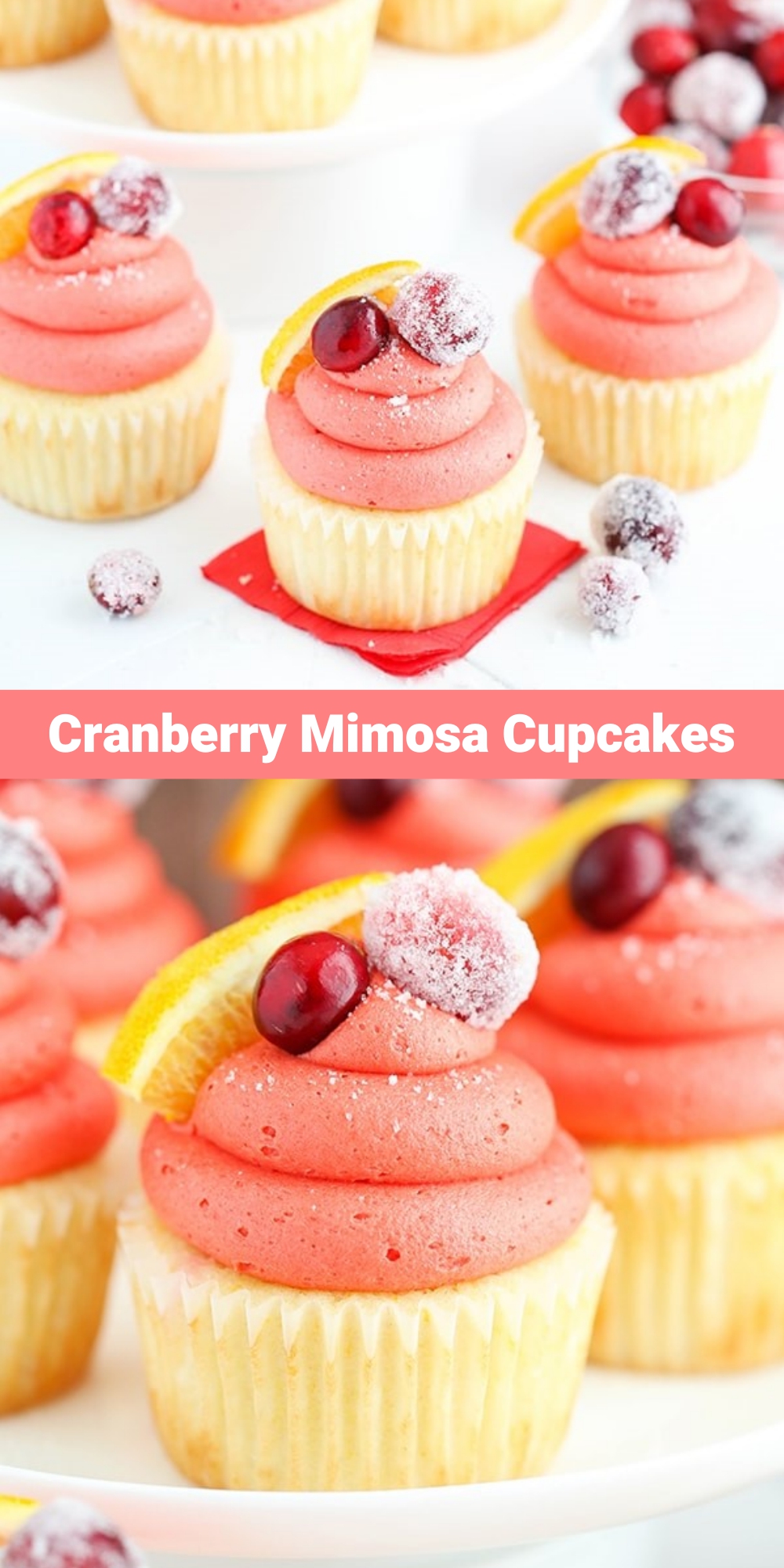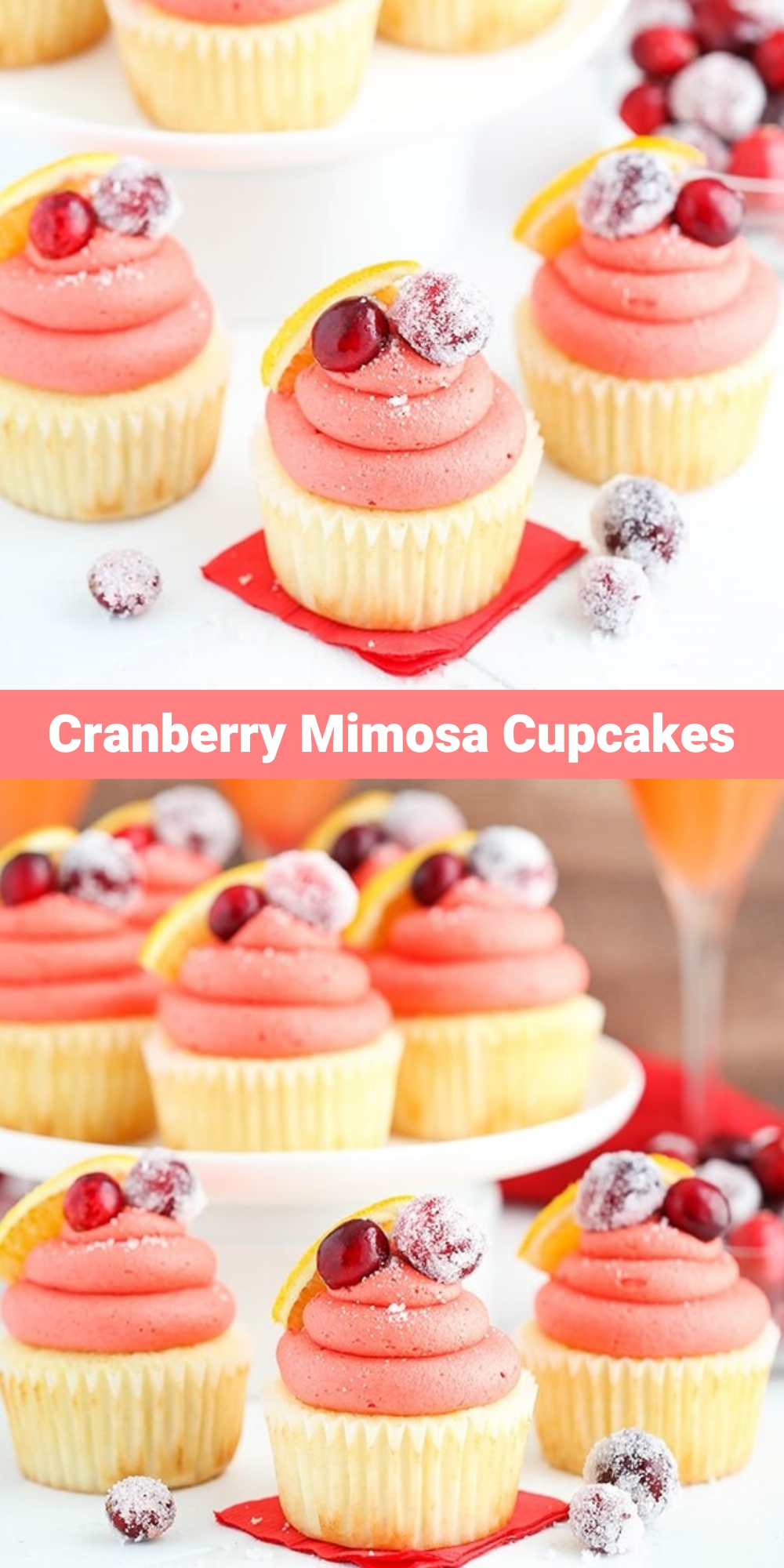 Yield: 12-14 Cupcakes
INGREDIENTS
SPARKLING CRANBERRIES
1 1/2 cups (310g) sugar, divided
1/2 cup (120ml) water
1 cup (120g) fresh cranberries
CUPCAKES
6 tbsp (84g) unsalted Challenge butter, room temperature
3/4 cup (155g) sugar
1 tsp (5ml) vanilla extract
1/4 cup (57g) sour cream, room temperature
1 tbsp (15g) grated orange zest
3 large egg whites, room temperature
1 1/4 cups (163g) all purpose flour
2 tsp (8g) baking powder
¼ tsp salt
3 tbsp (45ml) fresh squeezed orange juice, room temperature
7 tbsp (105ml) champagne, room temperature
FROSTING
1 cup (120g) fresh cranberries
2 tbsp (30ml) water
½ cup (104g) sugar
½ cup (112g) salted Challenge butter, room temperature
½ cup (95g) vegetable shortening
3 cups (345g) powdered sugar
2–4 tbsp (30-60ml) champagne
1–2 Oranges, sliced
INSTRUCTIONS
To make the cranberries, bring 1/2 cup sugar and the water to a simmer in a saucepan. Simmer until sugar is completely dissolved.
Pour simple syrup into a heatproof bowl and allow to cool for about 10 minutes.
Add cranberries and stir to coat. Refrigerate cranberries in syrup overnight, stirring a couple times to coat with syrup.
To make the cupcakes, preheat oven to 350°F (176°C) and prepare a cupcake pan with cupcake liners.
In a large mixing bowl, cream butter and sugar together until light in color and fluffy, about 3-4 minutes. Do not skimp on the creaming time.
Add vanilla extract, sour cream and orange zest and mix until well combined.
Add egg whites in two batches, mixing until well combined.
Combine dry ingredients in another bowl, then combine orange juice and champagne in another bowl.
Add half of the dry ingredients to the batter and mix until well combined. Add the orange juice mixture and mix until well combined.
Add remaining dry ingredients and mix until well combined.
Fill cupcake liners about halfway. Bake for 15-17 minutes, or until a toothpick inserted comes out with a few crumbs.
Remove cupcakes from oven and allow to cool for 2-3 minutes, then remove to cooling rack to finish cooling.
Remove the sparkling cranberries from the syrup and roll in the remaining cup of sugar. You'll need to roll them a few times to get a couple layers of sugar on them. Set cranberries aside to dry for about 30 minutes to an hour.
To make the frosting, combine cranberries, water and sugar in a small saucepan and cook on medium-high heat for approximately 5-7 minutes, until the cranberries begin to pop. Remove from heat and set aside to cool for about 5 minutes.
Transfer cranberries to a food processor and puree. Strain the puree though a fine mesh sieve. You should end up with about ¼ cup (60ml) of cranberry puree. Set aside.
Beat the butter and shortening in a large mixer bowl until smooth.
Add about half of the powdered sugar and mix until smooth.
Add the cranberry puree and mix until well combined.
Add remaining powdered sugar and mix until well combined and smooth.
Add 2-4 tbsp of champagne, as needed, until the frosting is a good consistency for piping.
Pipe the frosting onto the top of the cupcakes. I used Ateco tip 808.
Top the cupcakes with the sparkling cranberries, plain cranberries and quarter slices of oranges.
Store cranberries in an airtight container in the refrigerator until ready to serve. Best served at room temperature.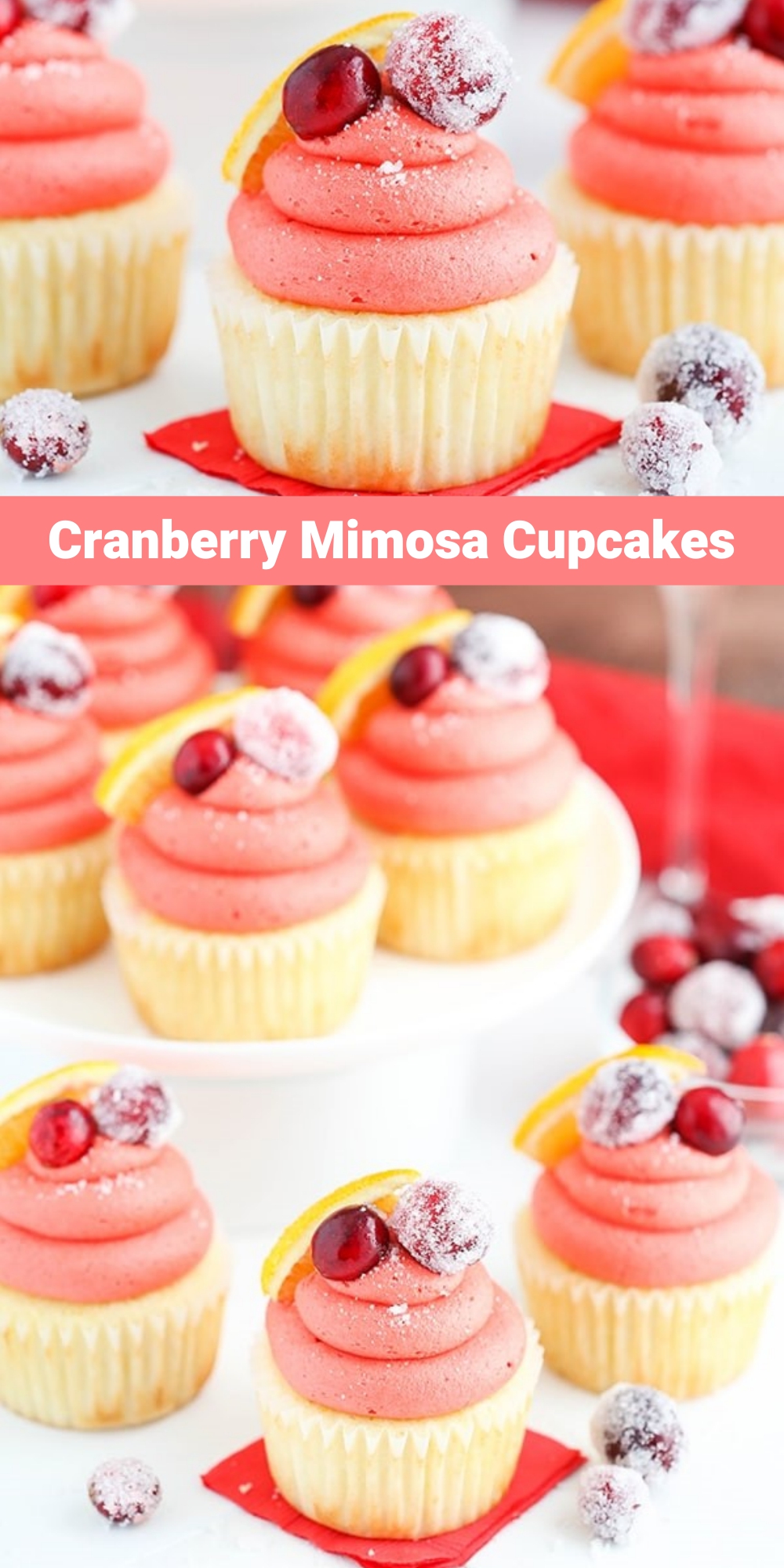 Source: lifeloveandsugar.com