Delicious Citrus Cranberry Cake – Combining the refreshing flavors of the citrus with a tart cranberry sauce, this citrus cranberry cake is a delicious twist to the classic holiday desserts!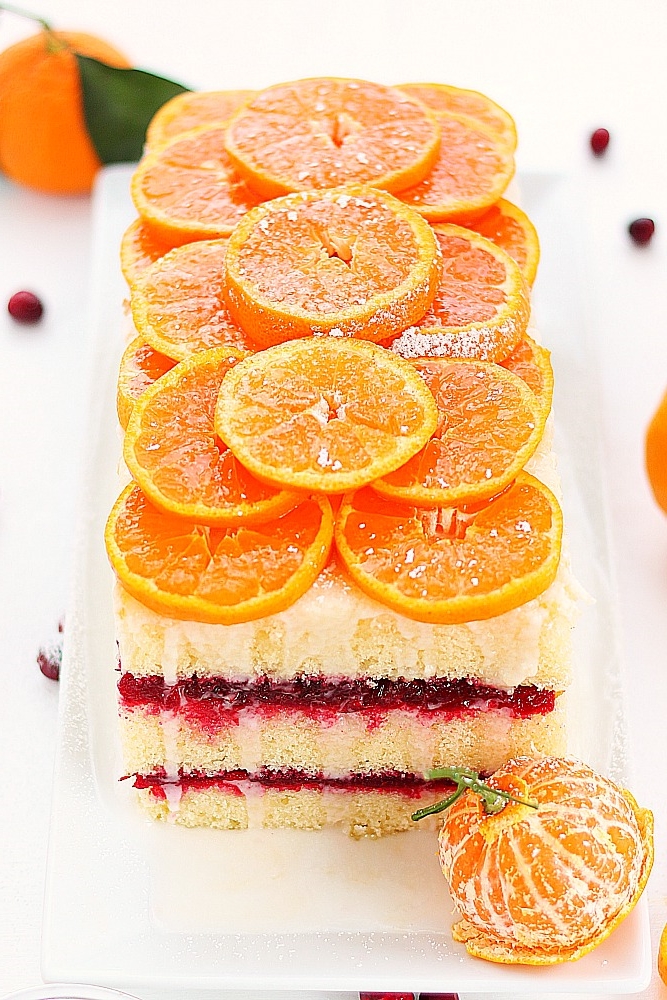 Yields: One (5×10 inch) layer cake
Ingredients
Citrus Cake
3/4 cup (168 grams) butter, room temperature
1 3/4 cups (350 grams) sugar
3 eggs, room temperature
1 teaspoon orange extract
2 1/2 cups (300 grams) all purpose flour
2 1/2 teaspoons baking powder
1/2 teaspoon salt
3/4 cup (180 ml) milk
1/2 cup orange juice (freshly squeezed)
Cranberry sauce
12 oz (336 grams) fresh cranberries
1 cup (200 grams) sugar
1/3 cup orange juice
Icing
1/2 cup powder sugar
2 teaspoons water
few drops of lemon juice
Decorations
mandarin slices
powder sugar
Instructions
Heat the oven to 375F.
Grease the bottom and the sides of a 15X10 inches jelly roll pan and line with parchment paper. Set aside.
In the mixing bowl of your stand mixer add the butter and sugar. With the paddle attachment on, cream until light and fluffy. Scrape the sides of the bowl and one by one, add the eggs followed by the orange extract.
Add the baking powder and salt and slowly fold in the flour alternately with the milk and orange juice.
Spoon the batter into the prepared baking pan and bake for about 23 minutes or until a toothpick inserted in the middle comes out clean.
While the cake is baking, make the cranberry sauce.
In a medium saucepan add the cranberries, sugar and orange juice. Cook over medium heat for about 10 minutes or until all the cranberries have popped and the sauce is thickened.
Leave to cool completely.
When the citrus cake is done, take it out of the oven and leave to cool 10 minutes in the pan. Sprinkle powder sugar on top of the cake, cover with a cutting board and turn. This way you'll be able to remove the cake form the pan without breaking it into pieces or sticking to the cutting board.
Cool the cake completely.
Remove the parchment paper, trim the edges and slice the cake in 3 slices (about 4 3/4 inch each slice).
Place the first slice on the serving plate. Spoon half on the cranberry sauce on top of the cake and spread it all over.
Top with a second slice of cake and spread the remaining cranberry sauce.
Place the 3rd slice of cake on top and let sit for 10-15 minutes. You can refrigerate at this point, if you prefer.
Now it's time to make the icing.
In a small bowl mix the powder sugar with the water and the lemon juice. You want the icing to be still pour-able but not too runny.
Pour it over the cake, wait few minutes until it sets and decorate with the mandarin slices.
Optional you can sprinkle some powder sugar.
Slice and enjoy!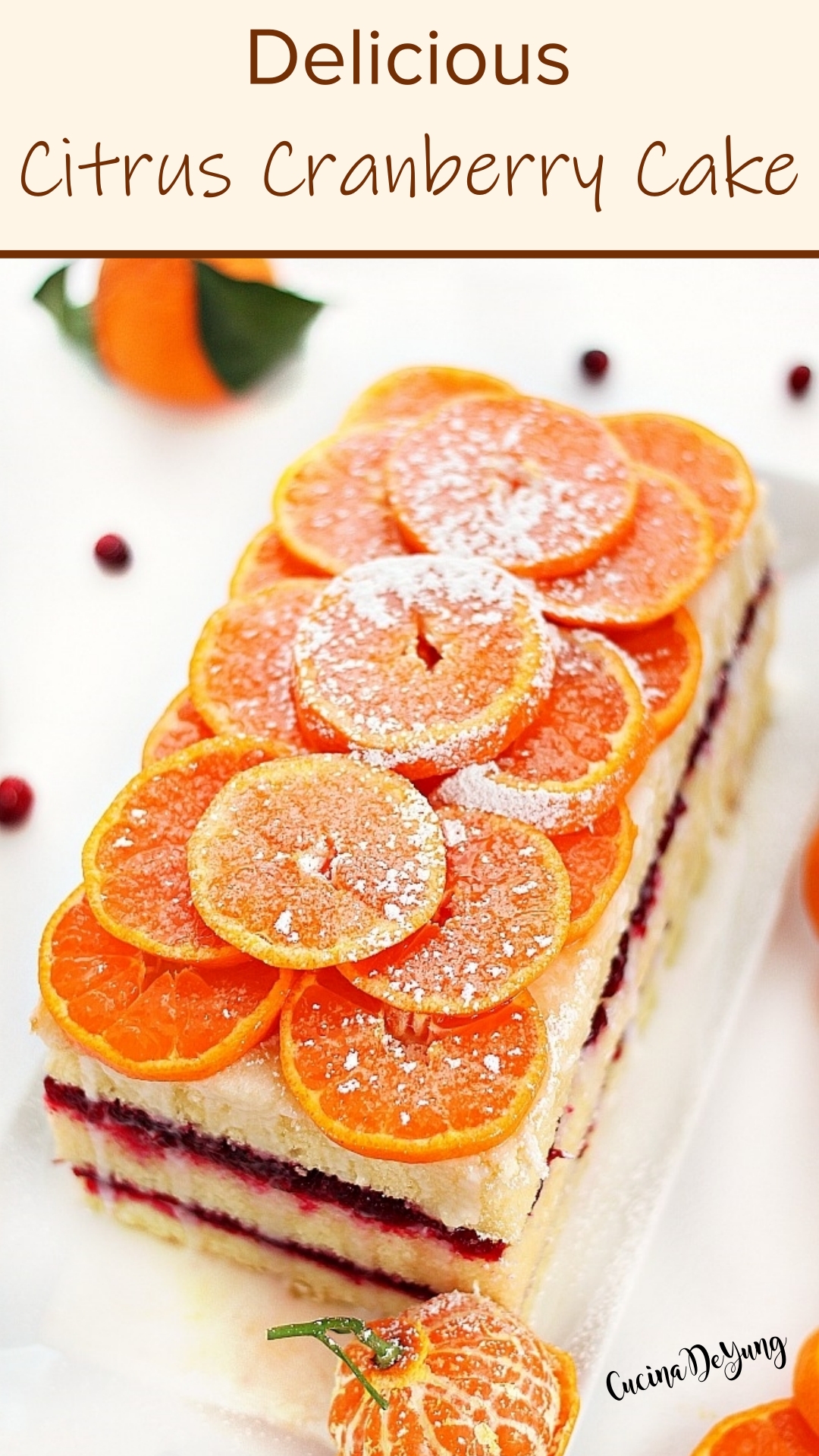 Source: atreatsaffair.com