Delicious Crab Pasta Salad –  From the first bite, I knew it was something I'd make often and enjoy every time.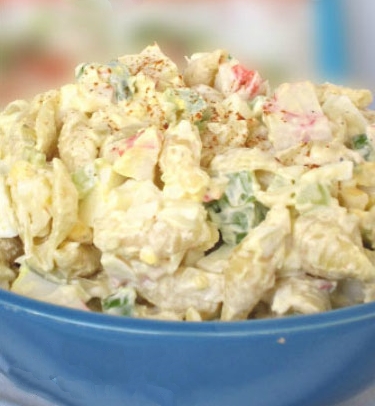 Servings: 12
INGREDIENTS
1 12 oz. package medium shell pasta
1 lb. imitation flaked crab
1 cup chopped celery
½ onion finely chopped
8 hard boiled eggs, diced
1 cup mayonnaise
1 cup sour cream
1 Tbsp. sweet relish
2 tsp. sugar
salt and pepper to taste
INSTRUCTIONS
Cook pasta according package directions. Rinse and cool.
Boil the eggs and peel.
Chop the crab into small pieces.
In a large bowl, combine the pasta, crab, celery, onions and eggs.
In a small bowl, mix together the sour cream, mayonnaise, relish and sugar.
Pour over the pasta and mix well.
Salt and pepper to taste.
So delicious!!!!
Source: sugar-n-spicegals.com