Gingerbread Cake with Cinnamon Cream Cheese Frosting and Caramel Drizzle Recipe – Moist gingerbread cake is filled and frosted with a cinnamon cream cheese frosting and glazed with a sweet caramel sauce.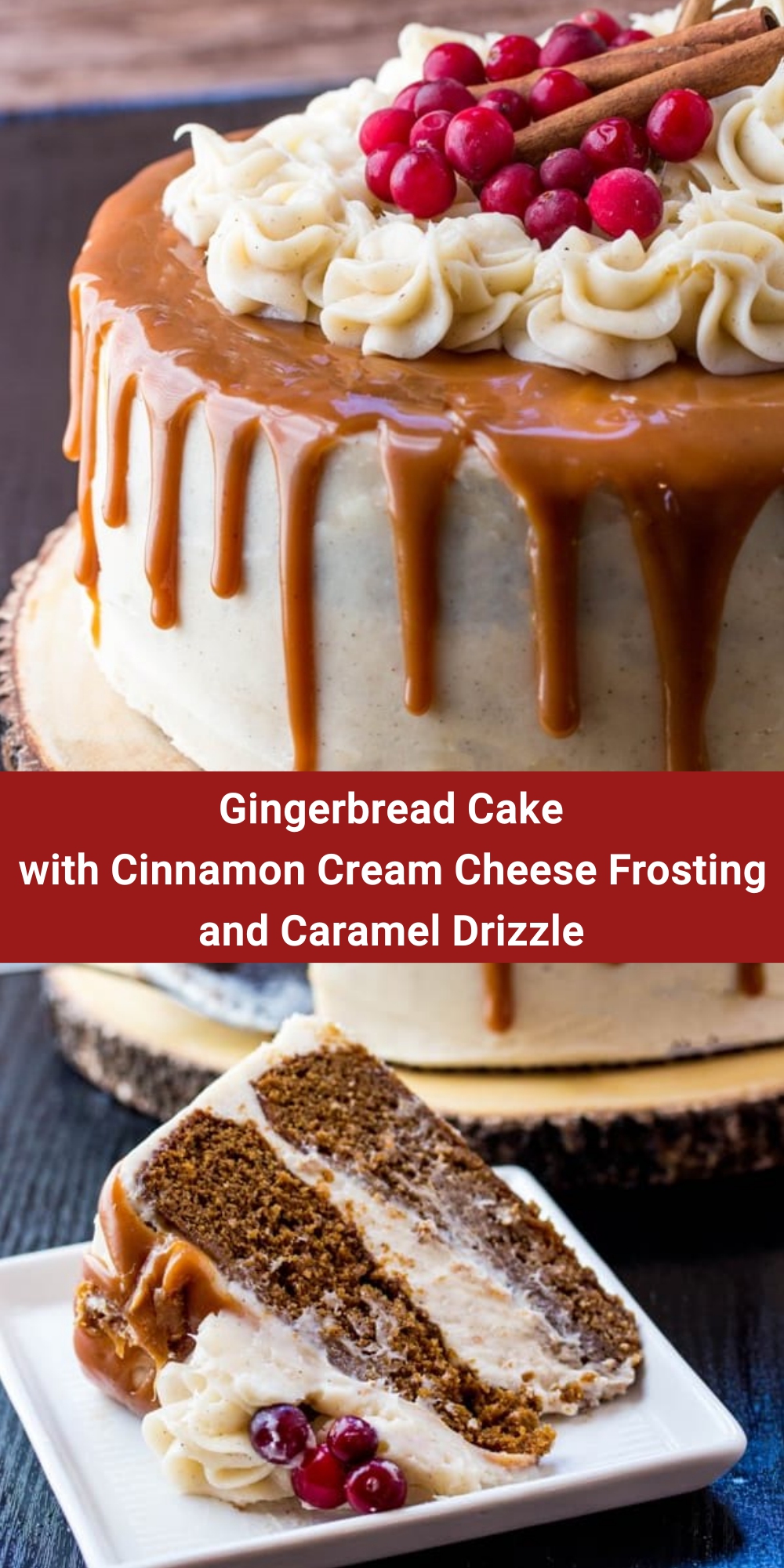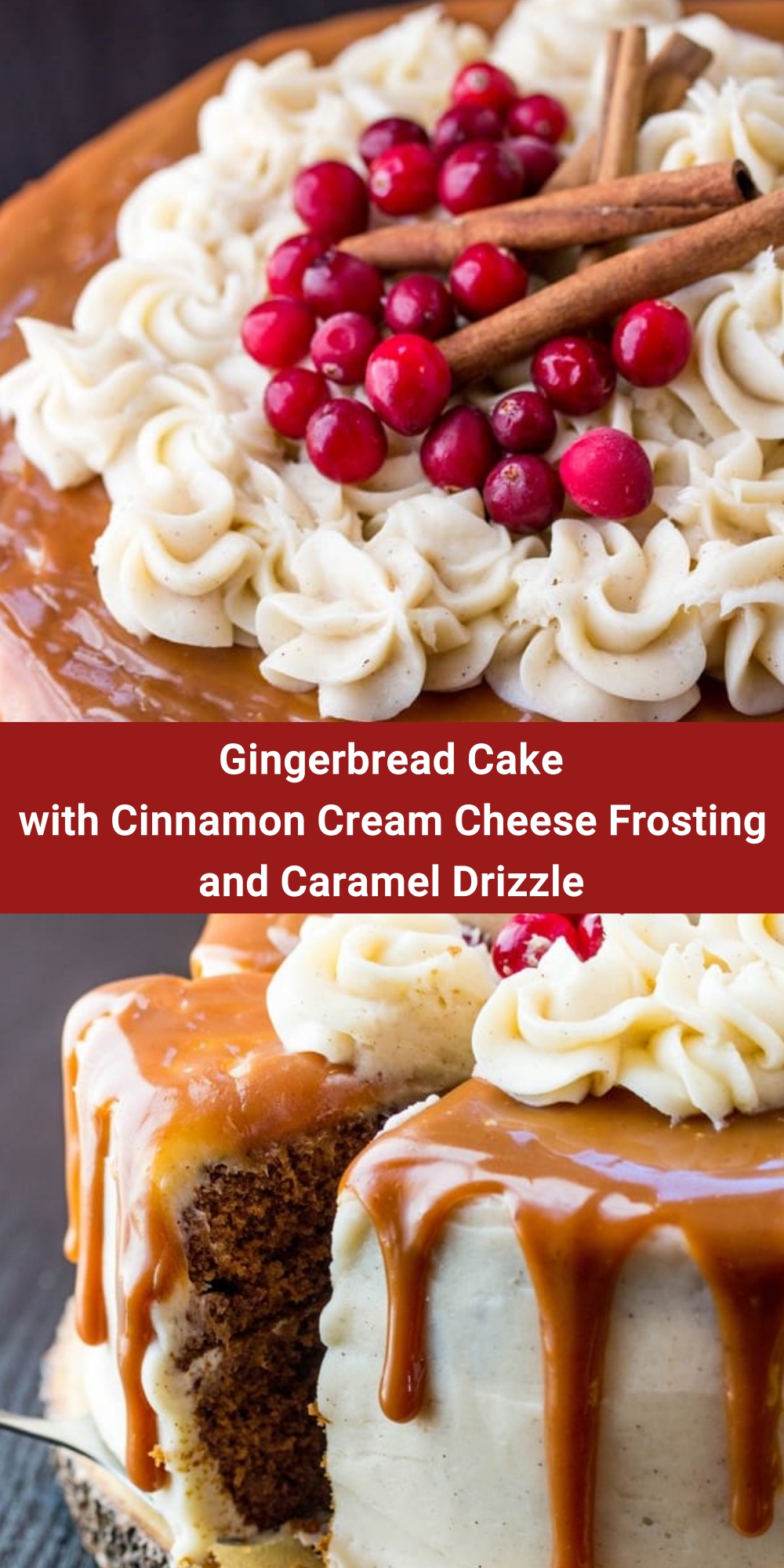 Servings: 12 slices
Ingredients
1 cup butter softened
3/4 cup brown sugar
1/2 cup sugar
1 cup molasses
2 eggs
3 cups Bob's Red Mill Organic All-Purpose White Flour
1 1/2 tsp cinnamon
1/2 tsp all-spice
1 1/2 tsp ginger
1 1/2 tsp baking powder
1 1/2 tsp baking soda
1 1/4 cup mik
CREAM CHEESE FROSTING
2 cups butter softened
2 8 oz blocks cream cheese, softened
4-5 cups powdered sugar
1/4 cup heavy cream
1 tsp cinnamon add more if needed and taste to your liking
CARAMEL SAUCE
1 11 oz bag caramel bits
1/2 cup cream
Instructions
Preheat oven to 350.
Spray 2 9″ round cake pans with non-stick cooking spray and line with parchment paper, set aside.
In bowl with electric mixer mix together your butter and sugars until light and fluffy, about 2-3 minutes. Add in your molasses and eggs and keep mixing until smooth.
In another bowl mix together your flour, baking powder, baking soda and spices.
Alternate adding your flour mixture and milk into butter mixture in about 3 additions.
Once everything is blended, distribute evenly in prepared pans and bake for about 30 minutes or until cake springs back and toothpick comes out clean.
Remove from oven and let cool in pans for about 5 minutes, then run knife around edges of pans and turn cakes out onto wire racks to cool completes.
While cooling make your frosting by beating your butter until fluffy.
Add in your cream cheese and continue mixing until combined.
Add in your powdered sugar 1 cup at a time, once all is added add in your heave cream until you reach your desired consistency, add in you cinnamon and mix.
Once cakes are cool, add on layer onto cake stand/turntable and top with about 1 cup of your cinnamon cream cheese frosting.
Top with other layer and spread a thin layer of frosting on the outside and top of cake to create a crumb coat then place in freezer for about 20 minutes.
After 20 minutes remove from freezer and continue to frost your cake reserving about 1 cup for decorating at end, starting from top down until sides and top is smooth, place back into freezer for about 20 minutes.
Meanwhile make your caramel sauce by combining caramels and heavy cream in sauce pan on medium heat, stir until caramels melt.
Remove cake from freezer and using spoon around top of cake spoon a little of your caramel sauce over the top and pushing it over the edge a little to create a drip, do that all around the cake. Once all drips are created add more caramel sauce to top of cake to cover.
Again place in freezer for about 10 minutes to cool down the caramel.
To finish cake pipe the rest of the cinnamon cream cheese frosting on top of the caramel in any design and if desired garnish with cranberries and cinnamon sticks.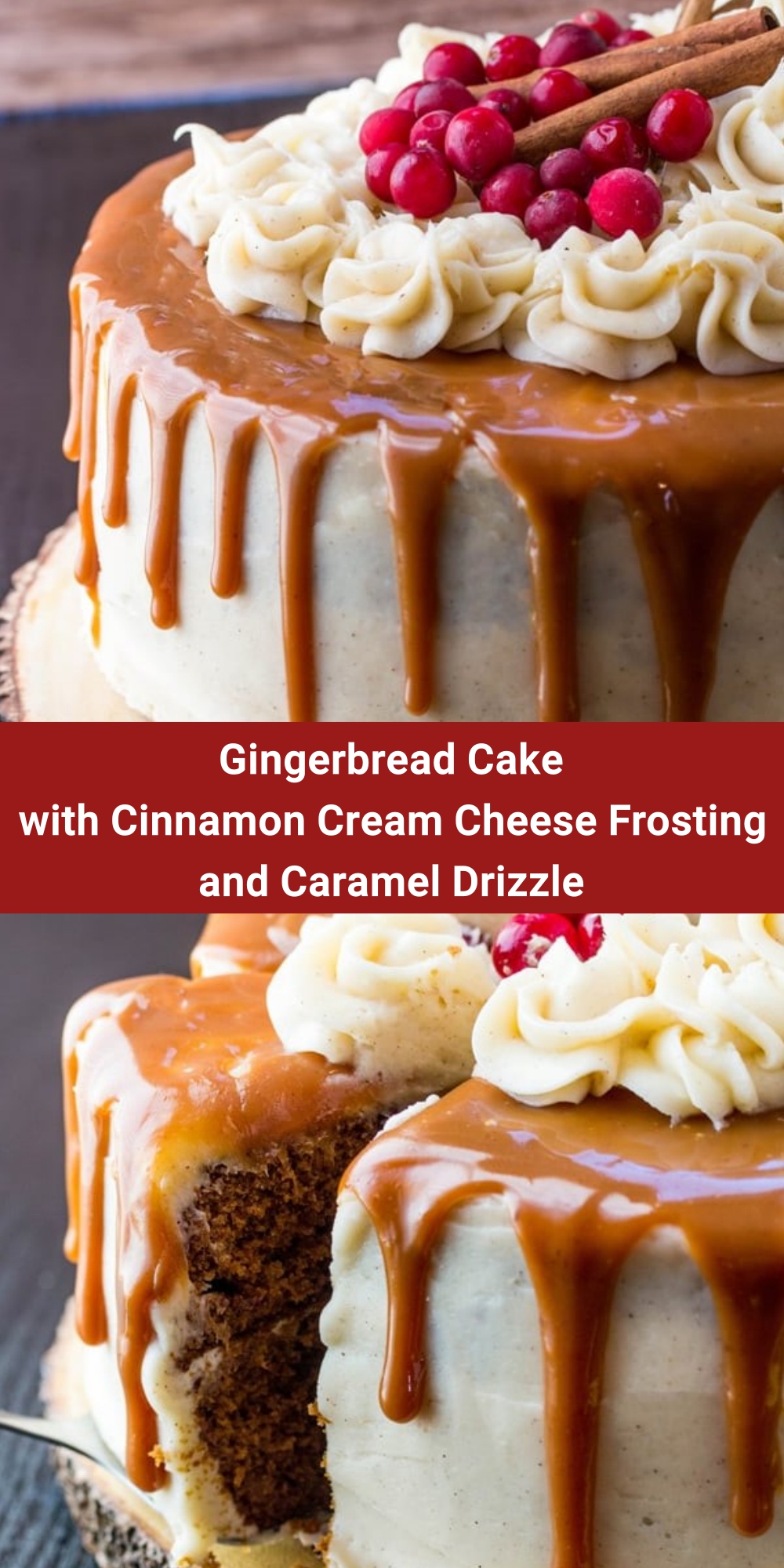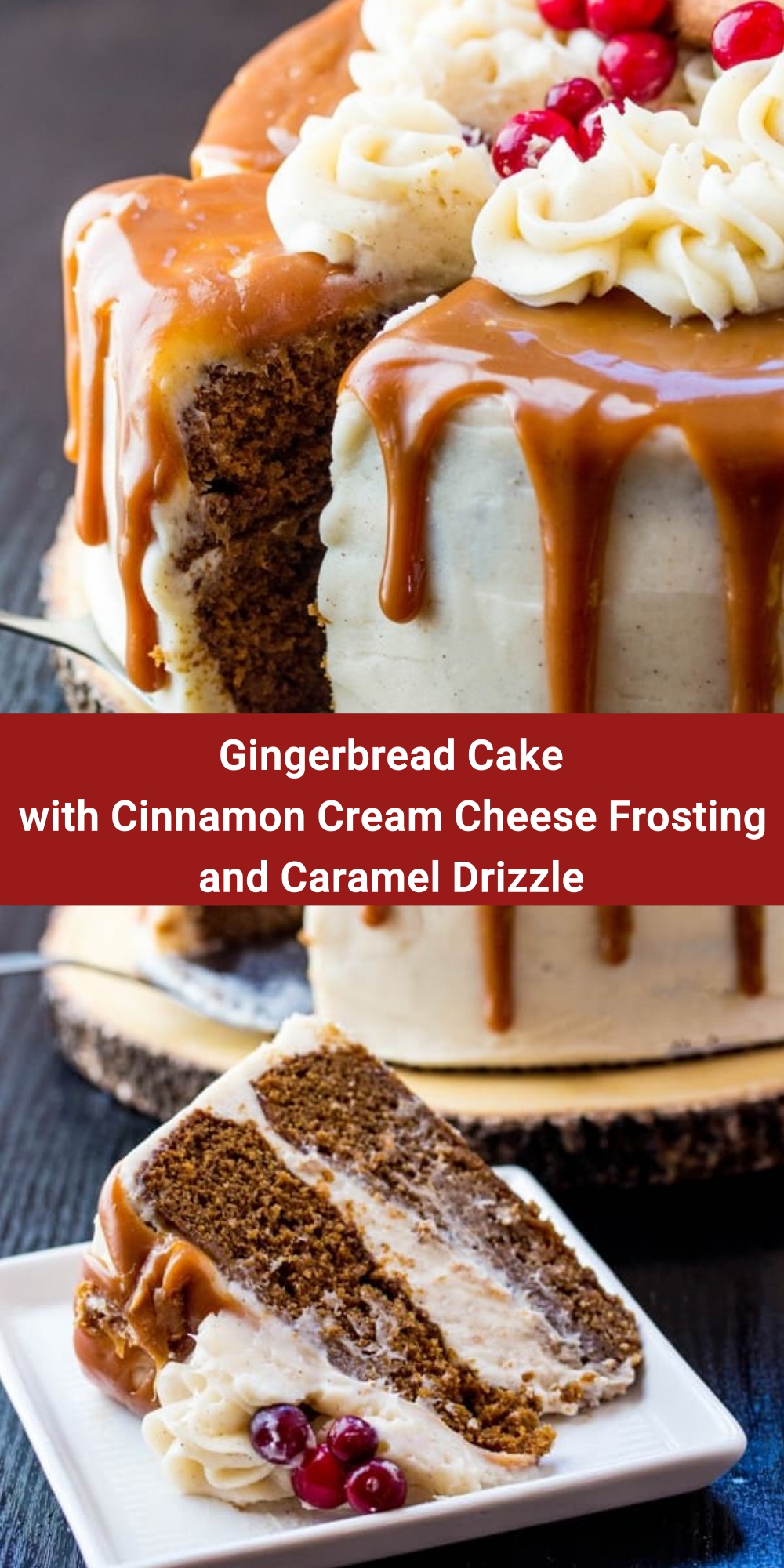 Source: tornadoughalli.com