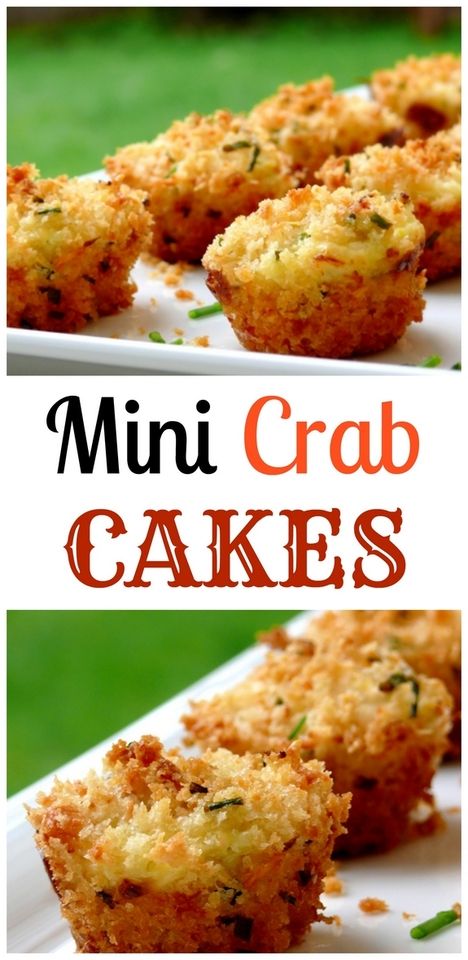 Ingredients
8 oz cream cheese, room temp
1 cup shredded Parmesan cheese, divided
4 teaspoons plus 4 Tablespoons chopped fresh chives, divided
1/4 teaspoon coarse kosher salt
large pinch cayenne pepper
6 oz fresh lump crab meat, picked over, patted dry, coarsely shredded
1-1/2 cups panko (Japanese breadcrumbs)
fresh chives, cut into pieces
Using an electric mixer, beat cream cheese in a medium bowl until smooth. Add 1/4 cup Parmesan and egg; beat to blend. Beat in sour cream, citrus zest, 4 teaspoons chopped chives, coarse salt and cayenne pepper. Fold in crabmeat. (This can be made one day ahead. Cover and chill.)

Spray mini muffin pan with nonstick spray. Toss 1-1/2 cups panko, 3/4 cup Parmesan and 4 Tablespoons chopped chives in a bowl. Drizzle melted butter over, tossing with a fork until evenly moistened. Press 1 rounded Tablespoon panko mixture into bottom of each muffin cup (makes a well with your thumb), forming crust. Spoon 1 generous Tablespoon crab mixture into each cup. Sprinkle more panko mixture over each.

Bake crab cakes in a 350 degree oven until golden on top and set, about 20 minutes. Cool in pan 5 minutes. Gently lift each crab cake out of the pan with a fork onto a serving platter. (Can be made 2 hours ahead. Arrange on baking sheet, let stand at room temperature. Rewarm in a 350 degree oven for 5-6 minutes.)

Arrange crab cakes on a serving platter; sprinkle with chives.
Original recipe visit: Mini Crab Cakes @ noblepig.com