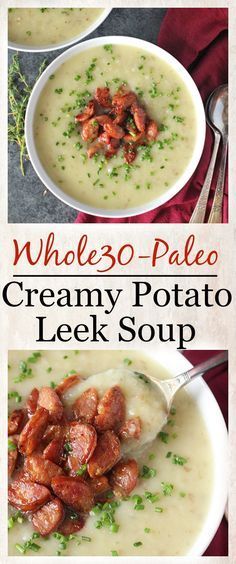 Ingredients
1/3 cup fat to cook in, such as lard, coconut oil, tallow or ghee (I used ghee)
5 medium to large organic potatoes, rinsed and cubed
4 organic leeks, sliced and rinsed of sand
sea salt to taste (I used 1/4 teaspoon)
3 cloves garlic, coarsely chopped
2 quarts (8 cups) bone broth
1 1/2 teaspoons dried thyme
chopped chives for garish (optional)
Chicken sausage, cut and fried for topping (optional)
In a large soup pot, melt the ghee and add the potatoes and leeks with the salt.

Cook on medium for about 10 minutes until the potatoes are fork tender and the salt has drawn out the juices and sweetened the leeks.

Add the garlic and cook for 1 minute.

Add the bone broth and thyme and bring to a simmer for about 5 minutes.

Turn the heat off, and use an immersion blender right in the pot to puree the soup completely.

Add the salt and pepper to taste and garnish each bowl with chives, if you'd like. Serve baby about a tablespoon right off the spoon to start with. You can use a straw for older babies and toddlers.
Original recipe and more pictures visit: Paleo Creamy Potato Leek Soup @ jaysbakingmecrazy.com