Quick and easy spicy pumpkin soup made with pumpkin purée, onions, fresh ginger, chicken stock, cream, and a mixture of curry, cumin, and coriander.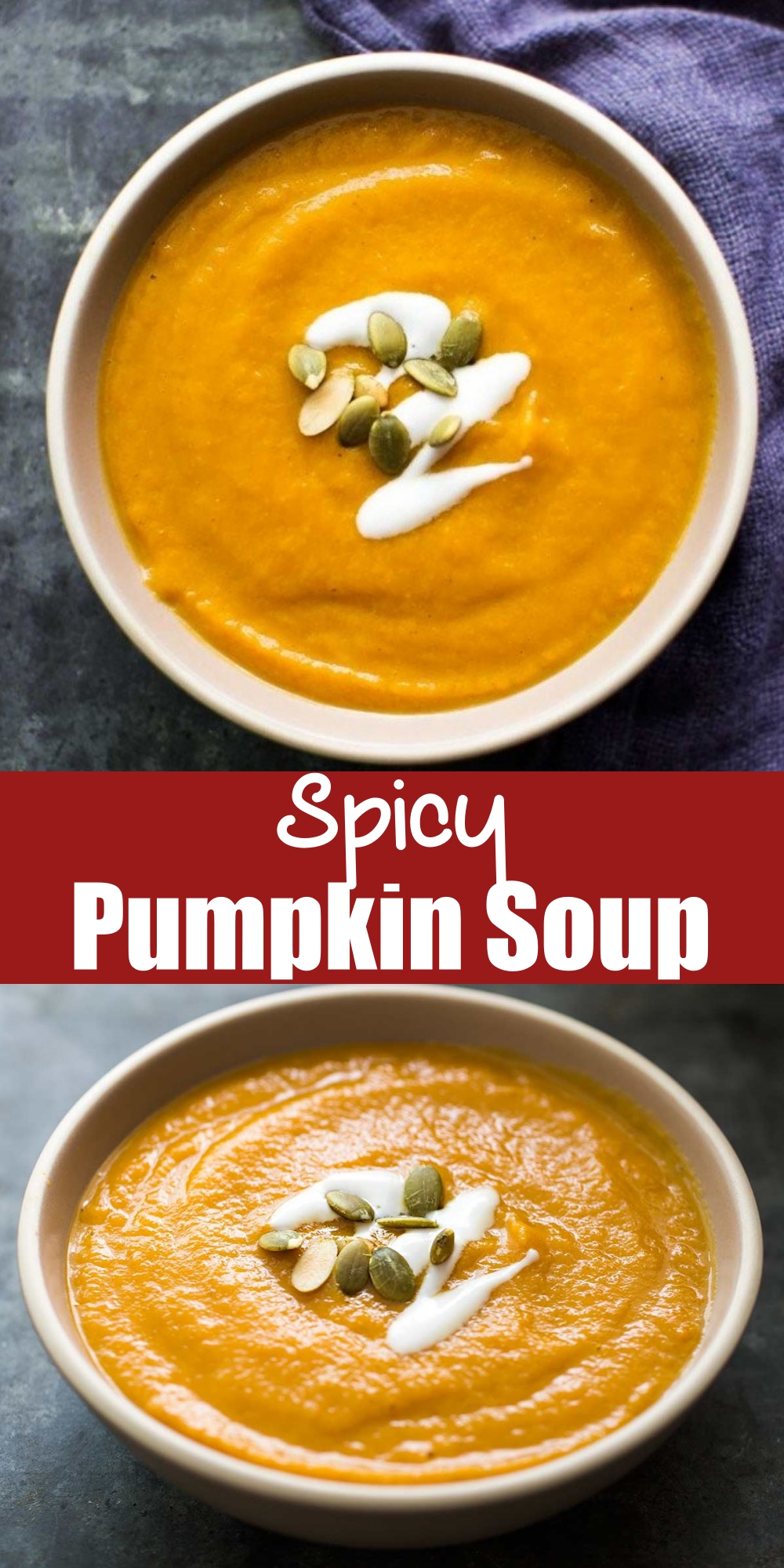 Recipe by: simplyrecipes.com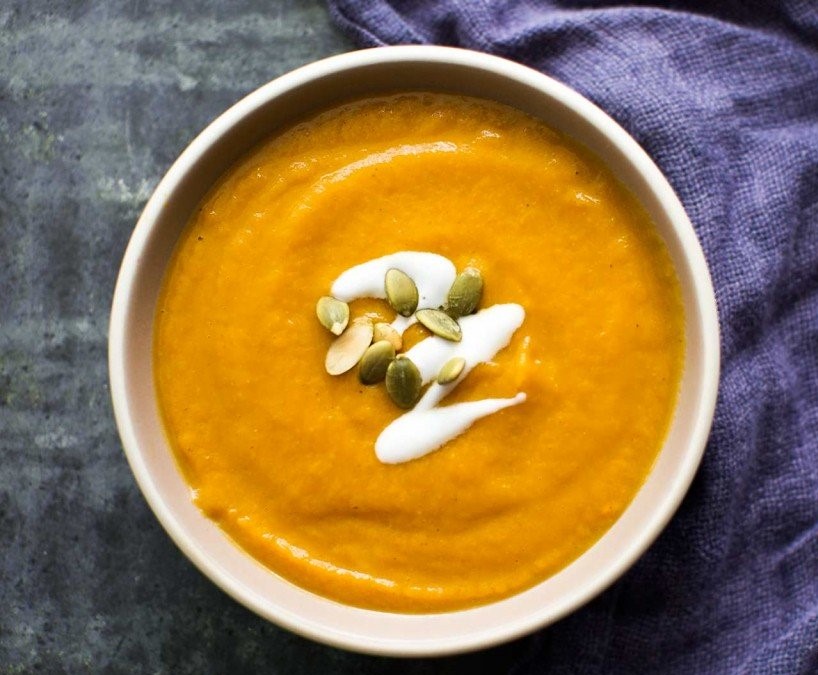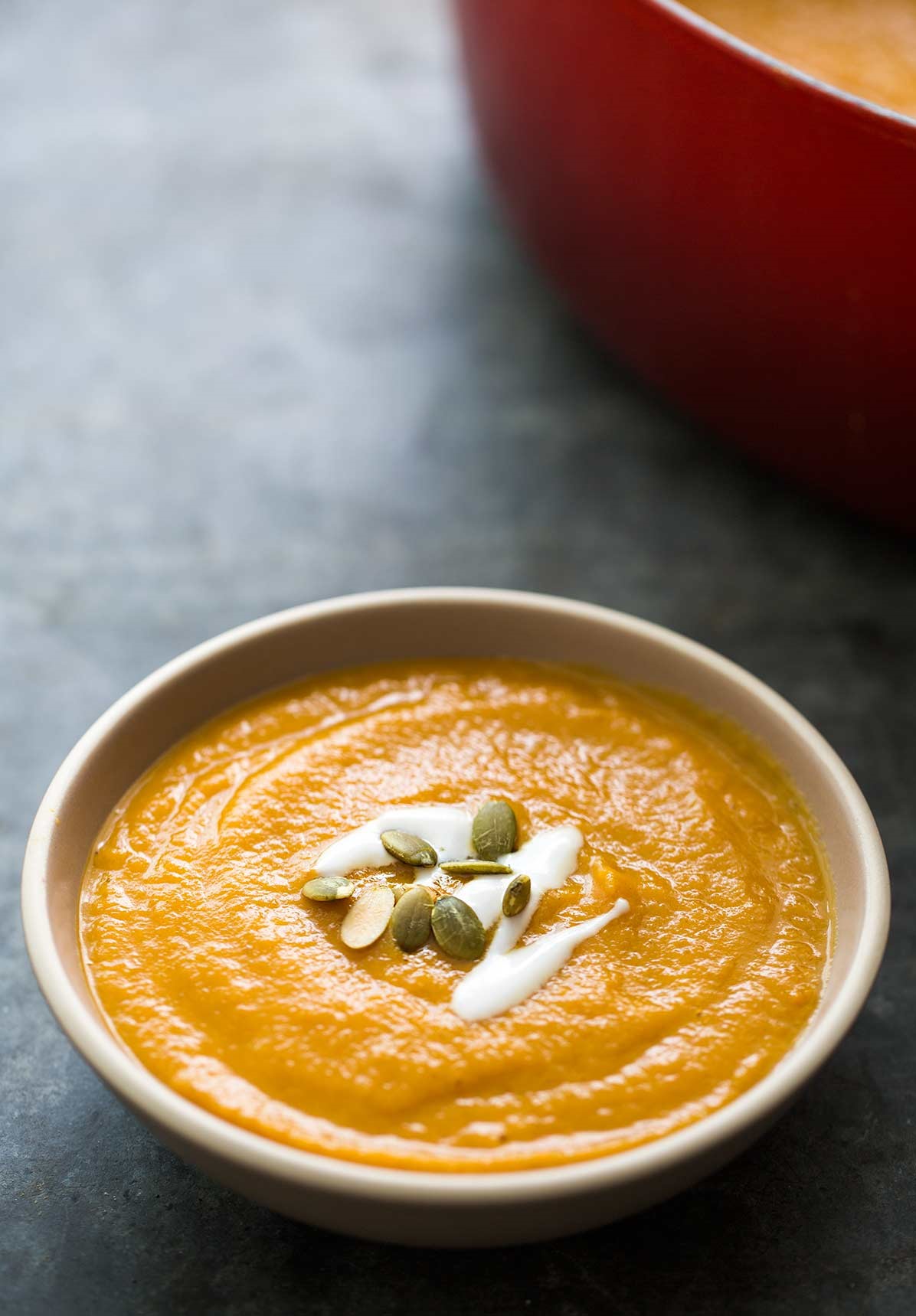 Yield: Serves 4 to 6
INGREDIENTS
1 Tbsp unsalted butter
1 1/2 cups roughly chopped yellow onion
2 cloves garlic, minced (about 2 teaspoons)
2 teaspoons minced, peeled fresh ginger
1 1/2 teaspoons yellow curry powder
3/4 teaspoon ground cumin
1/2 teaspoon ground coriander
Small pinch of cinnamon
1 teaspoon of kosher salt plus more to taste
4 cups low sodium chicken stock (or vegetable broth for vegetarian option)
2 bay leaves
2 (15 oz) cans 100 percent pumpkin or 3 1/2 cups of chopped roasted pumpkin purée*
1 cup water
3 Tbsp heavy whipping cream
1/8 teaspoon black pepper
Yogurt (for garnish)
Toasted pumpkin seeds (for garnish)
*To make pumpkin purée, cut a sugar pumpkin in half, scoop out the seeds and stringy stuff, lay face down on a tin-foil lined baking pan. Bake at 350°F until soft, about 45 min to an hour. Cool, scoop out the flesh. Purée in food processor. Freeze whatever you don't use for future use.
INSTRUCTIONS
Sauté onions in butter, add garlic, ginger, spices: Melt butter in a large (5 to 6 quart), thick-bottomed pot over medium heat. Add the onions and sauté until softened, about 5 to 6 minutes.
Add the minced garlic and ginger, cook another minute.
Add the curry powder, cumin, coriander, cinnamon, and salt. Cook for another 2 minutes.
Add stock, bay leaves, and pumpkin purée: Add the chicken stock and the bay leaves. Add the pumpkin purée and the water. Stir to combine. If the soup is too thick for your taste, add more stock or water to thin it.
Increase heat to high. Bring to a boil and reduce heat to low, cover and simmer for 10 to 15 minutes. READ MORE