Dump-and-Bake Chicken and Rice Recipe is an entire dinner that cooks in one dish! With just 10 minutes of prep you can stir together uncooked rice, chicken, pineapple, bell pepper, onion, and a sweet-and-savory sauce that's finished with crispy bacon.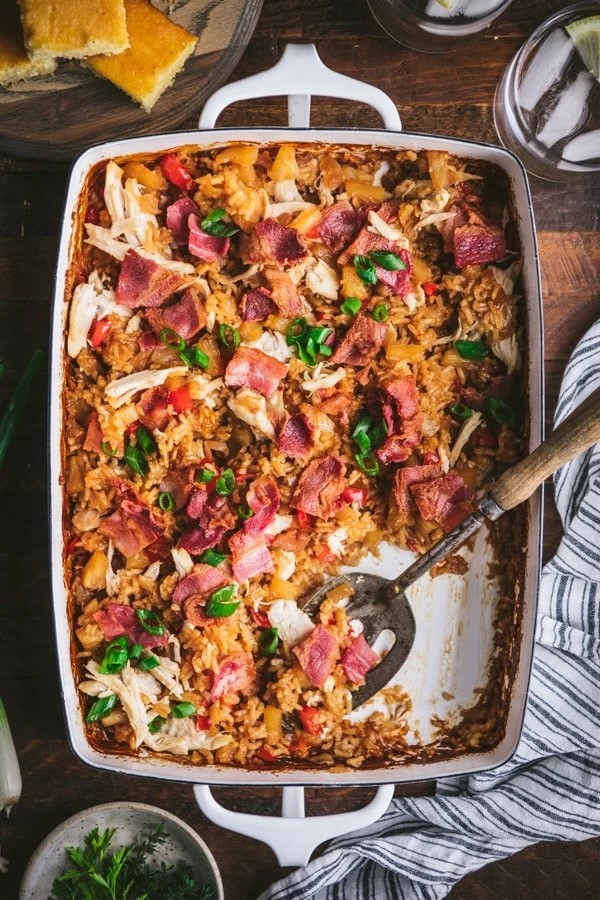 Servings: 6
Ingredients
½ cup brown sugar (or decrease to ⅓ cup or ¼ cup of brown sugar for a less-sweet dish)
½ cup less sodium soy sauce
1 ½ cups less sodium chicken broth
2 teaspoons minced garlic
1 cup uncooked long grain white rice
1 cup diced onion (I use frozen diced onion for a shortcut)
1 red bell pepper, finely chopped
1 (20 ounce) can pineapple tidbits in juice, not drained
2 cups cooked, shredded or diced chicken (such as the meat from a rotisserie chicken)
6 slices cooked bacon, chopped or crumbled
Optional garnish: sliced green onions, chives, or fresh herbs
Instructions
Preheat oven to 425°F (220°C). Grease a 9 x 13-inch baking dish.
In the prepared dish (or in a separate bowl), whisk together brown sugar, soy sauce, garlic, and chicken broth. Add uncooked rice, onion, bell pepper, and pineapple (with its juice).
Cover the dish tightly with foil. Bake for 50-55 minutes. Uncover the dish and use a fork to fluff the rice.
At this point, the rice should be almost tender and most of the liquid in the dish should be absorbed. If the rice is still very firm, or if there's still a lot of sauce in the dish, cover and return it to the oven for 5-10 more minutes, or until the rice is just about done.
Stir in the cooked chicken. Sprinkle the cooked, chopped bacon on top.
Return the dish to the oven, uncovered, and bake for an additional 5-10 minutes, or until the chicken is warmed through, the rice is completely tender, and the bacon is crispy.
Garnish with chopped green onions, chives, or herbs, if desired.
Notes
Do not substitute with other varieties of rice, such as brown rice or instant rice. These other types of rice have different cooking times and require different amounts of liquid than the long grain white rice that's indicated in the recipe.
Use the meat from a store-bought rotisserie chicken for a flavorful shortcut. If you're really in a time crunch, you can even purchase fully-cooked bacon so that you don't have to worry about that extra step!
Make sure to cover your dish tightly with foil so that none of the liquid or steam escapes during cooking.
The rice needs to absorb the liquid as it bakes.
The total cooking time will vary on a number of factors, including the type of pan that you use and your individual oven. Glass or ceramic baking dishes will take longer than metal pans, for instance. To know when your casserole is done, taste a bite of the rice. The rice should be tender and the liquid should be absorbed.
Be careful not to overcook the casserole, or the rice will become mushy and gummy.
Use reduced-sodium soy sauce and chicken broth so that the final dish isn't too salty. You can always add extra seasoning at the end.
Start with raw chicken instead of adding the cooked chicken towards the end. You'll need about 1 pound of diced boneless, skinless chicken breast or thighs. Add the raw chicken to the pan at the very beginning so that it has time to cook through.
Season the dish with extra flavor by adding grated gingerroot, sesame oil, or spicy crushed red pepper flakes.
Mix other vegetables into the dish. You can stir frozen peas or corn into the dish towards the end (when you add the cooked chicken), or you can start with raw broccoli florets or green beans at the beginning.
Top the finished casserole with sliced or chopped peanuts or almonds. That extra salty crunch adds a nice touch to the dish!
Cooking for a smaller family? Cut all of the ingredients in half and bake the casserole in an 8-inch square dish. The cooking instructions remain the same.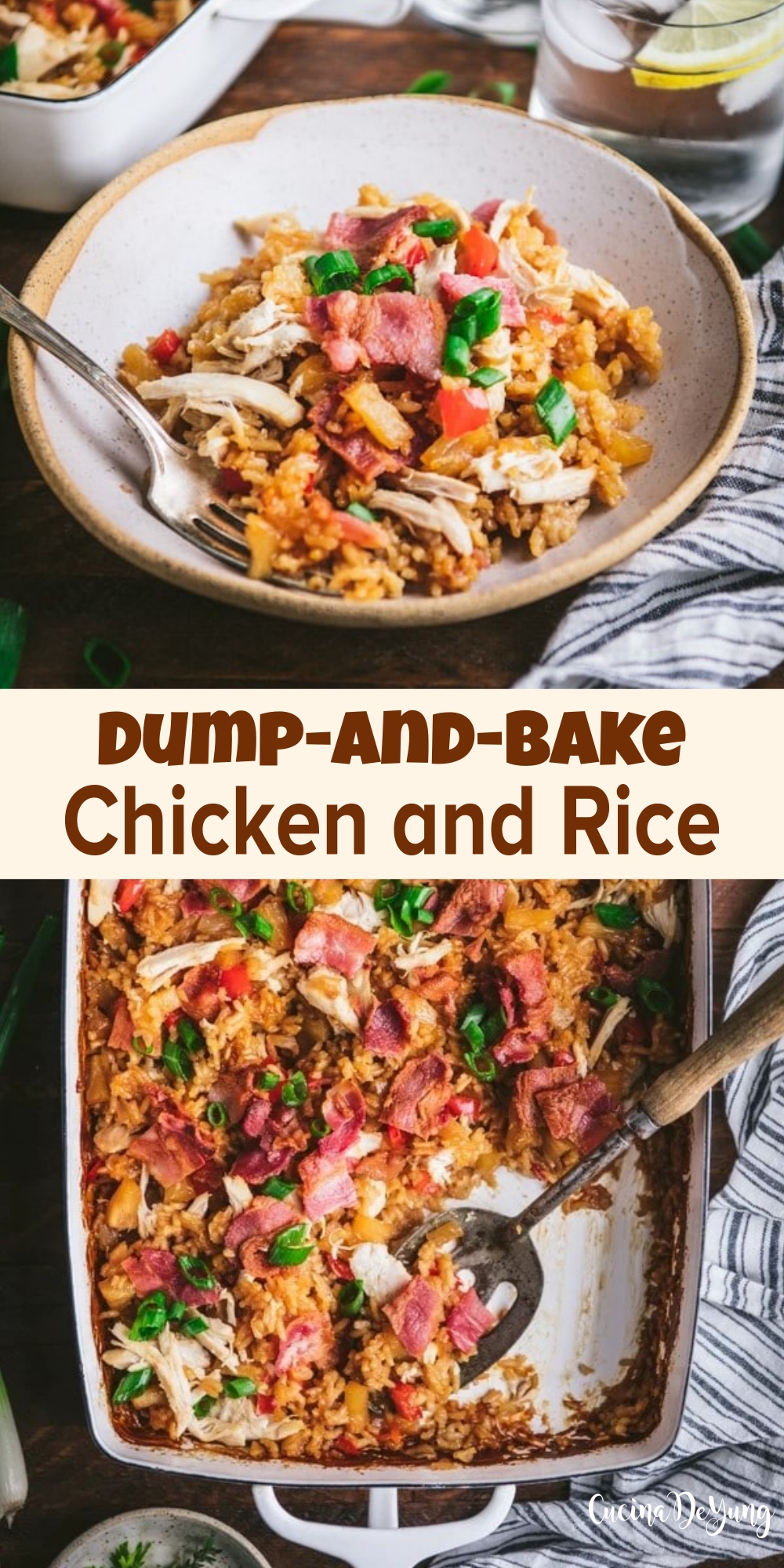 Source: theseasonedmom.com