Bloody Halloween Cupcakes Recipe – These bloody cupcakes are a delicious way to celebrate the Halloween season. There are three steps to the process of making these bloody cupcakes. Whether you're looking to create a Halloween party treat or something fun in the kitchen with your family this Halloween season, these bloody cupcakes will surely be a spectacular choice. The combination of homemade frosting with vanilla cake mix will taste delicious with the fake blood and broken glass look decorated atop the cupcakes.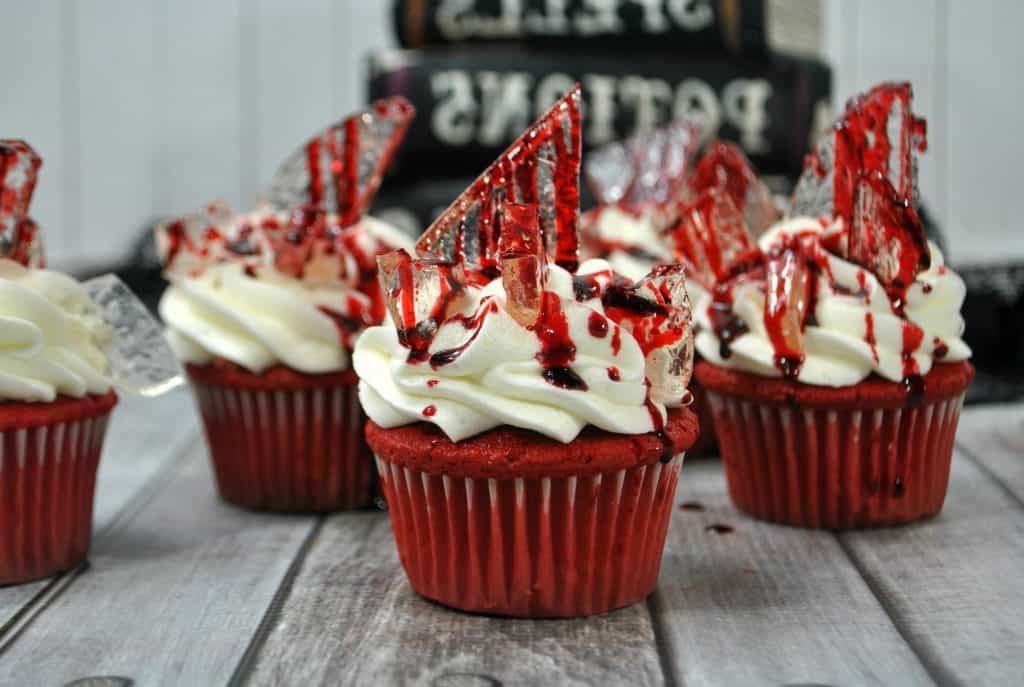 Servings: 22 cupcakes
Ingredients for Broken Glass
2 C water
1 C light corn syrup
3 1/2 C sugar
1/4 tsp cream of tarter
1 cookie sheet
Directions
Using a large sauce pan, combine the water, corn syrup, sugar, and cream of tarter.
Bring the mixture to a boil.
Once mixture is boiling, insert a candy thermometer and boil sugar syrup until the temp reaches 300 degrees.
Whisk consistently.
Once the temp reaches 300 degrees, spray a cookie sheet with pam spray and pour the sugar onto the cookie sheet.
Allow to cool overnight.
Ingredients for Fake Bloods
1/2 C light corn syrup
1 tbsp corn starch
1/4 C water
1 tbsp red food coloring
Directions
Using a medium bowl, mix together the corn syrup, cornstarch, and water until combined.
Add in the drops of red food coloring and mix until combined.
Ingredients for Cupcakes
1 box of Vanilla cake mix
3 eggs room temp
1/2 C of softened unsalted sweet cream butter
1 C 2% milk
1TBSP pure vanilla extract
2-3 tbsp red food coloring
cupcake liners
cupcake pan
Directions
Preheat oven to 350.
Line cupcake pan with the white cupcake liners
In a medium bowl, add the cake mix, butter, milk, and vanilla extract and stir until combined
Mix in the red food coloring
Fill cupcake liners 3/4 of the way full.
Bake in the oven for about 21 minutes.
Pull out the cupcakes and allow to cool before frosting.
Ingredients for Frosting
1 C unsalted sweet cream butter, softened
2 1/2 C powder sugar
1 tsp vanilla
3-5 TBSP heavy whipping cream
1 disposable piping bag with a star tip
Directions
Using a stand mixer, combine all ingredients and mix on medium speed.
Mix until you see stiffed peaks in your frosting.
Scoop frosting into a piping bag and frost the cooled cupcakes
Directions for decorating
Using a hammer, break the glass into different sizes of shards
Place randomly into the cupcake frosting
Pour the red coloring around the shards on the cupcakes
Enjoy!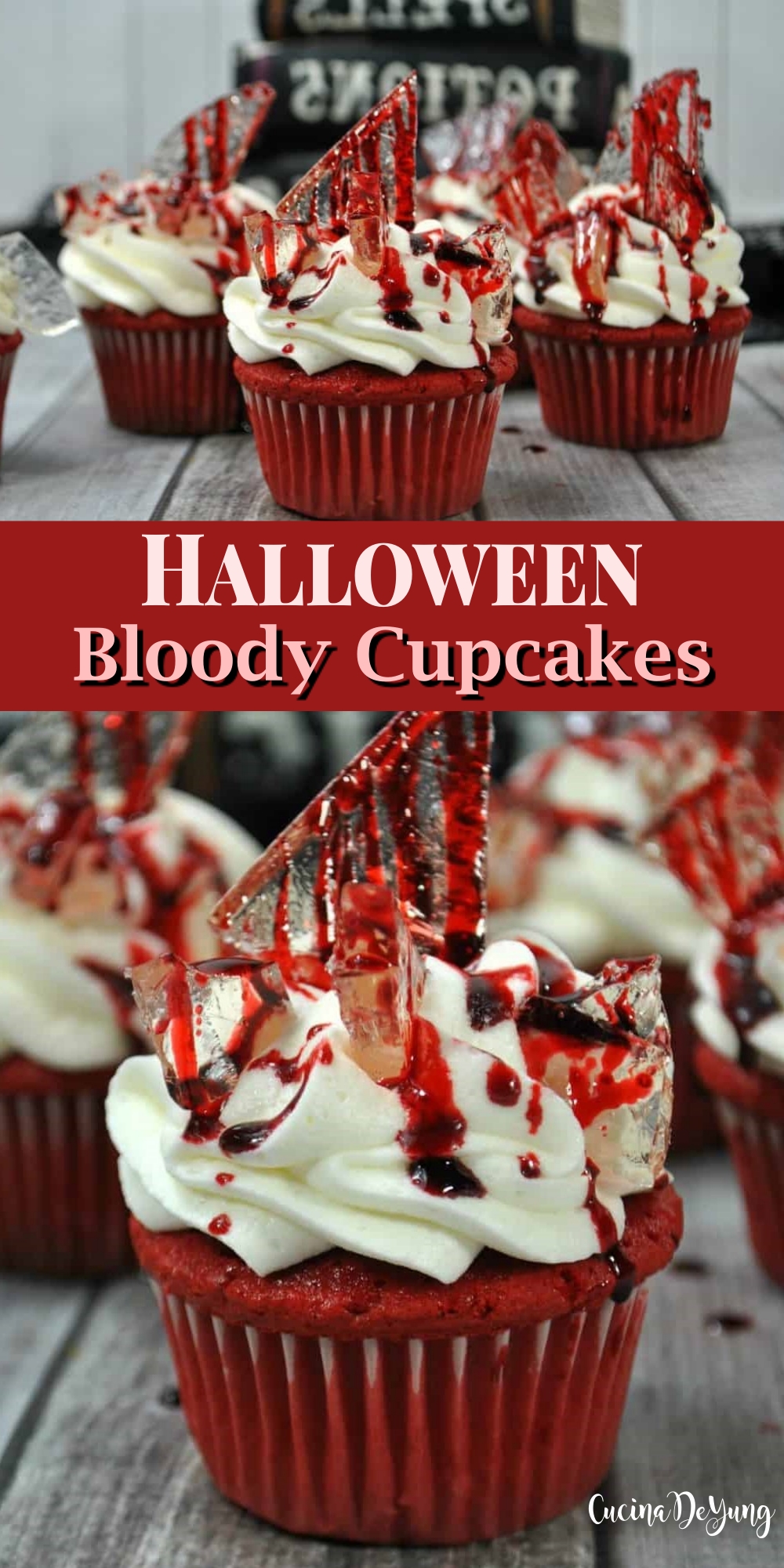 Recipe by: thirdstopontheright.com