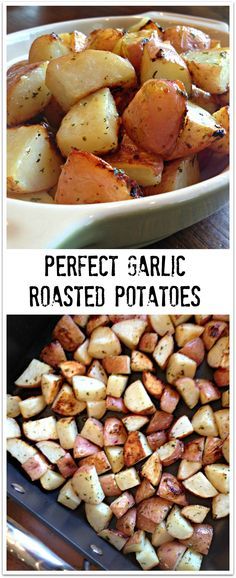 Ingredients
2 1/2 to 3 pounds red or white potatoes – small potatoes are best. If using small potatoes, cut in half or in quarters. Larger potatoes, cut into large bite size pieces – see photo above for size.
1/4 cup olive oil, enough to lightly coat potatoes
5 to 6 garlic cloves, minced
fresh group black pepper to taste
1 to 1 1/2 teaspoons kosher salt or sea salt (adjust to taste or diet)
2 teaspoons dry parsley flakes or *2 tablespoons fresh parsley, minced
Preheat oven to 400 degrees F.

In a large bowl toss potatoes in olive oil, garlic, *parsley, salt and pepper, being sure to coat the potatoes evenly.

Place potatoes in a roasting pan or on a cookie sheet in a single layer.

Place on middle rack of oven and bake for approximately 40 to 45 minutes, turning the potatoes two times while baking. Baking times may vary from oven to oven. When ready, remove and serve warm. Salt and pepper to taste. Enjoy.
Original recipe and tips of recipe visit: Perfect Garlic Roasted Potatoes @ sweetlittlebluebird.com